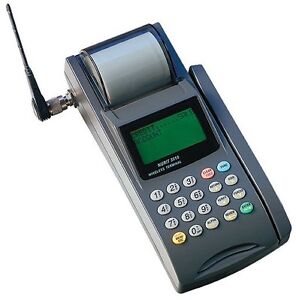 Credit card terminals help you offer customers multiple payment options, and on eBay you can find a wide selection of terminals that support credit card or credit and debit card payments.
Choose Credit Card Terminals for Your Business
When looking for new credit card terminals, or for additional credit card terminals to support your expanding business, make sure to choose brands and models that are compatible with your current system and supported by your merchant account provider. Consider three basic types of credit card terminals.
Traditional credit card terminals: Stationary credit card terminals work for the vast majority of businesses. They can come with or without printers and many can also accept debit card swipes.
Wireless credit card terminals: Wireless credit card terminals are used by many taxi drivers and even in some restaurants. Make sure your merchant service supports the wireless credit card terminals you decide to purchase, and has plans to continue support in the immediate future.
Virtual credit card terminals: If you do the majority of your business over the phone or Internet, consider using virtual credit card terminal software. It allows you to contact your merchant account provider over the Internet and it can be customized to automate recurring charges or calculate taxes and discounts.
Complete Point of Sale (POS) systems also include credit card terminals. If your business needs a complete POS system, read eBay's POS Systems Buying Guide..
Evaluate Credit Card Terminal Features
Most credit card terminals have similar features: keypad, display, magnetic stripe reader, and printer.
Keypad: In the event a card won't swipe, you'll want a keypad to enter purchase prices, card numbers, expiration dates, and other data. Simple credit card terminals have a nine-key numeric keypad, but others can have more than 40 keys, including programmable function keys.
Display: The standard credit card terminal display shows two lines of text, with 20 characters per line, but some can display four lines, with 20 characters per line. For the most visibility, look for displays with a backlight.
Magnetic stripe reader: Magnetic stripe readers accept swipes from credit cards. If you have questions about the condition of the magnetic stripe reader on any terminal you consider purchasing, click the "Ask seller a question" link to email your questions before bidding.
While the basic features will satisfy most users, some enhanced features-like an external PIN pad, flash memory, check processing, and the ability to read proprietary cards-can be useful.
External PIN pad: An external PIN pad makes it easy for customers to enter their debit card PIN numbers privately. Most external PIN pads have a small display, a nine-key alpha-numeric pad, and additional programmable function keys.
Flash memory: Some credit card terminals keep their software on internal flash memory, which makes it easier to keep the terminals software up to date via downloading patches and new versions of software.
Check processing: Credit card terminals with check processing allow you to scan checks for immediate validation.
Reading proprietary cards: Look for credit card terminals that can be programmed to read proprietary cards if you'd like to accept gift cards or scan private-label cards for inventory management or security purposes.
Find Credit Card Terminals on eBay
Once you know what type of credit card terminal you want:
1. Go to the Business & Industrial portal and find Food Service & Retail..
2. Click the Point of Sale, POS Equipment link.
3. Click the Credit Card Terminals, Readers link, found in the Categories list on the left side of the page.
4.Use the Categories list on the left side of the page to narrow down listings by brand. You'll find links for Hypercom,, LinkPoint,, Nurit,, Verifone,, and Other Terminals & Readers..
You can also search eBay listing titles for specific words. For example, if you want to find a wireless credit card terminal, type "wireless terminal" (without quotation marks) into the Search box. Click "Search title and description" to expand your results. Visit eBay's Search Commands page for more tips on searching with keywords.
If you can't find exactly what you want, try shopping eBay Stores,, tell the eBay Community what you want by creating a post on Want It Now,, or save a search on My eBay and eBay will email you when a match becomes available.
Buy Credit Card Terminals With Confidence
Hundreds of credit card terminals listed on eBay in the Business & Industrial category will likely interest you. When trying to select the right credit card terminal, get to know exactly what you're buying, research the seller, and understand how eBay and PayPal protect you.
Know your purchase
Many sellers put a lot of time into creating their listings, making an effort to ensure they include all the information buyers need. Carefully read the details in listings for the credit card terminal you consider buying and carefully review available photos. Before placing a bid or buying an item, be sure to:
Have all your questions answered: If you still have questions after reading the listing and reviewing the photos, contact the seller using the Ask seller a question link in the "Seller information" box in the top right corner of every listing. Also request additional photos if you want to see the POS system from a particular angle that isnt shown in the photos included in the listing. If you have more questions than you can address in email, get the sellers phone number and give him/her a call. Some sellers even include their phone number so you can call them directly. Just remember that you need to actually bid and buy on eBay in order to be covered by eBay and PayPal protection programs (see "Buyer protection" below for more details).
Get delivery details: Calculate and include delivery costs into your final price. This may simply be the cost of shipping or the cost of driving across the city or state if the item is close-by.
Complete your transaction on eBay: Always complete your transaction on eBay (with a bid, Buy It Now, or Best Offer). Transactions conducted outside of eBay are not covered by eBay and PayPal protection programs (see "Buyer protection" below for more details).
Know your payment options: Never pay for an item on eBay using instant cash wire transfer services such as Western Union or MoneyGram. These payment methods are unsafe when paying someone you do not know. Instead, pay with PayPal for amounts less than $2,000 (including deposits), a money order, or direct bank-to-bank fund transfer.
Track items with eBay Toolbar: Use the free eBay Toolbar to track items you bid on and watch. It includes Account Guard,, a feature that indicates when you're visiting a verified eBay or PayPal website and warns you when you enter your eBay password into an unverified site, even if it looks like eBay or PayPal.
Know your seller
Just as important as researching your POS system purchase is getting to know the seller. Take time to research the seller so that you can feel positive and secure about every transaction. Key things to look for when evaluating a seller include:
Positive Feedback: What is the seller's Feedback rating? How many transactions have they completed? What percentage of positive responses do they have? What do buyers and sellers say in their Feedback? Did the seller receive praise?
Sales history: Take the time to look at the Feedback details. Find out how long the seller has been a registered eBay user and look at the types of items a seller typically offers.
Terms and conditions: What are the terms and conditions of the sale? For example, does the seller offer a return policy? Do they charge a restocking fee? Are the terms agreeable to you? Sellers typically set terms and conditions, but you should make sure you agree with them. If not, find another seller/POS system or contact the seller to find out if he/she is open to your suggestions.
Good communication: Once youve initiated communications with the seller, how is he/she communicating with you? Is the seller courteous and professional? Is the seller responsive? Once you bid, communicate with the seller through My Messages in My eBay. All legitimate Second Chance Offer messages will come through My Messages and not to your email address alone. Always contact the seller before accepting a Second Chance Offer, and never respond to any request to send money via Western Union or other instant cash transfer service.
Buyer protection
In the unlikely event that you don't receive your item or it is not as described, eBay Buyer Protection will cover your purchase price plus original shipping. Learn more..