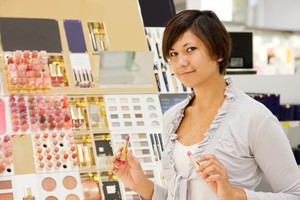 Every woman needs a "makeup wardrobe," a set of colors and makeup products that can help take her from day to evening and from casual to formal events. Establish your makeup wardrobe with essentials and tools that are right for you on eBay.
Get the Makeup Essentials
Whether you want a natural look or dramatic flair, there are certain makeup or cosmetic products every woman should have in her makeup bag.
Complement Your Complexion
Choosing the right makeup for you has everything to do with your age, skin type, and complexion. And while the choices can be daunting, there are a few simple guidelines you can follow.
Keep Makeup Fresh
Believe it or not, your makeup has a shelf life. Makeup that's gone bad lets you know it: the color, consistency, and, most importantly, the smell changes. Using cosmetics that have expired can irritate skin, even causing breakouts or infections. And an expired product won't perform as when you first bought it.
Here's how to know when it's time for something new:
Use the Right Cosmetic Tools
Good-quality makeup is an investment. To make the most of it, you'll need a basic set of cosmetic tools and accessories to help you apply—and remove—your makeup.
Find Makeup on eBay
Once you know what type of makeup you want, go to the Health & Beauty portal, click Makeup, and start searching for item listings on eBay.
If you can't find exactly what you want, try shopping at an eBay Store, tell the eBay Community what you want by creating a post on Want It Now, or save a search on My eBay and eBay will email you when a match becomes available.
Buy Makeup With Confidence
Before making your purchase, make sure you know exactly what you're buying, research your seller, and understand how eBay and PayPal protect you.
Know your purchase
Carefully read the details in item listings.
Know your seller
Research your seller so you feel positive and secure about every transaction.
Buyer protection
In the unlikely event that you don't receive your item or it is not as described, eBay Buyer Protection will cover your purchase price plus original shipping. Learn more.