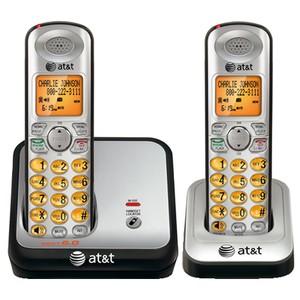 Since becoming popular in the 1990s, cordless phones have all but replaced traditional corded phones for people who use landlines. The cordless phone has a battery-powered handset that communicates with a base station, which connects to the telephone line in same way corded phones do. The FCC has allocated seven frequency bands for use with cordless phones from 1.7 MHz to 5.8 GHz, with most phones using 900 MHz bands or above. Cordless phones can be purchased at most electronics stores and larger department stores. They can also be found at secondhand shops and garage sales. If a person wants to look online for a cordless phone, then eBay has the widest selection and variety. This buyer's guide will examine the difference between corded and cordless phones, look at the features and variables of cordless phones, and provide a list of the biggest players in the cordless phone market.
Pros and Cons of Cordless Phones
While cordless phones have gained in popularity, there are some people who still prefer corded phones. The following table provides some benefits and disadvantages of each type of phone:
| Telephone Type | Pros | Cons |
| --- | --- | --- |
| Corded | Does not require electricity, thus can be used in a blackout; excellent voice quality; uses less power; no batteries required | Limited range of use; cord can tangle |
| Cordless | Portable, thus can be taken outside; eliminates the need to run to the phone to answer | Can lose signal during power outage; the handset can be misplaced; reduced sound quality |
Although cordless phones have improved sound quality, the difference between corded and cordless phone has been diminishing. As the table indicates, the biggest difference between corded and cordless phones is that corded phones do not have an interruption of service in the event of a blackout or other emergency in which power is cut.
Cordless Phone Features
Not all cordless phones were created equally. Consumers can find cordless phones free from frills or they can look for phones that have a variety of features. The following list of features can be found on many cordless phones.
Auto-Talk
The auto-talk function allows the user to pick the phone off the base and not have to press a button to start talking. This function does not generally work when the phone is not on the base, so a talk button will need to be pressed to engage the line. In addition to auto-talk, some phones have a volume control on the handset, so the user can adjust the volume while on a call. An offshoot of the auto-talk function is when any key on the phone can be pressed to engage the line.
Base Keypad
Most cordless phones have a keypad within the handset, but some have a second keypad within the base. This second keypad can have larger buttons and is helpful when looking through menu. The base keypad also allows the user to dial while keeping the phone near his or her ear. Some cordless phone models have a lighted keypad that glows when a button is pressed or the phone rings. Phones also sometimes have a ringer within the base in addition to the handset ringer.
Frequency
As noted above, cordless phones transmit signals between the base and handset via different frequencies. The first cordless phones used the 43-50 MHz band, but these phones often have poor sound quality. The 900 MHz band offers better sound quality, but can be interfered by other products, such as baby monitors and radio scanners. Better sound quality and security is offered by phones that use a 2.4 GHz band, but this band is also used by microwave ovens and wireless networking devices. Most advanced cordless phones use the 5.8 GHz band, but this band is also becoming oversaturated. Due to congestion on the 2.4 and 5.8 GHz band, the 1.9 GHz band has been reserved for voice applications only.
Multiple Handsets
Some cordless phones come with multiple handsets, which can be used in an intercom or walkie-talkie fashion within range of the base. Multiple handsets also allow for conferencing with an outside line. Calls can be transferred from one handset to another. Some models of cordless phone can register up to 12 handsets at once. This function can allow for the intercom function and outside conferencing simultaneously. Replacement handsets and bases can be purchased separately with some models, and others require the purchase of a new system to keep the same extension.
Speakerphone
Cordless phones can have speakerphones in the handset, the base, or both. Speakerphones allow for hands-free conversation and can allow a user to do other things while on hold. A speaker on the base allows people to answer calls without using a handset. A speaker on the handset allows a person to talk on the phone hands-free from anywhere in the house or office, as long as the person is within a few feet of the handset.
Two-Line Support
Some cordless phones can support two or more lines. This function is useful for small businesses or when one phone is not enough for a family. The different lines can have different ringers, so that the user knows which line has been called. Like multiple handset functionality, two or more lines can be used to conference the callers with outside lines.
Cordless Phone Manufacturers
There are many manufacturers of cordless phones. The following list is not meant to be exclusive, but these companies have are well regarded and have produced many cordless phones.
AT&T
AT & T is one of the largest companies involved in the telecommunications business. The company produces a wide assortment of cordless phones that have features, such as HD audio, caller ID announce, answering systems, and the ability to connect to cell phones. AT&T also manufactures cordless phones that are compatible with hearing aids that can be used by individuals who are hearing impaired. One highly rated model is the E2912 that includes two handsets. The built-in answering machine can hold up to 20 minutes worth of messages, which is significantly more than other models.
GE
As one of the largest producers of consumer electronics, GE, like AT&T, has a long line of cordless phones. The company makes phones for homes, offices, amplified versions, and even cordless phones that can be used with Skype. Almost all the models have speakerphones in the handset and a variety of ringtones. The 27909EE1 model has been praised for its ability to maintain a clear signal over 400 feet away from the base.
Panasonic
Panasonic is also a manufacturer of a wide variety of consumer electronics and the company's cordless phones are among the highest rated on the market. Most of the company's cordless phones come with an answering machine and multiple headsets. Panasonic is one of the few companies that produce corded and cordless phone combinations in which the base is a corded phone that comes with a cordless handset. The KX - TG 1032 S model has been rated as one of the best cordless phones available. It combines excellent sound quality and the ability to use four handsets.
Uniden
Uniden is a company that specializes in wireless products, including video surveillance, scanners, marine electronics, two - way radios, Bluetooth products, and telephones. The cordless phones include up to eight handsets and, like Panasonic, the company offers cordless/corded phone combinations, so users can take advantage of both types of phone. Most of the Uniden models include caller ID and a phonebook that can store up to 100 names and numbers.
VTech
In addition to cordless phones, VTech makes electronic learning toys and baby monitors. The cordless phones have interesting designs, such as a retro design that looks similar to a rotary phone when the handset is placed face down on the top of the base. The retro design phones come in a variety of colors. One of the highest rated cordless models is the VTech 6032, which provides excellent sound quality with no interference.
How to Find Cordless Telephones on eBay
In order to find cordless phones on eBay, you can use the keyword search box found on most pages or you can use the category directory. To do the latter, you should start by clicking on All Categories followed by the Consumer Electronics. One of the subcategories under Consumer Electronics is Home Telephones. From there, you should be able to find the Cordless Telephones & Handsets section. To narrow your search, you can specify whether you are looking for an entire system or just an expansion headset, as well as search by brand, condition (new, used, manufacturer refurbished), handset frequency, and number of lines.
Saving a Search on eBay
If you have a specific cordless telephone in mind, but would prefer to look through results at a later date, you can save a search on eBay. To save a search, you need to perform a search. After you do that, there will be a save search link. After clicking on the link, you can name the search for future reference. To access search results for a cordless phone, you can access your My eBay page. There is also the option to have search results emailed to you daily.
Conclusion
Cordless phones have allowed people to roam around their environment and chat with friends and colleagues. In some ways, cordless phones have been superseded by cell phones, but many people prefer to have the connection to the landline because of improved sound quality and fewer dropped calls. This guide has provided a few pros and cons of cordless phones when compared to corded phones, a number of features and variables with cordless phones, and a list of the largest manufacturers of cordless phones. Some of the highest rated models of cordless phones have also been provided. In addition, some tips for finding cordless phones on eBay and how to save a search on the site have been provided. When shopping online for cordless phones, eBay has the deepest selection and the ability to find a great bargain.