As a scrapbooker, one of the biggest challenges we face is finding somewhere to store supplies, especially 12x12 paper. One solution, which is easy to do yourself and relatively cheap, is to build paper shelves using a cube storage system.
Step 1 - Buy Packages of Cube System
Be careful, the one pictured below sells for between $5 - $7 dollars a pack but they often sit on the shelf next to a very similar system that cost $13 a packet! You will need at least 2 packs to make shelves. One pack for the base cube shape and one pack to give you 5 shelves.
Step 2 - Buy Cable Ties
Buy cable ties. I recommend the clear/white colour, as these will be almost invisible when in place. Even if you buy the small size, they will be strong enough for building these racks.
Step 3 - Construct the Base Cube Shape
Use one pack to construct a box (4 sides and a back/bottom). If you plan on putting the shelves on a desk, make sure you have the flat side of the round connectors on what will be the bottom of the shelves (otherwise it might wobble a bit).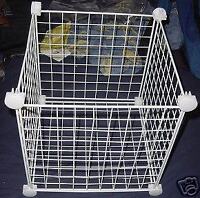 Step 4 - Insert Shelves, Secure With Cable Ties
Using the second pack of cubes, slide them in at regular intervals into the cube and secure with cable ties. I put the ties at the front, middle and back, along each of the three sides. The more ties you use, the more stable the structure. NOTE: If you look at each panel, you will notice a slight indent where the grill joins to the outside rail of the panel, creating a small sunken effect. I made sure that I had the indented bit as the bottom of the shelf so that it acted like a little railed shelf, that is, if you put a couple of sheets in, the rim of the panel stops the paper sliding out. When all the cable ties are in place, cut the excess part of the cable tie that sticks out off - DO NOT use your good scrapping scissors, this plastic is tough!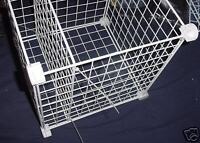 Step 5 - Add Extra Shelves or Units If Wanted
You can add another pack of panels and get 10 shelves in one cube. You can also add extra cubes for other storage needs. If you use plenty of cable ties, one cube can hold several completed albums
.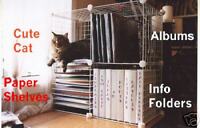 I hope you've found this guide useful. If you have, please take the time to vote for the guide. If you have any questions not answered in the guide or suggestions for other guides (I love writing them!), please click on my username in the top right hand corner to send me a message.