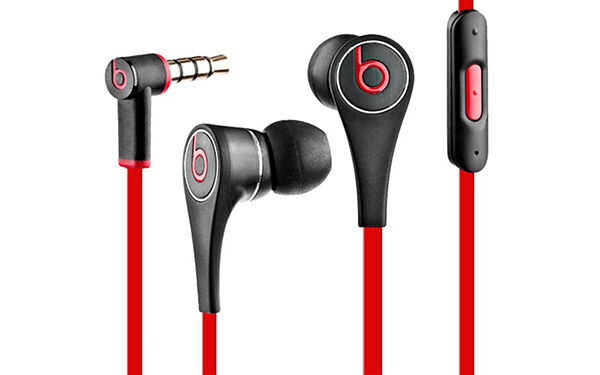 Enjoying music with a thumping bass while on the go used to require cumbersome over-the-ear headphones, but with Beats by Dre Tour, listeners get a massive sound in a compact package. The Beats by Dre brand is a co-venture between legendary rapper and producer Dr. Dre and record company boss, Jimmy Iovine. Together, they develop high-end audio products that aim to bring the excitement, energy, and emotion of the recording studio to every listener. Consumers can find these super-stylish in-ear headphones on eBay.
Beats by Dre Tour Bass Sound
Powerful, deep bass is the signature Beats by Dre sound for all its headphones. The low end of the music is particularly prominent, providing a rich tone. However, the Beats Tour earphones do not neglect the upper end of the mix. They offer an impressive level of detail that captures sizzling cymbals and subtle, high-pitched guitars. Regardless of listeners' favorite music, they can turn up the volume without experiencing sound distortion. Many users even find the sound comparable to high-quality car speakers or home theater systems.
Beats by Dre Tour Earbud Shape
Unique shaping makes the Beats Tour earbuds stand out from the crowd, in more ways than one. They are longer than other products, meaning they may not stay fixed in the ear canal. They extend out of the ears, so knocking them out in busy environments is highly probable. According to the Beats by Dre website, there were no problems with fit during the development of the earphones; however, the company appreciates that products may not suit all ears. For this reason, it recommends that consumers try them out for size before committing to a purchase.
Beats by Dre Tour Tips
The Beats Tour earphones come with four pairs of eartips and three pairs of secure-fit wingtips, allowing a customizable fit. The brand recommends trying the smallest tips and working up in size to find the best combination of comfort with a good seal that does not fall out. Users should experience a comfortable, tight fit that blocks out a great deal of external noise, offering improved tonal balance and bass response. A sensation of the ear feeling plugged means the tip is too far into the ear canal. To test the eartips, buyers should snap their fingers next to the ear. A dull and distant sound means the seal is good, while a distinct click means the seal is inadequate.
Beats by Dre Tour Cable
With the flatness of a ribbon, the broad cable of Beats Tour earphones keeps the unit tangle free. This means users can just put the accessories in pockets or bags without worrying about painstakingly winding them, and then simply pull the earphones out and have them ready for use in no time. Along with the flexible, sturdy material, this means that they suffer less wear and tear. However, early buyers of the earphones found the cables delicate and susceptible to breakage, so users should treat the products with care. To keep them safe, they come with a soft carry pouch for storage.
Beats by Dre Tour Remote and Integrated Mic
The versatile earphones feature a Beats ControlTalk remote on the cable. With this in-line remote, users can play, pause, or skip music tracks and switch seamlessly to talking on the phone using the integrated mic. The remote also allows users to end and decline calls.
Beats by Dre Tour Styling
The ultra-cool Beats by Dre products encompass a range of headphones worn by professional musicians and commuters alike. Most color combinations have a dark red cable and the brand logo, made up of a lower case "b" in a circle of a solid color. The round part of the letter forms a perfect circle and the top half is an unadorned, perfectly straight line.
Beats by Dre Tour Feature

Description

Height

25 mm

Jack size

3.5 mm

Cable length

1.25 m

Weight

0.016 kg

Color theme

Black: black earpiece, red cord, and red logo

Red: red earpiece, red cord, and white logo

White: white earpiece, red cord, and red logo

Titanium: black earpiece, titanium cord, and black logo
The distinctive red cable is an attractive feature that defines the brand. However, the titanium color theme comes with a titanium-colored cord.
How to Buy Beats by Dre Tour on eBay
Beats by Dre Tour earphones are a great investment for fans of a full bass sound. You can find brand new earphones, as well as more affordable used models and replacement parts, from reliable sellers on eBay. Simply search for "Beats by Dre Tour" using the field on any page of the site. To find authentic Beats by Dre products, look for the signature logo and flat cable. Whether buying new or used, you should seek complete sets that feature the eartips, wingtips, and carry pouch. Then you can enjoy the powerful kick of the bass in comfort.