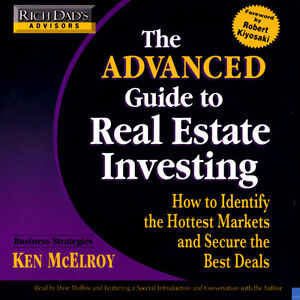 Whether looking for the perfect storefront or an apartment complex to generate some extra income, commercial real estate can be a solid investment. eBay enables prospective buyers to search for commercial real estate properties nationwide. The following guide provides the reader with the tools and information needed to successfully purchase commercial real estate.
The information contained in this buying guide is intended for general information purposes only. This guide is not intended to be a complete list of all things relevant to the purchase of real estate and should not be deemed a substitute for professional advice. You should conduct your own due diligence into all aspects of a real estate purchase and depending on your situation, you should get assistance from experts, including a licensed real estate broker, a property inspector, title/escrow company, attorney, and/or financial advisor.

What is Commercial Real Estate?
Commercial real estate can be any real estate other than a single-family home. The term generally applies to office buildings, apartment complexes, retail properties, warehouses, educational buildings, and manufacturing facilities. Commercial real estate may already feature an operating business on the property, such as a gas station or restaurant. Commercial real estate may also be unused space, such as a vacant lot or mini-mall.
Determine Your Commercial Real Estate Goals
Buying commercial real estate can be a wise investment. Most people start buying commercial real estate for one of the following reasons: a specific business use, extra rental income, or to build equity.
Commercial Real Estate for Specific Business Use
Some people buy commercial real estate with a specific use in mind. They might want to open a store, restaurant, or bar and need a place to put it. Buying property can provide particular benefits over renting, including building equity, and the ability to manage the space without restrictions from a property owner.
Commercial Real Estate for Extra rental Income
People who buy commercial property are also often looking for some extra income. Whether they are interested in buying a duplex, an apartment complex, or a mini-mall, renting out their commercial real estate space can be a great way to earn some extra money. In a growing market, where real estate prices are rising, someone else is helping the owner build equity. If the owner rents out half of their duplex, renters are helping pay the mortgage and build equity for the owner. Prospective owners should understand the economics and personal finance issues surrounding commercial real estate.
Commercial Real Estate for Building Equity
Equity is the value of the owner's share in a property. When you finance a large-scale commercial real estate purchase, you are borrowing the money from a bank and paying the bank back slowly, over time. With each dollar the owner pays back, that much of their equity is growing. Think of it as the ultimate piggy bank, where every dollar you put in gives you a little more of the property. And if the commercial property appreciates in value, that single dollar can end up being worth more than a dollar. As the value of commercial real estate property increases over time, so does the owner's equity.

Plan Commercial Real Estate Investments
No matter what kind of commercial real estate property you buy, real estate appreciation is usually a slow process. The prospective owner will need to create a solid business plan and account for any potential problems. Before a buyer can decide what kind of commercial real estate property they want to buy, it is important to take a few key things into account.
Financing Commercial Real Estate
Before securing financing, it is important to know exactly what the buyer can afford and how much risk they are willing to accept. They need to determine whether the rental rates can support the expenses of the property. Theses expenses may include, but are not limited, to mortgage loan payments, property taxes, property insurance premiums, building repairs, and building maintenance. The owner may find that they have other expenses, including realtor fees or fees associated with advertising available property space.
Assessing Their Skill Set
Buyers must assess their skill set. For example, if they are able to do building repairs and maintenance, they might be more willing to consider buying a building in poor condition. They may need to hire someone to handle accounting and financing, however. Likewise, if they can do accounting and financing work, they might need to hire a contractor or superintendent to repair and maintain their new property. Buyers must think about what their particular skill set brings to the commercial real estate investment. Any duties that must be performed, but which they cannot do, will be an additional cost, because they will need to pay someone else to perform those duties or fix their mistakes if they are unable to fulfill those duties properly.
Time Commitment
How much time are they willing, or able to devote to a commercial real estate investment? If they plan to pursue a full-time career in addition to investing in commercial real estate, they may want to limit their day-to-day responsibilities in relation to their investment property. For example, even though they are able to afford to buy a 10-unit apartment building, they may not have the time to properly manage the property. Day-to-day tasks might involve collecting rent payments, documenting and performing building repairs, resolving disputes among tenants, property maintenance, and so on. If they cannot perform those tasks while working another full-time job, and they do not want to pay someone to do it for them, they might want to consider a less time-consuming commercial investment property; a duplex housing unit, for example. On the other hand, if they are considering commercial real estate as an alternative career, they might find it advantageous to invest in a large commercial property such as an apartment complex or mini-mall.
Risk Tolerance
Buyers must also consider their tolerance for risk. Some types of commercial real estate properties have the potential to deliver better financial returns than other types of real estate. Generally speaking, the risk level of an investment increases as its potential for financial gain rises. Therefore, a buyer must decide how much risk they are willing to accept before they invest in commercial real estate. If you are investing in commercial real estate to supplement their retirement income, they will likely want to invest in low-risk properties. Conversely, if buyers are young and looking for maximum financial return, they might want to consider investment properties with higher levels of risk, because they have time on their side to earn back potential losses. A low-risk investment property, for example, might include buying a new duplex housing unit in an established, desirable area and renting one half while the buyer lives in the other half. A riskier commercial real estate property might involve investing in a new mini-mall on the outskirts of a growing town with the expectation that the area will continue to develop and rental prices for commercial properties will go up substantially.
Remember that the value of commercial real estate property is often averaged over a large area, but that each market is unique in its size and scope. Buyers should spend some time walking around the neighborhood. What is the rent of other similar commercial real estate properties in the area? Is there a difference in commercial rental prices depending on what side of the street the property is located on? What types of commercial properties are most valued in the area? A buyer might not want to invest in an apartment complex on the edge of an industrial area, but an out-of-business machine shop down the street might generate high rents from businesses that want to be near their business partners.
Tax and Investment Goals
A buyer should consult an accountant, financial advisor, or other expert before they invest in any commercial real estate property. They will want to be sure that their business plan will help them achieve their tax and investment goals. Buyers will also find that there are many commercial real estate books available on eBay to help them learn more about buying commercial real estate property, and how to make it work for them. There are many ways to earn money by buying a commercial real estate property. Buyers might benefit by learning lessons from experts in commercial real estate.

Find Commercial Real Estate on eBay
Once you know what type of commercial real estate you want, go to the Real Estate portal, click Commercial, and start searching for item listings on eBay.Use the checkboxes in Commercial Real Estate Finder on the left of the screen to quickly narrow down item listings by State, Type, or Lot Size. Search eBay listing titles for specific words. For example, if you want to find an apartment complex, "type apartment" (without quotation marks) into the Search box. Click Search Title and Description to expand your results. Visit eBay's Search Tips page for more tips on searching with keywords. If you can't find exactly what you want, try shopping eBay Stores, tell the eBay Community what you want by creating a post on Want It Now, or save a search on My eBay and eBay will email you when a match becomes available.

Buy Commercial Real Estate With Confidence
Before moving forward with any real estate purchase, you will want to consider specifics like price, insurance and the nature of bids in auction-style advertisements. You should carefully read all the item listings and if you have any question you should query the seller. A buyer should always research the seller before moving forward with the transaction.
Know What You're Buying
Carefully read the details in item listings. If you want more information, ask the seller by clicking the Contact Member link in the seller's profile. In some states, the seller may be required to deliver a specific disclosure statement. Familiarize yourself with the seller's terms, including any guarantees and requirements regarding the acceptable forms of payment. Check to see what closing costs you are expected to pay. Important questions you need to ask yourself:
About Price
Am I bidding on the full price, or am I bidding on a down payment?
About Title
Is the title clear; that is, free of liens, easements, and other encumbrances? If the title is not clear, what are the easements on the property?
About Insurance
Can I get title insurance at my own expense?
About CCRs
Are there any covenants, codes, and restrictions on the property?
About the Deed
What type of deed will I be getting?
Nature of Bids in Auction-style Advertisement
Due to the wide variety of laws governing the sale of real estate, eBay Real Estate auction-style advertisements of real property do not involve legally binding offers to buy and sell real estate. A bid is not a contract between seller and buyer. Rather, bids represent a buyer's serious expression of interest in buying the seller's item. Learn more about eBay's bid policy for real estate and eBay Real Estate Rules and Policies.
Know Your Seller
Research your seller so you feel positive and secure about every transaction. What is the seller's feedback rating? How many transactions have they completed? What percentage of positive responses do they have? What do buyers say in their feedback? Did the seller receive praise?
Do Your Due Diligence
As with all major decisions, in buying real estate, you will want to make sure you get full information and the best advice possible. You may want to consider using an experienced real estate broker who can help you with your due diligence, negotiations, and closing. Depending on your personal circumstances and investment goals, you may also want to engage an attorney and/or a tax advisor.
Payment
PayPal enables you to pay without the seller ever seeing your bank account or credit card numbers. In fact, PayPal protects buyers 100% against unauthorized payments from their accounts.Visit the Security and Resolution Center to learn how to protect your account and use eBay's quick and efficient resolution tools. Never pay using instant cash wire transfer services through Western Union or MoneyGram. These payment methods are unsafe when paying someone you do not know.

Conclusion
Buying and renting out a commercial real estate property can be a great way to supplement your existing income, invest for retirement, or even start a new career. Regardless of what path you choose, be sure that it is consistent with your skill set, time allotment, risk tolerance, and your tax and investment goals. Before you invest in any property, consult a financial expert and create a well-developed business plan. Investing in commercial real estate is a serious financial and personal commitment, but it can be a very rewarding experience.