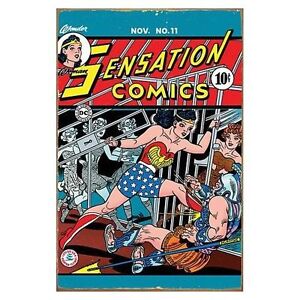 Comic books have long been a passion of collectors worldwide. The reasons why people collect comics are as varied as the individual collectors themselves. Some relish the nostalgia, others enjoy the characters and story lines, while still others appreciate the illustrations as an art form. Whether comics enthusiasts are just starting out, searching for classic or out-of-print editions to round out their collection, or just looking for a the newest graphic novel, there are a wide variety of comics options to choose from.
When searching for comics and related merchandise, buyers should be aware of all available options before making a purchase. Find out about different comic creators, the value of comics, comics storage and care, and places to find and buy comics, such as at local comic book stores or online marketplaces like eBay.
The History of Comics Books
From the early days of newspaper comic strips, crime stories, and tales of suspense, to the reign of superheroes, horror stories, and adult themes, comic books have both chronicled and become part of pop culture history in the United States.
Platinum Age of Comics (1897–1937)
Early comics evolved from newspaper comic strips and were first sold as comic books during the early 1930s, ushering in the Platinum Age. Between 1933 and 1937, icons like Mickey Mouse, Flash Gordon, and Dick Tracy all made their mark, and artists like Will Eisner, Bob Kane, Jerry Siegel, and Joe Shuster all started their careers.
1937 marked the debut of themed comics. Detective Comics focused on crime and suspense stories and would eventually be the company to introduce the world to Batman. Detective Comics would later shorten its name, keeping just the initials DC. Detective Comics set the stage for the beginnings of the Golden Age of Comics.
Golden Age of Comics (1938–1955)
The Golden Age began in 1938 when Action Comics #1 introduced the first superhero, Superman. Inspired by Superman's success, Bob Kane developed the darker superhero, Batman. While Batman had no powers, his dark tales and maniacal villains made his character a success. Between 1938 and 1945 superheroes flourished. The Spirit, Captain Marvel, the Flash, the Human Torch, the Sandman, and many others were born in various publications.
In 1940, war comics became all the rage, and patriotic heroes made their debut. Captain America, created by Joe Simon and Jack Kirby, became the first hero to get his own title before appearing in a previous comic. In 1945, with the end of World War II, the Golden Age of comics drew to a close and science fiction comics gained popularity.
Silver Age of Comics (1956–1969)
With sales of superhero comics on the decline, horror comics like The Crypt of Terror, Weird Fantasy, and The Vault of Horror became increasingly popular during the Silver Age. However, by the mid-1950s, superheroes like Superman, Captain America, the Flash, and the Human Torch were revived and given new titles and story lines.
Comics from this period featured modern slang, quirky personalities, and personal problems beyond saving the world. The Fantastic Four were the first in a new wave of Marvel heroes that also included the Incredible Hulk and Thor. However, it was Spider-Man's appearance in Amazing Fantasy #15 that cemented the Marvel style.
This was also the era of the super group. The Avengers, a revived Justice League of America (JLA), and the X-Men all showed up. While superhero comics rose to power once again, science fiction comics continued to be popular. This is what led to Marvel combining them both in the pages of the Silver Surfer comic.
Toward the end of the Silver Age, the comic book scene looked very much like it does today: a plethora of heroes each with his or her own comic, and many characters that do double duty in a superhero group.
Bronze Age of Comics (1970–1979)
Reflecting the times, Bronze-Age comics began to address more modern themes. Although classic comic book heroes continued to be popular, new heroes such as Conan the Barbarian and stories such as Star Wars changed the rules by expanding character personalities, providing plot-line motivations, and setting darker storylines, ultimately ushering in the Modern Age of comics.
Modern Age of Comics (1980–Present)
During the 1980s, the rise of the graphic novel placed popular heroes in more adult settings, which has become increasingly common in the Modern Age. Notable among them are Alan Moore's The Watchmen and Frank Miller's The Dark Knight Returns.
The 1990s marked the splintering of comic book publishers. In an industry previously dominated by Marvel and DC, many independent and alternative comics publishers, like Darkhorse and Image, came on the scene.
Collecting and Valuing Comics
Over the past 10 years, comic books have gone from a cottage industry to an entertainment juggernaut. Movies like Spider-Man, Batman Begins, and X-Men have fueled interest in this visual art form. Comics have come a long way from the classic "Pow," "Bam," and "Biff" days of the Golden Age. Complex story lines challenge characters both physically and emotionally, and the artwork has never been better.
With so many talented artists and writers involved in making comic books, it's no wonder that collecting comics has become one of the hottest hobbies around. The main thing for shoppers to remember when collecting comics is to enjoy themselves. They should focus on characters they enjoy. They might even ask themselves, does the hero's superpower, secret identity, or the world they inhabit interest them? Is the superhero part of a group? If so, is the shopper interested in collecting more than one title at a time?
Value and Grading of Comics
Comic book values typically depend on a number of factors, including how hard-to-find a particular issue is and the condition of the comic book. It's a good idea to understand the grading scale used by most comics collectors to help the shopper ensure that their expectations are met when they purchase comics.
Comics guides like Overstreet and Wizard are helpful resources for collectors. They not only provide the value of many back-issue comics but often run articles about upcoming issues or events in the worlds of Marvel and DC. The following comics grading scale is commonly used to rate the condition of comics. It includes the name of the condition, the symbol for the condition, and a numerical value.
| Condition Name | Condition Symbol | Numerical Value | Description |
| --- | --- | --- | --- |
| Mint | MT | 9.9 to 10.0 | Mint is the best example of a comic book's condition ever seen. It is perfect or as near to perfect as possible. |
| Near Mint/Mint | NM/M | 9.8 | Near Mint/Mint comics are almost perfect and have only minor imperfections. The comic book is flat and shows no wear. |
| Near Mint | NM | 9.2 to 9.7 | These comics are nearly perfect, with only minor binding errors allowed. Ink is bright and reflective, and the cover shows no wear. |
| Very Fine/Near Mint | VF/NM | 9.0 | ery Fine/Near Mint comics are in outstanding condition. Slight cover bend is apparent, and wear is almost imperceptible. |
| Very Fine | VF | 7.5 to 8.5 | These comics are in excellent condition. They have a relatively flat cover with minor corner wear. The paper is supple, not brittle. |
| Fine/Very Fine | FN/VF | 7.0 | These comics are in above-average condition. They show minor cover wear, and corners may be blunted. |
| Fine | FN | 5.5 to 6.5 | Fine comics are in above-average condition and show some cover wear, but they are clean with no creasing. Blunted corners are common, and these comics show minor or moderate spine roll. |
| Very Good/Fine | VG/FN | 5.0 | These comics are in above-average condition and obviously used. They show minor cover wear with minor or moderate creases. Minor staple tear and minor rust are acceptable in this range. |
| Good/Very Good | GD/VG | 3.0 | Good/Very Good comics are used and show substantial wear. The covers are typically loose or detached at one staple. Discoloration or fading is apparent. |
| Good | GD | 1.8 to 2.5 | These comics show substantial wear are are obviously read. Covers are dull, and there is moderate soiling and staining. |
| Fair/Good | FR/GD | 1.5 | Fair/Good comics show substantial and heavy wear. Covers lack luster, and the pages are soiled, scuffed, and possibly unattractive. |
| Fair | FR | 1.0 | These comics show heavy wear and fall in the lowest collectible grade. Spines are split and roll is common. There are missing, rusted, or discolored staples. |
| Poor | PR | 0.5 | These comics hold little or no collector value because they are missing large chunks. Corners are significantly round or missing altogether. |
Storage and Care of Comics
By taking a few simple precautions, buyers can protect their comics and enjoy them for years to come. Preserving comics is a wise idea for collectors who may wish to sell their collection at some point.
Comics Storage
Storing comic books can be as simple or as elaborate as a collector wants. On the simple side, comic book-sized plastic bags are available to keep dust and dirt out. Special acid-free cardboard backings are also available that won't damage ink. For more serious collectors, or more valuable comics, there are hard plastic cases that will protect a collector's comics from almost everything.
Caring for Comics
To keep comics in a good condition, collectors should keep their comics out of direct sunlight. Sunlight will quickly fade comics, making the ink dull and the pages brittle. Also, shoppers should avoid handling their comics too often, as oils present on the fingers will eventually discolor the comics and leave spots.
Find Comics on eBay
Once shoppers know what type of comics they want to purchase, they should go to the Collectibles portal on eBay, click Comics under Collectibles, and start searching for item listings.
eBay Comics Categories
The Categories list on the left side of each page will help shoppers narrow down their listings by item type to find links for all types of comics and merchandise. Shoppers can find links for Golden Age, Silver Age, Bronze Age Comics, and more.
eBay Keyword Search for Comics and Merchandise
Search eBay listing titles for specific words when shopping for comics and merchandise. For example, to find Golden Age Comics, type "Golden Age Comics" (without quotation marks) into the search box. Click the Advanced button to customize the results. Shoppers should also visit eBay's Search Tips page for more advice on searching for comics and merchandise with keywords. If buyers can't find the exact comics they want, they should try shopping eBay Stores, tell the eBay Community what they want by creating a post on Want It Now, or save a search on My eBay, and eBay will email buyers when a match becomes available.
Buy Comics With Confidence
Before bidding on comics and merchandise on eBay, shoppers should make sure to know exactly what they're trying to purchase, research the seller, and understand how eBay and PayPal protect the buyer.
Know eBay Purchase Details
Carefully read the details in the listing for the comic. Figure delivery costs into the final price of the comic products. If a lot of money is spent on a rare comic, make sure the seller will insure the product when it ships. For more information about comics and merchandise, ask questions by clicking the Ask Seller a Question link under the seller's profile.
Always make sure to complete an eBay transaction with a bid, Buy It Now, or Best Offer. Transactions conducted outside of eBay are not covered by eBay protection programs. Never pay for comics and merchandise on eBay using instant cash wire transfer services through Western Union or MoneyGram. These payment methods are unsafe when paying a stranger.
Know the eBay Seller
Research the eBay seller to ensure a positive and secure transaction when purchasing comics and merchandise.
Questions to Ask the eBay Seller When Buying Comics
What is the seller's feedback rating?
How many transactions have they completed?
What percentage of positive responses do they have?
What do buyers say about their comics products in the feedback?
Did the seller receive praise?
Most top eBay sellers operate like retail stores and have return policies. Do they offer a money-back guarantee for their comics products? What are the terms and conditions?
Buyer Protection on eBay
In the unlikely event that a product is not delivered or it doesn't match the comic or merchandise description, eBay Buyer Protection covers the purchase price plus original shipping for the purchased product.
Conclusion
Comics collecting can be an enjoyable and rewarding hobby. Comics reflect popular culture and give us a glimpse into the past, as they tend to reflect the attitudes of society during the times they were written. They capture attitudes of the American people in a way that few mediums can. But before buying a comic or related merchandise, comic book fans should know where to find specific comics, the value of the comics, storage and care requirements, and how to purchase comics safely and securely.