George R.R. Martin is no stranger to the literary world publishing vast amounts of books, as well as a editor. Martin established himself in the fantasy world with the Epic fantasy series A Game of Thrones. Now there are many discussions about the True first printing state of this book.

George R.R. Martin's website says that although the official publication date for the British edition was before that of the US edition, the US edition was published early and copies were given out at the ABA (the big annual US trade show - now called book Expo) prior to the release of the British edition, so he considers the US edition to be the true first.

The true first edition of this copy is the American Trade Hardcover from Bantam Spectra with the silver foil. Also it has the original price of $21.95 on the back of the dust jacket and on the inside flap. It also has six quotes on the back of the dust jacket. On the copy right page there will be the number line with BVG 10 9 8 7 6 5 4 3 2 1 and directly above this it will say Printed in the United States of America.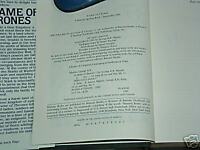 This copy has been fetching high prices since it's debut in 1996 and you can still find a first printing for around 200 - 500 dollars(depending on condition). If you want a signed copy you will pay upwards of 850 dollars. This books has really jumped in value. If you want a first edition of this book you will have to pay a lot, however pretty soon there won't be that many copies even for sale.