COLLECTING JRR TOLKIEN BOOKS
If you are interested in collecting books by JRR Tolkien, welcome to a wonderful hobby! There are so many high quality books published in Great Britain and America (not to mention other countries), it would take a small library to list and describe all the editions, printings and varieties available. If you are a serious collector, you will want to purchase a copy of J.R.R. Tolkien: A Descriptive Bibliography by Wayne G. Hammond and Douglas A. Anderson. This book is presently out of print, but can be purchased second-hand for $100 to $150 if you diligently search the Internet for it. This is the Tolkien Collector's Bible for editions produced before the mid-1990's. If you also want to collect older works about Tolkien, Tolkien Criticism: An Annotated Checklist by Richard C. West, is another invaluable tool.
BRITISH EDITIONS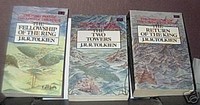 JRR (John Ronald Reuel) Tolkien lived in England, so most of the original editions of his works were published in Great Britain. These are very desirable for the collector, and, as would be expected, harder to find in the United States than American versions. An extremely helpful web site on British Editions is tolkienbooks.net. The Hobbit (1937) and The Lord of the Rings (1954-55) were first published by George Allen & Unwin. Unwin always gives a complete printing history on the copyright page. If there is only a statement like "first published in 1954" (followed by no printing history or numberline), it can be assumed you have a First Printing of that Edition. HarperCollins currently has the rights to publish these works. HarperCollins uses numberlines to identify the printings. A numberline that includes "1" (i.e. "10 9 8 7 6 5 4 3 2 1"), indicates a First Printing.
A word of warning about "signed" British copies: In the recent past, some sellers have listed copies with facsimile JRR Tolkien signatures as though they were hand signed. Be very careful if you decide to buy a "signed" copy. They are extremely rare. For British books that have facsimile signatures, see tolkienbooks.net/html/tricksy_hobbits.htm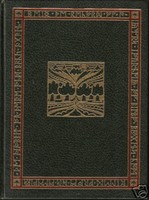 AMERICAN EDITIONS
Nearly every work of Tolkien's released in America has been published by Houghton Mifflin. Use caution when buying American Editions, as Houghton Mifflin is known for supplying very limited information on their copyright pages. (Some First Editions of The Lord of the Rings books do not even have a copyright date!) For example, the Collectors Edition of The Hobbit only lists the 1966 copyright date although these were not first published until 1973. Recent printings do not even have a printing number or numberline and have been misidentified by sellers (sometimes intentionally) as First Printings. One good thing about Houghton Mifflin is that they always identify first printings of an edition. They will either state "First Printing" on the copyright page, or show a numberline including the number 1 (i.e. 10 9 8 7 6 5 4 3 2 1). If the book does not have a statement that it is a First Printing, or a numberline including a "1", it is NOT a first printing, no matter what anyone tells you!
For an exhaustive list of every Tolkien work published, see forodrim.org/arda/tbchron.html For books ABOUT Tolkien, see forodrim.org/bibliography/tolklist.html
I intend to publish more detailed Guides about collecting Tolkien books in the near future. The next one planned will be about collecting The Hobbit. Be looking for it! Guides by marksbooksnsuch
Check out the Tolkien Books in my eBay Store!
If you have any questions or suggestions concerning this guide, please feel free to contact me. I try my best to be accurate, but I am, after all, human, and do make mistakes from time to time. It is always wise to double-check any information you find on the Internet (or any other source), including information from me! If you believe any of the information provided is in error, please contact me through the link on my Feedback page.