With more than one hundred thousand US Boy Scout postcards to choose from, this guide will help the beginning collector focus on building a truly unique, personal, and interesting collection.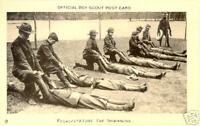 Everything that can be said for U.S. Boy Scout postcards applies to those from other countries, and I have many wonderful worldwide cards in my own collection. However, I decided years ago that with over a million different cards to choose from, I could not learn everything about all of them, and I certainly could not afford to buy all of them, so I began to specialize and narrow my collection. Recognizing the need to do so is the first step to becomming a collector instead of an accumulator.
Next, begin to categorize all available items.
Official Boy Scout (OBS):

these postcards were produced under contract for the Boy Scouts of America (BSA.) They break nicely into three groups.
Those that were for sale to Scouts, either individually or in sets, and advertised in the equipment catalogs and are therefore relatively simple to document - if difficult to find. (Less than three hundred cards printed before 1950.) see: Postcards Issued by the BSA

Others were used by the BSA for adverrtising and/or fund raising purposes. The existence of many of these latter cards is totally undocumented until a knowledgeable collector stumbles upon them. (Probably not more than about three dozen cards before 1950.)
Cards issued for special BSA places and/or events (q.v.)
Philmont Scout Ranch (About 200 cards,)
Schiff Scout Reservation / National Training Center (About 100 cards.)
National Headquarters (Less than two dozen cards for all locations.)


Privately Issued Cards (Not affiliated with the BSA or its local councils):

Before the congressional charter of 1916 gave the BSA the exclusive use of the term

Boy Scouts

and all of the uniforms and insignia associated with the organization, about eight companies tried to profit by publishing series of cards showing Boy Scouts. Some were drawn by artists (with or without signatures.) Others originated as photographs. In addition, images of Scouts were used incidentally on greetings cards, patriotic cards, comic cards, religious cards and others. Be careful! There are many World War I military cards that show child-like soldiers. The cards never mention

Boy Scout

, but dealers with insufficient knowledge often mislabel them. (Less than 250 postcards fall into the category of privately printed cards.)
See also:
sets and series of postcards not published by the BSA.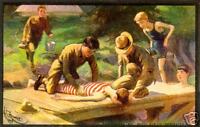 Founders of the Scouting Movement (and other important American Scouters):

The number of such cards is not large, but with diligence it is possible to put together a nice collection.
Baden-Powell.

Worldwide, many wonderful cards show B-P. However, it is quite challenging to find one that documents his relation to Scouting in the United States. Such a card has to show an American Scout, Scouter, or an American Flag, or it has to have been issued in conjunction with one of his visits to the United States. (Recently, by watching eBay, the author found such a card documenting B-P's address to 3500 Scouts during his 1912 visit to New York City.)
William Boyce
Ernest Thompson Seton
Dan Carter Beard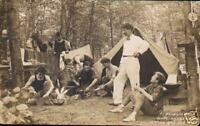 Events:

Postcards have been issued for all kinds of events, including, but not limited to
World Jamborees:

my personal goal here is to find cards that document BSA participation.
National Jamborees.

See:

Other events with BSA participation such as World Fairs.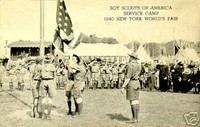 Council and/or Locally Printed Cards:

Since 1911, over 3500 council or locally owned summer camps have served over five million Boy Scouts. All encouraged boys to write home, and the vast majority provided (sold!) postcards for the boys to do just that. So did local businesses near the camps. Every few years the camps had new cards. Over the years, the camps serving Scouts from the larger metropolitan areas published several hundred cards each. The best estimate is that at least 40,000 different camp cards were produced in all. [One postcard dealer purchased from

one

former postcard printer, an archive of over 3.5 million negatives from which postcards (not just Boy Scout) were printed.] Some collectors try to gather up as many different cards as they can from the camps they attended. Some try to find at least one card for each camp in their state - some, one for each Boy Scout Council. In addition, many councils published cards showing local Scout offices, buildings, and events. How about finding a postcard showing each school, church, YMCA or other organization in YOUR town that sponsored a Boy Scout troop? That would require a great deal of research, but would almost certainly provide you with a unique collection.
Real Photo Post Cards (RPPC's):

A

real photo

postcard is one that was not printed, but rather developed on photographic paper with a postcard back. Many dealers mistakenly advertise any card whose image started as a photograph as a real photo postcard. When in doubt, double check. The vast majority of ALL Boy Scout postcards were real photo cards. Of the first five million Scouts who put on a uniform, a huge number had their photograph taken either by their parents or a photographer. These were then printed on postcard backs and sent to relatives. There were probably more than 750,000 such cards made. Most did not survive: a reasonable estimate is that there are about 75,000 cards that can be found. Although any one of them that exists today may actually be unique, as a group, they are relatively quite common. For a very large number of them, it is impossible to identify either the individual or the location. Never-the-less, it is quite possible to accumulate a nice collection of real photo Boy Scout postcards. Concentrate on those that are identified. You might want to find some that show different badges of rank, different badges of office, different uniform parts. (For example: at different times Scouts wore puttees, spats, or long woolen socks - there were several different hat styles, and so forth.) More desirable real photos are identified. They fit into some topic (q.v.) such as transportation by including cars, buses, canoes, or bicycles. They may document Scouting activities or disaster relief such as service following the tornado that struck Springport, Michigan in 1911.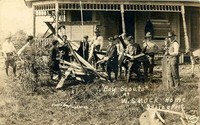 Topics:

Finally, within Scouting, it is possible to put together various sized collections related to almost any topic. The author has twelve different cards showing the massive redwood tree in Crescent City, CA known as the

Boy Scout Tree

. Two cards on this page are among many showing CPR. There are many more showing first aid. Various modes of transportation have already been mentioned. There are also cards showing Boy Scout statues, totem poles, parades, bands, cooking, signaling, bridges, archery, advertising, tower building, and animals. In fact, you are limited only by your imagination: there is hardly any topic for which some appropriate Boy Scout postcard can not be found.
I hope this all-too-brief guide both piques your interest and gives you a framework with which to begin orgainzing your thoughts about Boy Scout Postcard Collecting in the U.S. (and elsewhere!)
Stan Lipson