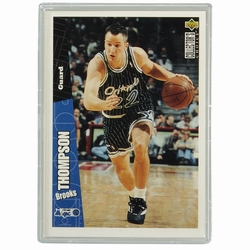 Although the basketball card industry is not as big as the one for baseball cards, it is still significant and it has potential for further growth. While organized professional basketball is relatively young when compared to organized professional baseball, the history of basketball cards is even more scant by comparison. This means that the basketball card industry is in more of a developmental phase, which is exciting for collectors. As basketball's popularity explodes around the world, there is also potential for basketball cards to become a global commodity.
Many of the same principles established in the baseball card industry hold true for basketball cards: rookie cards are among the most in-demand items, the condition of cards matters, certain card manufacturers lead the industry, and card prices fluctuate due to changing supply and demand. This guide will cover these principles as they specifically apply to basketball cards and provide fundamental knowledge that will be helpful in beginning and expanding a basketball card collection.
History of Basketball Cards
A basic knowledge of the history of basketball cards is helpful to understanding which cards are available to be collected and which cards collectors desire most. The history of basketball cards has a relatively long timeline, but it is scattered, with a number of large gaps existing in the production of cards.
The First Basketball Cards
A tobacco company, Egyptiene Cigarettes produced the first set of basketball cards in 1910, featuring college stars since no organized professional basketball league existed at the time. Egyptiene then quickly ceased production after its second set in 1911. Chocolate producer C.A. Briggs released the next set of cards in 1932 and the following year, the Goudey Gum Company released four basketball player cards among its set of stars across multiple sports. These would be the last basketball cards produced until after World War II.
Postwar Basketball Cards
Bowman briefly assumed the basketball card manufacturing mantle in 1948. This set is famous because it is the only one Bowman ever made and because it features the rookie card of basketball's first true star, George Mikan.
Basketball was still not popular enough at that point to support a trading card industry, so there was another production lull until Topps released a set in 1957-58. Unable to find the same kind of success it was having with baseball cards, the trading card giant did not produce another set of basketball cards until 1969-70. Fleer tried its hand in the industry in the interim, producing basketball cards in 1961-62, but was also unable to find immediate success.
Modern Basketball Cards
Although basketball cards did not have the same kind of cache as baseball cards at the time, Topps did establish continuity in their production in the 1970s. However, it took an 11-year break in 1981 due to poor sales to do so. Fleer filled the void and wound up producing the prestigious 1986-87 set that includes rookie cards for a number of basketball legends, including Charles Barkley, Hakeem Olajuwon, Karl Malone, Clyde Drexler, Dominique Wilkins, Isiah Thomas and James Worthy. Most importantly though, the set also includes Michael Jordan's rookie card.
Topps and Upper Deck dominated the basketball card industry in the 1990s and remained the leading manufacturers until 2009. Panini purchased card-maker Donruss in 2009 and has since become the exclusive NBA-licensed producer of basketball cards.
Knowing Basketball Cards
Because the history of basketball cards is relatively scattered, it is important to know which manufacturers produced cards at various times. Some of the major manufacturers have come and gone in the basketball industry, so there are gaps in their production.
The basketball card industry is also very rookie card-centric. Manufacturers spent many years proportioning their production towards rookie cards, sometimes comprising half their sets with rookies.
As with any kind of sports card, it is also important to be familiar with the condition of cards, since it is a critical factor in determining their value.
Manufacturers
Over the years, four manufacturers have been especially prominent in the production of basketball cards: Upper Deck, Topps, Panini, and Fleer. It is important to keep in mind that although basketball card manufacturers produce sets, in recent years these have not been comprehensive sets of every player that has been on an NBA team's roster. Contemporary sets generally include prominent players and most of that year's rookies.
Upper Deck
Upper Deck has been one of the leading manufacturers in the industry since it received a license from the NBA to produce basketball cards in 1990. One of Upper Deck's most prized releases is the 2003-04 Exquisite set because it features the rookie cards for three of the game's biggest stars: LeBron James, Dwyane Wade, and Carmelo Anthony. One popular way of purchasing Upper Deck basketball cards is through hobby boxes, which include numerous small packs of cards. The entire set has generally had 50 regular player cards and 50 rookie cards, so it is possible, though not likely, to get a complete set in one box.
Topps
Although Topps no longer produces basketball cards, the company was the industry leader from 1969-1981. Since Topps' basketball-card heyday occurred in a different era, vintage collectors generally seek its cards. Among Topps' most popular series are 1969-70 for the Lew Alcindor rookie card, and 1980-81 for the Magic Johnson and Larry Bird rookie cards. Topps ceased basketball card production from 1981-1992, and thus missed out on the chance to produce a Michael Jordan rookie card. However, they did manufacture a number of other highly sought cards before recently halting production again.
Panini
Panini has emerged as the leading manufacturer of basketball cards in the last couple years. The Italian card producer purchased American card maker Donruss in 2009 and received an exclusive license from the NBA in 2009 to manufacture and distribute basketball cards. Panini had produced basketball stickers in the late 1980s and early 1990s, which basketball card collectors also trade. Just like Upper Deck did, Panini produces hobby boxes that serve as a popular way to collect their cards. However, Panini's boxes include 36 8-card packs, which is more than double the amount of cards that Upper Deck included in its hobby boxes. Panini's 2011-12 base set also totals 279 cards, which means many more players are featured in their sets than in Upper Deck sets.
Fleer
Fleer made its first set of basketball cards in 1961-62, but did not produce another set until 1986-87. The company was then a steady manufacturer of basketball cards until ceasing all of its sports card manufacturing in 2005. Upper Deck purchased the company shortly thereafter and there has not been another card produced under the Fleer name since. Although Fleer's run in the basketball card industry was relatively brief, collectors treasure its 1986-87 set because it contains the rookie cards for some of the game's greatest players, including Michael Jordan.
Rookie Cards
Many collectors of basketball cards choose to build their collections around rookie cards. These are generally the most desired cards among collectors and companies like Upper Deck used to balance production relatively heavily towards rookie cards. Rookie cards of basketball's established stars generally do not fluctuate a great deal in value compared with the rookie cards of less established players. A rookie card for a player just beginning his career could increase or decrease in value a great deal depending on how that player performs over his career relative to expectations.
Condition
One very important aspect to keep in mind when collecting basketball cards is the condition of the cards being sought. There is an official grading system in place that has standardized card condition. In this system, the card's condition receives a numerical score from 1 to 10, with 10 indicating the best possible condition. The rating system is as follows:
| | |
| --- | --- |
| 10 | Gem-Mint |
| 9 | Mint |
| 8 | Near Mint |
| 7 | Excellent-Mint |
| 6 | Excellent |
| 5 | Very Good-Excellent |
| 4 | Very Good |
| 3 | Good |
| 2 | Fair |
| 1 | Poor |
Card characteristics such as the sharpness of their corners, their gloss, and the absence of imperfections like creases and stains help to determine the grade of the card's condition. The higher the grade is, the more valuable the card is. The older the card is, the more rare it is to find one with a high grade for its condition. It is also possible to purchase a card that has been professionally graded by a recognized authenticator to ensure the card's condition meets a widely accepted standard.
Collecting Basketball Cards
Collecting basketball cards is comprised of three different stages: acquiring cards, maintaining and organizing the collection, and selling and trading cards. Those new to collecting must acquire cards. As they accumulate cards, they will have to obtain supplies to maintain the condition of their cards and to organize them. After building a substantial collection, collectors may wish to sell or trade cards to obtain other cards missing from their collections.
Acquiring Cards
When acquiring basketball cards, the collector has a few different options regarding the locations where cards can be acquired and the number of cards that can be acquired in one transaction.
Acquiring Individual and Multiple Cards
Regarding the number of cards, collectors can obtain individual cards, packs of cards, boxes of cards, and lots of cards. Purchasing and trading for individual cards is a methodical way of building a collection. It removes the possibility of acquiring unwanted cards, but it also takes more time to find each individual card.
Alternatively, a collector can obtain packs, boxes, or lots. A pack is an unopened package of cards produced by the manufacturer and a box is a collection of unopened packs, also produced by the manufacturer.
Buying cards by the lot is another multi-card acquisition method. Collectors organize cards into a lot and sell or trade them together. This can be an efficient way to collect all of the cards for a certain player, but it can also be a challenge to find a lot where all of the cards are desired ones.
Places to Acquire Basketball Cards
Whatever collection method collectors choose, there are a number of places where they can find cards. Hobby shops can have substantial collections and store owners are often knowledgeable about the cards they deal. However, a good hobby shop is likely not geographically convenient for many collectors.
Card shows bring dealers and collectors together from a wide geographic area, thus pooling together stocks and making more basketball cards available in one place. These shows also provide a venue where basketball card collectors can interact with one another and sell and trade their own cards. Once again though, card shows present geographical limitations to collectors, as well as time limits since they do not occur daily in one place.
Many card dealers have moved their operations online over the years. The world's biggest dealers sell and trade their cards on their websites, making their stocks available 24/7 to customers, wherever they are located. There are also numerous online forums where both dealers and collectors buy, trade, and sell basketball cards.
Maintaining a Card Collection
As collectors build their card collections, they usually must consider how to maintain them. There are numerous storage options available, including cases and organizing folders. Collectors can purchase these through all of the channels mentioned in the previous section.
Selling and Trading Cards
Once collectors have built up large collections, they often either run out of storage space or wish to unload cards that they no longer want. At this point, collectors begin to sell and trade their own cards. It is possible to sell cards to and trade them with a dealer at a hobby shop, a card show, or online, but dealers generally offer a price below market value since they are trying to profit from reselling cards. Therefore, a collector will usually get a better offer from a fellow collector.
Collecting Basketball Cards on eBay
eBay is a good resource for collecting basketball cards. You can find a large stock of cards spanning nearly the entire history of basketball card production and there are many reputable sellers. You can also find supplies on eBay to help you maintain your card collection. Once you have built a sizable card collection, eBay also provides a great place to sell your cards so that you can purchase others.
Acquiring Cards
eBay allows you to search for the player cards you desire by entering the player's name into the search bar on the main basketball card page. Alternatively, you can filter your card search by year and see which cards are available from highly sought periods, such as 1993-94. If you like the style of cards that certain manufacturers produce, you can search by manufacturer name, such as Upper Deck, Topps, Panini, and Fleer. If you want to see what is available for rookie cards, eBay also lets you filter for rookies.
eBay also presents two purchasing options: Buy It Now and auctions. The former allows you to purchase basketball cards at a set price offered by the seller. The latter let you bid on cards against other buyers. Buy It Now is a quick and easy way of purchasing cards, while auctions present the possibility of obtaining cards below what you might otherwise pay for them.
Maintaining a Card Collection
As you purchase basketball cards on eBay, you will want to obtain storage supplies to maintain your card collection. eBay has a large selection of storage items and card organizers, including top loaders, team bags, boxes, and card savers. The site is thus not only a good resource for building a basketball card collection, but for maintaining it as well.
Selling Cards
While you might begin your basketball card collection by buying cards on eBay, you could quickly progress to the point where you want to start selling them there, too. eBay's process for sellers is simple. If you are new to selling on eBay, the site has a Quick Start Guide and a video tutorial. You can also learn how to accept payments and how the shipping process works. Once you have registered an account with eBay, you can get started selling basketball cards there right away. It will be up to you whether you wish to list them as Buy It Now or auction items, but either way, you will likely find buyers as enthusiastic as you were when you first began collecting basketball cards.
Conclusion
Although basketball cards do not possess the same lengthy history as baseball cards, their history is currently being built. Legends of the game are still being made in basketball, making this a very exciting time to start collecting basketball cards. The increasing global popularity of basketball also presents incredible possibilities for new talent to enter the NBA and for the growth of international interest in basketball cards. The interest in both basketball and basketball cards shows no signs of abating, so there is no better time than the present to begin or expand a basketball card collection.