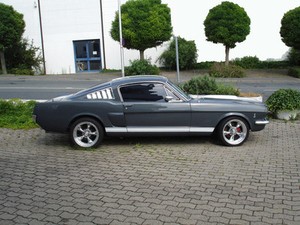 Tough and fast muscle cars, the bad boys of classic cars, accelerate fast in straight lines and leave clouds of gray tire smoke in their wake. Muscle cars have many advantages for beginning car collectors, the most important being parts and service availability. Auto parts shops stock common replacement parts and aftermarket reproduction houses carry muscle car body and trim parts at a reasonable cost. Plus, eBay has an outstanding inventory of muscle car parts from sellers nationwide. Secondly, almost any mechanic can do a serviceable tune-up on a classic muscle car, making muscle cars classic fixer-uppers and ideal collector's items. However, in order to make an informed purchasing decision, it's important to learn about the most common muscle cars and what makes them collectible. And, with a few helpful tips on how to shop for muscle cars and parts on eBay, buyers will be able to purchase their new collectible with confidence.
Choosing a Collectible Muscle Car
Most experts define the muscle car era as running from the mid 1960s to the early 1970s, when fabled models such as the Olds 442, GTO, Cuda, and Road Runner appeared on the market. But as long as manufacturers make cars, customers will demand high-performance models; hence, the more contemporary Ford SVO/SVT, Buick GNX, and Impala SS can be found. For buyers looking to purchase a collector car with output measured in foot-pounds of torque, there are a few great choices to consider.
The 1987 Buick Grand National
In 1987, Buick offered the Grand National as an option package for the Buick Regal and really produced an awesome muscle car. Buick debuted the first Grand Nationals from 1984 to 1986. The 1987 Buick Grand National was one of the fastest cars built in the U.S. in the 1980's. The '87 Grand National posted quarter-mile times that dipped below 14 seconds and accelerated from zero to sixty in just five and a half seconds. With the Grand Nationals' monochrome blackout appearance, the cars even looked fast, and Buick sold 20,193 of these muscle car coupes in that year. The 3.8-liter, 245-hp V6 power plant was turbocharged and equipped with sequential port fuel injection co-developed by Bosch. Overall, the Grand National makes an excellent muscle car to add to any collection.
The 1966 Shelby Mustang GT350 and GT350H
Well-known performance car builder Carroll Shelby designed the much-loved Shelby Mustang GT in the mid-sixties and some still sell at reasonable prices. Budget-minded buyers should skip the 1965 models that cost more than 1966 models, which look the same to the untrained eye. As the ultimate performance variation of Ford's first generation Mustang, collectors still seek the Shelby Mustang GT350. With some effort, collectors who know what to look for can find decent condition and collectible models. Shelby Mustang GT350H models were built for use by Hertz and are distinguished by being equipped with an automatic transmissions rather than the desirable four-speeds. A few GT350H models were equipped with standard transmissions and, thus, bring higher prices for their unique drive train. Buyers should study and become familiar with the characteristics of Shelby models. It is advisable that buyers have potential classic car purchases inspected by a knowledgeable technician before committing to the purchase to ensure they are buying the real thing. Shelby buyers might consider joining the Shelby American Automobile Club (SAAC); it has records of nearly every Shelby built.
The 1969 AMC SC/Rambler
The 1969 AMC SC / Rambler is a visually over-the-top muscle car that pales only in comparison to the Plymouth and Dodge super-speedway cars with their six-foot spoilers. The SC/Ramblers "letter box" snorkel hood scoop screams muscle car. The most outrageous of the SC/Ramblers are the cars with the "A" paint scheme code that sport super-wide hood stripes and a side body length stripe. For those who worry about visual presentation, the "B" code cars have thinner stripes and remain the conservative choice. The SC/Rambler's 390-cid V8 engine produces 315 hp. The total production of the SC/Rambler was about 1,500 cars, so the pickings are quite thin. But for AMC enthusiasts, the 1969 SC/Rambler looks better than a Gremlin and offers greater performance.
The 1971-72 Chevrolet Chevelle SS 396 Hardtop
First-timers muscle car buyers looking for a Chevrolet Chevelle should look for the 1971-72 Chevrolet Chevelle SS 396 hardtops. These great cars cost less than the 1970 models and still look good, with aggressive rubber and wide hood stripes. Available options included creature comforts like air conditioning, power steering, and power brakes. Look for models in good condition with proper documentation and know that Chevelles with four-speed standard transmissions and lot of options command a 20% premium. Buyers wanting to save money can consider well-done SS clones; the Chevelle is an easy muscle car to duplicate if interested buyers are willing to accept a copy.
The 1968-69 Dodge Dart GTS 340, 383, or 440
Considered sleepers, Dodge Dart GTS models with 340, 383, and 440-ci engines are much harder to find than the standard Dodge Dart equipped with a 225 slant-six motor. Dodge Dart GTS models have outstanding performance due to the relatively light weight of the cars. Grandma's Dodge Dart might have been a grocery getter, but a high-powered V-8 engine makes the Dart a muscle car classic for Mopar fans.
The 1969-70 Mercury Cougar Eliminator
Mercury produced the Cougar from 1967 to 1973 as an upscale stable-mate of the Ford Mustang. A luxurious muscle car was not a concept that resonated with Ford buyers in 1969, so the high-performance Mercury Cougar Eliminator was an idea ahead of its time. Equipped with a Boss 302, 390, or 428 CJ engine, only 4,611 of the wild-colored Cougars with spoilers made it into the showrooms of Mercury dealers. Look for original Mercury Cougar Eliminators in excellent condition. With Eliminators that require repairs, buyers may have difficulty finding trim parts.
The 1965-67 Buick Skylark GS 400 Convertible
While Pontiac was busy building wide track cars in the 1960s, Buick quietly turned out some high-performance iron of its own. The 1965-67 Buick Skylark GS 400 convertibles are handsome and provide substantial muscle. The Skylark GS 400 came with luxury option packages that made them a comfortable, weekend driver. Equipped with a 325-hp, 401-ci V8, only 6,122 were built. Given the GS 400 low production and the fact that they were convertibles, Buick Skylark GS 400s are relative bargains.
The 2002 Ford SVT Mustang Cobra Coupe or Convertible
For less than half the price of a Corvette Z 06 or Viper, muscle car buyers can purchase a 2002 SVT Mustang Cobra coupe or convertible offering 320 hp from its 4.6-liter V8. While not the original Mustang, the 2002 edition paid tribute to its older cousin with a sleek version of the classic lines that first debuted in the 1960's.
Before paying top-dollar for an authentic muscle car, be sure the seller provides airtight documentation to back up claims of authenticity. The market has a proliferation of clones, meaning standard production cars made into replicas of authentic muscle cars by adding high-performance engines, badges, and trim kits. For example, a Mustang that was born with a 260 V8 may have had a high-performance 289 installed. That Mustang will perform as well as an authentic 289, but it will have less value in the marketplace than the true muscle original. In reality, a well-done clone that sells at a significant discount to the real thing can be a good value-buyers get all the looks and performance of an authentic muscle car for perhaps half the cost. However, clones will never have the market appeal of an authentic muscle car and paying a real-car price for a clone is a sure recipe for financial disappointment when comes time to sell.
Find and Buy Collectible Muscle Cars with Confidence on eBay
With such an exorbitant number of muscles cars on eBay, it can be a bit overwhelming. However, with a few simple tips on how to search and find muscle cars on eBay, buyers can not only save time but also money. Additionally, buyers planning to purchase a premium collectible should know the product, research the seller, and understand purchase protection options from eBay and PayPal.
Find Collectible Muscle Cars on eBay
Once you know what type of muscle car you want, go to the Collectors Cars portal, click Muscle Car from the links listed under "Types," select the make and model, and start searching for item listings on eBay. You can use the Car & Truck Finder and Refine Search module, as well as well as a keyword search, to narrow down your search results.
Car & Truck Finder: Use the Car & Truck module on the left-hand side of each page to narrow down results by make, model, and distance. Simply click on the arrow located next to each item to select an item from the drop down menu. To search for a specific model year or range of years, just type the year into the box like this: 1965 (single year) or 1965-67 (year range).
Refine Search: You can narrow down a search even further by using the "Refine Search" module, located just under the "Car & Truck Finder" module on the left-hand side of every page. You'll find options to refine your search by price, condition, transmission, color, and much more.
Keyword Search: Search eBay listing titles for specific words. For example, if you want to find a Plymouth Road Runner, type "Road Runner" (without quotation marks) into the Search box. Click the "Include Description" box to expand your results. Visit eBay's Search Tips page for more tips on searching with keywords.
If you can't find exactly what you want, try shopping eBay Stores,, telling sellers what you want by creating a posting on Want It Now,, or saving a search on My eBay and get notified by email when a match becomes available.
Buy Collectible Muscle Cars with Confidence
Before making your purchase, make sure you know exactly what you're buying, whom you're buying from, and what types of protections are available to you.
Know Your Purchase
Carefully read the details in item listings. Figure delivery costs into your final price if you are not buying your muscle car locally. If you want more information, ask by clicking the "Ask Seller a Question" link under the seller's profile. Always make sure to complete your transaction on eBay with a bid,, Buy It Now,, or Best Offer..
Know Your Seller
Research your seller so you feel positive and secure about every transaction. Below are a few questions to think about when researching a seller:
What is the seller's Feedback rating?
How many transactions has he/she completed?
What percentage of positive responses does he/she have?
What do buyers say in their Feedback?
Did the seller receive praise?
Understand Buyer Protection
Most top eBay sellers operate like retail stores and have return policies. Do they offer a money-back guarantee? What are the terms and conditions? In the unlikely event that you don't receive your item or it is not as described, eBay ' s Vehicle Protection Program, as part of eBay Buyer Protection, will cover your purchase price plus original shipping. Buyers must actually bid and buy on eBay to be covered by eBay protection programs, and purchasers must pay using PayPal in order to be covered by PayPal protection programs.. Transactions conducted outside of eBay are not covered by eBay protection programs. Never pay for your eBay item using instant cash wire transfer services through Western Union or MoneyGram. These payment methods are not safe when paying someone you do not know.
Conclusion
Collectible muscle cars are not for everyone. Buyers looking for economical transportation would do well to avoid muscle cars; the price of gasoline should not be a consideration for a high-performance buyer. Muscle cars tend to use up tires faster than standard production vehicles, but that probably has more to do with the driver than the car itself. Maybe the only thing more satisfying than the feeling of taking a muscle car from zero to 60 is the satisfaction derived from making an informed purchase at a great price on that dream car you have always wanted.