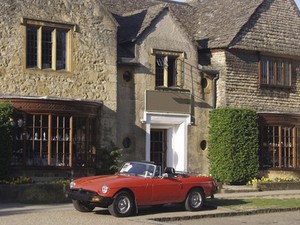 Collecting British sports cars manufactured in the 1950s, 1960s or 1970s can offer an excellent opportunity to explore a new hobby while recapturing youthful memories. British sports cars appeal to many buyers looking for something unique to wheel around town in. Detroit concentrated on longer, lower, and wider models with high performance engine options and paid little attention to vehicle steering enhancements. The Brits, on the other hand, had some different ideas about what makes a sports car. Classic lines from MG, Austin-Healey, and Triumph proved that rudimentary body work, simple lines, and great handling might be more desirable than comfort, chrome, and drag-strip acceleration. By learning a little about collectible British sports cars, buyers will be better equipped to make an informed purchasing decision that can yield high rewards. These collectible British classics can easily be found on eBay, and with a few helpful tips about how to find and buy these gems, buyers will be able to purchase their new British sports car with confidence.

An Introduction to Collectible British Sports Cars
British sports cars are surprisingly practical. Potential buyers should not be overly concerned about the foreign aspect of these automobiles; British sports car clubs, which are quite active in many U.S. states and on the Internet, can provide a wealth of resources when it comes to learning about collectible British sports car. A good way to become familiar with British sports car is for potential buyers to join a club in their area and participate in tours, meets and tech sessions. British car parts are surprisingly accessible and sports car clubs are an excellent source for replacement parts and technical advice for do-it-yourself mechanics. Sports car clubs can also provide referrals to repair shops that specialize in British models.
Whether you are a first time buyer or an avid British sports car enthusiast, when looking to purchase that collectible vehicle, the ideal buy would be an easy-to-find vehicle that has the potential not only to provide motoring pleasure and hold its value-or, better yet, one that appreciates over the next ten years. Here are nine British sports cars that may fit the bill in that regard.
The Triumph Spitfire
Though the Triumph's engine and suspension are British, the Spitfire body was crafted by the Italian designer Michelotti and is considered to be the prettiest in its class. The Triumph Spitfire was first introduced in 1962, with a rigid chassis, roll-up windows, and a larger interior than most sports cars of the time. The Spitfire's dual-carburetor four-cylinder engine can produce 63 bhp. Combined with the car's light weight, the Spitfire displays nimble performance. The 1970 Triumph Spitfire typically makes the best choice, offering a nice interior with a wood dash, more luggage space, and changes to the swing-axle rear suspension with improved handling over the previous models. Watch out for Triumph Spitfires built after 1970 with emission controls that can progressively rob performance. In pre-1970 models, splayed rear wheels indicate problems in the rear suspension. The entire front clip of the Triumph Spitfire tilts forward, which provides great engine access, but can be difficult to rebuild if damaged.
The Sunbeam Alpine
Sunbeam Alpines produced from 1960 to 1967 offer roll-up windows, a nice-size trunk, and a comfortable ride. The Alpine is often overlooked in favor of its V-8 sibling, the Sunbeam Tiger, but the Alpine offers a good value at a lower price. Although a bit underpowered, the Sunbeam Alpine has a balanced package that cruises confidently at highway speeds. Look out for botched attempts at slotting Ford V-8s into the Sunbeam Alpine chassis. Even when done by the factory, the Sunbeam Alpine chassis was not designed for the torque of the V-8. Buyers should be aware to check carefully for structural rust; the resale price potential will not justify extensive body repairs.
The MG MGB
If judged by production numbers alone, the MG MGB was the most popular British sports car of all time. With more than 500,000 MGBs built over a 17-year production run, buyers can choose from a wide variety of available models. The MG MGB is fun to drive, offers surprising performance and is even practical for everyday use. Pre-1968 MG MGBs have a traditional crackle-black dashboard and attractive upholstery. MG MGBs produced between 1968 and 1971 have a padded interior, chrome bumper, and all share the 1,800-cc engine capable of 100-plus mph top speed and 12 seconds, zero-to-sixty performance. An all-synchro four-speed transmission became available after 1967, but it doesn't add much to the value. However, MGBs with optional overdrive offer superior performance for long-distance driving. Buyers can readily find mechanical and cosmetic repair parts for the MGB-but, watch out for models with a monocoque structure, which can be difficult and expensive to repair if it becomes rusted. MG MGBs built after 1974 with distinctive rubber bumpers have started to become popular, but emissions requirements seriously sapped performance.
The MG MGA Convertible
Although a different breed than its cousin, the MGB, the MG MGA produced from 1955 to 1962 offers similar performance with strong handling. The MGA suspension is a twisty back-road driving machine, fun to drive with road hugging appeal. The MG MGA offers an attractive body-on-frame appearance, has a small but comfortable cockpit, and a useful trunk. Convertible side curtains take the place of windows, but the top is reasonably snug. Four engines were produced for the MG MGA. The 1500 model boasts a 1489-cc engine that produces between 68 and 72 hp depending on the model year, while the 1600 measures a 1588-cc engine and is rated at 78 bhp. The twin-cam engine is a high compression power-plant (9.9:1 compression ratio or in some models 8.3:1) equipped with aluminum cylinder heads and double overhead cams rated at 108 hp. Detonation problems led to a 100 bhp low-compression version being introduced in the later models. The 1622 DeLuxe featured an increase to 1622-cc. Buyers should be aware that the twin-cam models sell at a premium and are more likely to have room to appreciate. MG MGAs were very popular with high school drivers and, as a result, some models suffer from poor maintenance with less than professional repairs. A good restored MG MGA is a much better investment bet than an original hard driven beater.
The Mini Cooper S
For something completely different, contemplate the original Mini Cooper S. With new Mini Coopers now popping up everywhere, classic Minis are starting to get attention. Due to a strong supply of Mini Coopers from England, which were produced from 1959 to 2001, prices have remained stable. Remarkably small in appearance, Mini Coopers have an equally astonishing amount of interior space and can transport four adults. The Mini Cooper has a low center of gravity, and, with wheels positioned at the four corners, it has extremely nimble handling. Mini Cooper buyers may need to get used to its front-wheel drive behavior, which is extremely responsive. The Mini Cooper S, introduced in 1963, was the competition upgrade of the basic Austin/Morris family compact, which offered a hot 1,275-cc engine, disc brakes, and a second fuel tank-it is the most collectible of the original Mini Cooper series. Be wary of models with rust, especially in the sills and hinge parts, and recently-imported original Minis, which may be U.K. junkers with new paint jobs. Reputable firms in England are restoring pre-1973 Mini Coopers (legal for import and registration in most states without EPA hassle) using newly manufactured shells, but they often come with a premium price tag.
The Morgan Plus 4
The Morgan Plus 4, the last classic still in active production, offers pre-war looks in a distinctive package, with design cues recently trademark protected by the Morgan Motor Company. Though collectors can still buy the Morgan Plus 8 (the grandson of the Morgan Plus 4) in all 50 US states, the original still holds the best value. When introduced in 1950, the Morgan Plus 4 was powered by the same engine as the Triumph and eventually used in the TR2 to TR4 models. Today owners can easily maintain the Morgan Plus 4 with panels and chassis parts available from the Morgan Motor Company as well as with engine parts from Triumph suppliers. Though owners say they enjoy the unique handling of the Morgan Plus 4, many drivers have a negative first-time driving experience. Performance is superior to the heavier Triumph TR, but the Morgan Plus 4 is not for everyone. Buyers should test drive a Morgan Plus 4 before considering this British collectible. It can be difficult for drivers to fit under the large steering wheel, and they must learn to enjoy the buckboard feeling of the patented sliding-pillar suspension feature in the Morgan Plus 4. For these reasons, it is best to ride before committing to buy.
The Austin Healey 100 and Austin Healey 3000
Almost every list of desirable British sports cars includes the Austin Healey, a car that offers top-notch style and more than adequate performance on modern superhighways. Produced from 1953 to 1967 in three versions (the four- and six-cylinder roadster, and the six-cylinder convertible), these ever-popular models appeal to serious British sports car collectors. Collectors look for all three versions, with purists leaning toward the four-cylinder Austin Healey roadster and practical types appreciating the roll-up windows and weatherproofing of the Austin Healey convertible. Although few bargains exist anymore, buyers can find very good restorations at reasonable prices. With so many people dreaming of owning an Austin Healey 100 or Austin Healey 3000, these vehicles' values seem unlikely to go down. The unique semi-monocoque construction combines the best of straight-rail chassis strength and unibody reinforcing, but original rust-proofing was minimal at best. Structure-threatening rust is often not apparent without stripping and disassembling the vehicle. So buyers need to be aware of this condition and look for even panel gaps and proper door operation as clues to a rust-free chassis.
The Jaguar XKE 4.2 SII
The Jaguar E-type, very high on nearly every British sports car collector's list, performs as well as most contemporary sports cars and has looks that influenced the current Jaguar XK8. Inspired by and developed from the design of the Jaguar D-types that won at Le Mans, the Jaguar XKE 4.2 SII combines a monocoque body tub and torsion-bar suspension with a production version of the sleek racing body. Though the Series I cars, especially concourse quality restorations, have recently escalated in value, excellent Series II cars with the 4.2-liter engines can still be found for less than $50,000. If buyers want performance without rag-top appeal, they can find early version two-seat coupes for Healey prices. Look for Jaguar XKEs with carefully done body and paint work, excellent interiors, and good mechanical condition. Buyers will want to avoid rust, especially in the trunk, under the gas tank, and in the door pillars. Additionally, ill-fitting hoods should be avoided, as they can cost a kings ransom to fix or replace because of their shape and complexity.
The AC Ace with a Bristol or Ford Ruddspeed Engine
The AC Ace, a relatively expensive yet stealthy classic, was the basis for the Shelby Cobra, minus the aggressive fenders. In 1954, AC adopted the lines originally penned by Tojeiro for a sports racer and, following racing convention, produced a tubular-framed aluminum-bodied vehicle. With innovative four-wheel independent suspension, the AC Ace offers flawless handling as well as sleek and elegant lines. The first engine was the 85-bhp AC overhead-cam six, but the AC substituted a 120-bhp, 2-liter Bristol engine in 1956. When supplies of this engine ran out in 1961, a Ford Zephyr engine, with Ruddspeed heads producing up to 170 bhp, was substituted. With the common Bristol engine in the lightweight chassis, performance is more than adequate for any street use. The Ruddspeed engine version will put most production sports cars to shame. The simple addition of a removable roll-bar and proper lap belts can give this car a very satisfying double life in vintage racing. Before purchasing, carefully inspect any AC Ace for quality of frame integrity and evidence of careful mechanical maintenance. If possible, consult a specialist on the AC Ace's condition before finalizing the purchase. Dirt and water collected in nooks and crannies can rust British sports cars from the inside out. Buyers should make sure an inspector checks the underside of the vehicle as well as inside the fender before they agree to purchase a vehicle.

Buy a Collectible British Sports Car With Confidence on eBay
At any one time, eBay may have hundreds of British sports cars listed. When trying to select the right one, be sure to know exactly what you are buying, research the seller, and understand purchase protection options offered through eBay and PayPal.
Research the Vehicle
Prior to purchasing, buyers should research the vehicle they intend to purchase and thoroughly read the vehicle description in the listing. It is recommended that buyers run a vehicle history report on any used vehicle they intend to purchase. History reports provide details about the vehicles ownership history, accident reports or title brands such as flooded or salvage. Buyers should have their intended purchase inspected by an independent third-party inspection to validate a seller's claim about a vehicle's condition. Remember to consider the added costs of a vehicle purchase such as title, registration, and state taxes. Calculate and include delivery costs as an addition to the final price. This may simply be the cost of driving a few hundred miles or it may mean working with a shipping company that can transport the car from anywhere in the country.
Many sellers put a lot of time into creating their listings, making an effort to ensure they include all the information buyers need. Buyers should carefully read the details in the listings of the car(s) they are considering for purchase and closely review available photos. Before placing a bid or buying a collectible car, buyers should be certain to have all their questions answered. If buyers are still unsure after reading the listing and reviewing the photos, they should contact the seller using the "Ask Seller a Question" link in the listing. Also, buyers should request additional photos if they want to see the car from a particular angle that is not shown in the listing's photos. Buyers should not hesitate to telephone the owner if additional questions arise. However, before reaching out to the seller, it's a good idea to research the seller.
Research the Seller
It is just as important to research the seller as it is to research the vehicle. When using eBay to make a major purchase, buyers have the advantage of learning about the type of seller with whom they may be conducting business. Some key factors to consider when evaluating a seller are positive feedback, sales history, and any interactions between you and the seller.
Seller's Feedback
When evaluating the seller's feedback ratings, ask the following questions:
What is the seller's feedback rating and how many transactions have they completed?
What percentage of positive responses does the seller have?
What comments do buyers leave when rating the sellers in their feedback?
Does the seller frequently receive praise for their actions in regard to dealing with buyers?
Seller's Sales History
When looking at a seller's sales history, find out how long the seller has been a registered eBay user. Examine what types of items the seller typically sells and whether or not he or she has conducted large purchase item sales before. It is okay to buy a car from a seller who has not sold one previously on eBay but understand this may be a new experience for the seller as well. Make sure first time car sellers have all aspects of the transaction listed and documented properly before proceeding to complete the purchase. If the eBay Motors seller has a low number of feedback transactions, take the time to look at the feedback details; sometimes a seller's feedback looks low until you realize that they are a car dealer and their feedback count comes entirely from car sales.
Interactions with the Seller
It's important to feel comfortable communicating and interacting with the seller. Study the terms and conditions of the sale. Buyers should be comfortable with the terms and conditions that a seller sets. If a buyer disagrees with a particular condition of the sale they should resolve the difference before proceeding with the transaction. Good communication between buyer and seller is essential to a satisfactory transaction. Once communication is initiated with the seller, be careful to observe how they respond to inquiries. Is the seller courteous and professional, are they responsive, do they answer questions satisfactorily? Once a buyer bids on a big-ticket item, such as a car, communicate with the seller through My Messages in My eBay. All legitimate Second Chance Offer messages will come through My Messages and not solely to a buyer's personal e-mail address. Always contact the seller before accepting a Second Chance Offer and never respond to any request to send money via Western Union or other instant cash transfer service.
Research eBay's Protection Policies
In order to be covered by eBay protection programs, buyers must actually bid and buy on eBay. Likewise, to be covered by PayPal's protection programs, purchase must be paid using the PayPal service. Always complete the purchase on eBay and not on a 3rd-part site, and, as touched upon above, never pay for an item using instant cash wire transfer services such as Western Union or MoneyGram. These payment methods are unsafe when paying an unknown seller. Buyers planning to finance a vehicle purchase should have a pre-approved loan amount already in place before bidding on an eBay Motors' vehicle auction.

Conclusion
British sports cars are fun and enjoyable rides that first time collectors can appreciate. Although they do not receive the same amount of press coverage as their American cousins, a fiercely loyal group of owners pledge their allegiance to the British sports car genre. Buyers must understand the individual characteristics of British vehicles to make sure they get the satisfaction and enjoyment they expect from their purchase. A sleek looking, finely tuned, and beautifully detailed British sports car will certainly be the most unique automobile that a buyer can collect-if for nothing more than to just cruise around town in.