NOTE TO VIEWERS June 14, 2012: I am sorry about the images. When I wrote the guides, I uploaded the images to eBay and presumed they would be fine. Since then, about a year ago, my computer crashed and I lost all the images I had in it. I do have a disk with some of my images but have not found the right ones yet. Once I had them uploaded with the right captions, it was easy to keep them straight. Now I am not sure which images go with which captions, especially on the ACWA and UGWA guides. Hopefully I will find the time to sort them out sometime this summer.
Back to the Guide:
Clothing labels can be helpful in dating vintage clothing. Union labels are often datable by union history. Among the many different unions, ILGWU, the International Ladies' Garment Workers' Union, was one of the most prevalent and powerful, and the first major union to have mostly women members.
ILGWU History
The International Ladies' Garment Workers' Union was formed in New York City in 1900, the consolidation of seven smaller garment workers' unions. After two major strikes in 1909 and 1910, the union and manufacturers executed a Protocol of Peace. This achieved union recognition, improved wages and extended benefits to workers, as well as establishing arbitration as the means of solving disagreeements. Additional benefits were negotiated in the years following the tragic Triangle Shirtwaist factory fire in 1911. ILGWU was a member of the American Federation of Labor.
Weakening greatly during the Great Depression, ILGWU continued to be active in recruiting. With the formation of the Committee for Industrial Organizations in 1935, ILGWU tried to work with both organizations. Actual CIO members were suspended from AFL in 1936, and they joined to form the Congress of Industrial Organizations in 1938. ILGWU disengaged from CIO in 1940 and rejoined AFL. On December 5, 1955, AFL and CIO merged to form AFL-CIO. In 1995, ILGWU merged with Amalgamated Clothing and Textile Workers' Union to form UNITE!, the Union of Needletrades, Industrial and Textile Employees, representing over 250,000 workers in the United States, Puerto Rico, and Canada. In 2004, UNITE! merged with HERE to form UNITE HERE.
Timeline
1900 - 1936 ILGWU AFL
1936 - 1940 ILGWU CIO
1940 - 1955 ILGWU AFL
1955 - 1995 ILGWU AFL-CIO
1975-1992 Look for the Union Label campaign
1995 - 2004 UNITE!
2004 - UNITE HERE
http://en.wikipedia.org/wiki/Congress_of_Industrial_Organizations
http://en.wikipedia.org/wiki/International_Ladies'_Garment_Workers'_Union
http://www.nps.gov/archive/elro/glossary/ilgwu.htm
Dating by Label
1900 - ILGWU formed with a charter from the AFL. The earliest ILGWU label was a simple label, promoted from the Union's inception in 1900. It had very limited use through the mid-20s.
1924-1929 - Prosanis label. It appeared as an artistic bubble-shaped emblem containing the text "Produced under conditions approved by Joint Board Sanitary Control."
1930s - Consumer Protection labels.
http://userwww.sfsu.edu/~epf/2001/kleehammer.html
Pre-1955
We have three examples of pre-1955 labels from the New York Dress Institute, a collaboration between ILGWU and the manufacturers of New York City. NYDI's purpose was to maintain leadership for the New York dress industry. I found a museum references that said NYDI was formed in November 1940, and it seems to have continued at least through the 50s. NYDI, often referred to as a 'couture group', sponsored Press Week, and an annual World's Best Dressed Women list.
The Lady, the List, the Legacy, Amy Fine Collins, Vanity Fair, 04/01/2004
http://detroithistorical.com/collections/vewebsite3/exhibit4/e40084a.htm
This one was found in what we thought is a 30s garment. As you can see, the label was sewn into the zipper seam, and has been cut off. The zipper has a patent pending, and the patent was granted in 1928.


Thanks to labellevintage_inc for these labels.
This one was found in an early 40s dress.

1955-1963

Thanks to poprocksnsodapopvintage for this label from an early 60s bra.
This label was issued after AFL and CIO merged in 1955, and lasted until June 28, 1963. It is usually printed in blue on white, and features a scalloped circle with a threaded needle diagonally behind it. In the center are the large letters ILGWU, crossed with a smaller AFL-CIO. Around the edge is printed Int'l Ladies Garment Workers Union.
1963-1974



The trademark for the new label was submitted in 1963 with a first use date of June 28, 1963. It was registered April 21, 1964. The new label has the same scalloped circle with the threaded needle and the Int'l Ladies Garment Workers Union around the edge. The center changed to a dark circle crossed by ILGWU in white. In the dark arc above ILGWU, it says Union Made. In the dark arc below ILGWU, it says AFL-CIO. This label was usually printed in blue on white. Note the (R) on the label indicates it was printed after the TM registration date.
We have two examples of labels in other colors used in the early 1970s. They are both from foundation garments. There have been other examples with orange or red lettering, usually on lingerie or nightwear, and recently a black label was presented that dated from 1988-1995.

New Information as of 9-20-2009, ILGWU labels on lingerie

Lingerie labels seemed to maintain some kind of color code, using black, green, orange, or red lettering and often including fabric content and care instructions. We have seen these labels from the early 70s through the 80s at least, so label color may not be the best indicator of age for lingerie, if the lettering is black, green, orange, or red or blue.

Thanks to Penguin 750 for the question and label that helped with this research.


Thanks to girlkitch and galetime for the labels.
www.uspto.gov
http://www.vintagefashionguild.org/component/option,com_alphacontent/section,6/cat,59/task,view/id,273/Itemid,100/

1974-1995

Thanks to funkoma for this image from an 80s glittery prom dress.
In 1974, ILGWU decided to change the colors of its label to red, white and blue. This is recorded in the records of the 35th annual convention, archived at the Kheel Center at Cornell. The Report of the General Executive Board to the 35th convention in Miami Beach, Florida, May 31, 1974 mentions the change in colors to "an all-American red-white-blue and the addition of the line 'Made in USA'" on page 79. (emphasis added) They explain it in part as a result of the need to support the fight against the competition from low-wage imports, particularly to strengthen the nation-wide anti-imports campaign. All label material prepared in conjunction with the campaign used the slogan: "Buy American: The Job You Save May Be Your Own."
Thanks to never*ending*search and Patrizia Sione, Reference archivist, Kheel Center for Labor Management Documentation & Archives for this key information.
Canadian Labels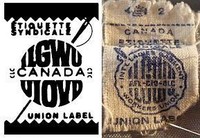 The label on the left dates from 1968-1984 according to its CIPO Canadian Trademark registration information. This label was created after a dispute between the Canadian and US ILGWU chapters regarding a Buy American policy. The earlier label on the right resembles the US 1955-63 label, and dates from 1956-possibly 1968. Note that 'Canada Etiquette' is printed above the circle, and CLC is printed in the center after AFL CIO. CLC (Canadian Labour Congress) was formed in 1956. There could have been an intervening label from 1963-1968, but we don't have an example of it.
Thanks to empressjadeof the universe for the pictures and information about the CIPO registration.
©2007 Elaine Schuster 3/22/2007