A wheelchair will give you the freedom and independence that comes from being able to get where you want to go! But there are so many options, and it can be hard to decide which wheelchair is right for you. This guide will give you the information you need to make an informed choice.
SIZING A WHEELCHAIR
Wheelchair seats come in different sizes, and it's important to choose the correct size for your build. To determine the proper seat width, measure across the widest portion of your hips or thighs, and add two inches. If you wear any type of brace, be sure you have it on when you take this measurement. Choosing a wheelchair that is wider than you need it to be is always better than choosing one that is too narrow. Using a too-narrow chair can result in pressure ulcers on your sides. It can also cause you to sit in an awkward position, causing muscle and joint pain.
To find the right seat depth, measure from the rear of your buttocks to the inside of your bent knee, and deduct two to three inches. A correct seat depth for your build will distribute your weight evenly along your thighs, and relieve pressure at the area behind your knees.
It's also important to make sure the seat height is correct for your build. Measure from your heel (with shoes on, if you usually wear shoes when you're in the wheelchair) to the bend in your knee, and add two inches.
LEG RESTS AND FOOT RESTS
Standard wheelchairs come with either foot rests or leg rests. Foot rests can be fixed or removable, and many swing away to the sides, making getting into and out of the chair easier.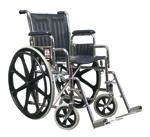 Leg rests have pads that support the back of your calves, and elevate to a raised position. If you have a hip or knee fracture, or other orthopedic condition that requires you to elevate one or both legs, choosing this option will make a world of difference in your comfort.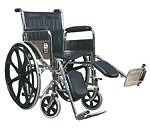 ARM STYLE
There are two main arm styles available on standard wheelchairs - full length and desk length. Desk length arms allow you to roll closer to a table to eat, write, play games, etc.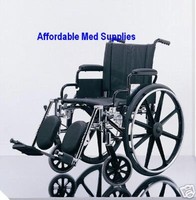 Full length arms give more support along the entire length of your arm.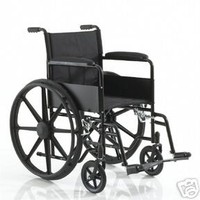 WEIGHT
Many manufacturers make lightweight model wheelchairs. These chairs have frames and wheels made of lighter material, and can weigh as little as 24 pounds. Lightweight chairs are great for people who have little strength, and for younger wheelchair riders, because they are easier to propel than the heavier chairs. If you use your wheelchair away from home frequently, a lightweight chair is a good option because it is easier to lift into the trunk of your car.
BACK STYLE
Most wheelchairs have fixed backs, but some are available with reclining backrests. These chairs are perfect for people who are very weak or who need to lie in a reclining position frequently. Reclining backs are also much higher than fixed backs, making them a good choice for people who have poor muscle control of their head or trunk.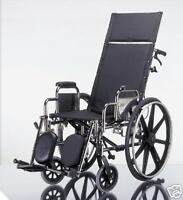 TRANSPORT CHAIRS
Another wheelchair option is a transport, or companion, chair. These are designed for people who are mobile, but want to use a wheelchair in certain settings. These chairs must be pushed by someone other than the rider - you cannot propel yourself around in a transport chair. They are perfect for trips to the mall, outdoor fairs or festivals, zoos, etc. They are often available in stylish colors, so you can pick one that best suits your personality.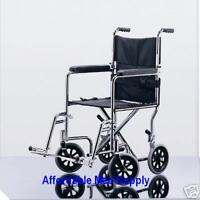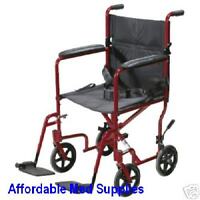 OTHER FACTORS
When choosing a wheelchair, you should also take these factors into consideration:
Weight capacity - Be sure to select a chair that will support your full weight. Most standard wheelchairs have a 250 pound capacity, but there are many models available with much higher limits.
Overall dimensions of the chair - You want to be sure you choose a chair that will fit through the doorways in your home.
Upholstery - Chairs are available with nylon or vinyl upholstery. Both are comfortable and easy to care for, but if you have a preference, check this detail before deciding on a chair.
Frame Material - Wheelchairs usually have either an aluminum, chrome or steel frame. Steel and chrome frames tend to be much more sturdy, durable and long-lasting than aluminum ones.
SUMMARY
Using a wheelchair can greatly enhance your life, giving you the freedom to do the things you want to do! The information above gives you the basic facts about the different options available, and will help you pick a wheelchair that is right for you.
Copyright 01/28/2006, Affordable Med Supplies, Inc. All rights reserved. The contents of this work shall not be used, in whole or in part, without the express written permission of Affordable Med Supplies, Inc.