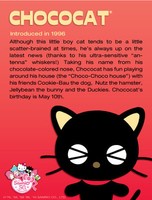 Chococat
is a popular
Sanrio
character. Although not as well selling as Hello Kitty, Chococat is definitely one of the bigger sellers these days. Chococat merchandise has been around since 1996. Most of the Chococat products are made and marketed for the US, but originally Chococat was released in Japan as well. The most notable example of the Japanese release would be the "Fish Line" marked by the large colored dots, predominantly green theme and orange fish. These days however, most authentic Chococat merchandise comes from America or Hong Kong as Chococat isn't really sold in Japan anymore.
When purchasing Chococat goods, one thing to consider is the authenticity of the product. For new products, look for photos including the Sanrio tag or that it fits into one of the officially released Chococat lines. Many of the best sellers will list the year and line name of the product as a descriptive aid as the unique year/name combination of each release refers to specific background descriptive elements. For example, the 2006 Argyle Chococat line is defined by the grey, purple, pink, and blue argyle pattern featuring a purple and white striped scarf and collegiate stitched "C". However, many unofficial fan crafts are also made and sold as Chococat products. For those buyers seeking ONLY authentic Chococat merchandise, it may help to seek out one of the many Chococat descriptive fan pages out on the web for thorough examples of the different Chococat lines.
To additionally cloud the waters, however, many companies also release licensed Chococat merchandise. McDonald's, Hot Topic, and Old Navy frequently release their own products featuring Chococat. Authenticity of these products is harder to verify as many of these are sold on ebay long after they've left the actual stores. Practicing general safe buying practices is advised in these circumstances. Check out the other items sold by this seller or see if anyone else is selling this same product.
As a brief guide, here are most of the official Chococat lines released by Sanrio:
~1996 Friends - featuring Cookie-Bau the dog, Nutz the hamster, Jelly Bean the bunny, and the Duckies
~1997-8 Fish
~2000 Plaid
~2001 Diamonds
2001 Fruits
2002 Circle, Forest
2003 Whimsy, Clover
2004 Dream, Peekaboo, Room, Tree, Flower, Sleepover, Leather
2005 Dot, Ribbon, Twinkle, Stencil, Picnic, Tropical, Lapis, Sport, Momoberry, Cross Stitch, Chandelier
2006 Egg, Sunflower, Argyle, Border, Wood, Tapestry
2007 Ivy, Drive, Wood Print, Check, Gray
2008 Border, Nordic, Brown, Stripe, Tea Time, Leather, Crepe
2009 Stitch, Paris, Tape, Room, Drive
2010 Argyle, Glasses, Dot, 50th Anniversary specials
2011 Stripes, Tartan