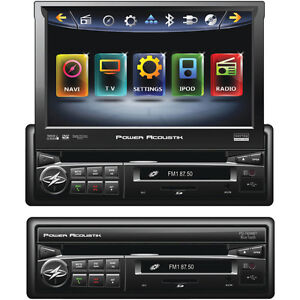 Installing a car video system in your car, van, or SUV can provide hours of entertainment for your passengers and even improve the safety of your driving when appropriately equipped. When choosing a car video system for a vehicle, a buyer will find that they have many options. This guide will help buyers navigate the sometimes confusing world of car video by introducing them to the different types of car video systems and their features.
Get to Know Car Video System Essentials
Manufacturers such as Alpine, Clarion, Eclipse, Kenwood, Pyle, and Sony offer a variety of car video systems with an array of options. Car video systems typically include: one or more video monitors, one or more media sources, and audio output components. Before buyers start shopping, they need to acquaint yourself with the three basic types of car video systems available: in-dash car video systems, backseat car video systems, and removable, all-in-one car video systems.
In-dash Car Video Systems
In-dash car video units feature a 7-inch (or smaller) flip-up LCD monitor and integrated media player, often called a deck. Some in-dash monitors are double DIN size and are fixed, rather than the more common flip-up style. Double DIN systems take advantage of the larger dashboard openings used by some some automakers, especially in light-duty trucks, vans, and sport utility vehicles (SUVs). Buyers should look for a unit with a receiver that supports the media formats they want to watch and listen to most often. The car receiver unit might play any combination of car navigation, CD, DVD, cassette, TV, and MP3 media. Many also allow users to connect additional car audio, car video, and car navigation components. In-dash car video systems feature high-end audio performance and controls. They can display: vehicle system information, information about an audio source, video feeds from rear-view cameras, maps and other information from a navigation system. Designed with drivers and front-seat passengers in mind, in-dash units usually will not play video unless the car is parked and the emergency brake has been applied. However, the driver may use their video monitor with their GPS (or other) navigation system while they drive.
Backseat Car Video Systems
Backseat car video systems designed for entertainment-hungry backseat passengers feature overhead monitors or monitors built into the rear of front seat headrests.
Overhead Car Monitors
An overhead monitor or monitors is attached to the ceiling of a SUV, minivan, or other large vehicle with space for overhead installation. These flip-down monitors often fit over vehicles overhead light and ceiling-mounted controls. Buyers should for an overhead unit that includes lights and controls compatible with their vehicle when they evaluate item listings. Depending on the vehicle and personal preferences, a buyer may want to opt for an overhead car monitor with a widescreen aspect ration rather than a standard aspect ration. Doing so means that the movie will look the same way in car as it do in the theater or on a large screen TV.
Headrest Monitors
Headrest monitors are mounted onto the back of a car's headrests with mounting brackets or a mounting kit. Some headrest monitor manufacturers offer custom-fit headrest monitors for particular vehicles. Other headrest monitors manufacturer offer universal-fit headrest monitors in common colors and materials such as black leather, gray leather, and tan leather.
Removable All-in-one Car Video
If a buyer wants a less permanent car video solution, they should look into a self-contained all-in-one car video system with an integrated media player and monitor. It is simply strapped to the back of a seat and is tapped into a cigarette lighter or other 12-volt electrical outlet for power.
Choose Car Video Features
Besides the basics, car video systems can include bells and whistles that add luxury, convenience, and safety.
Touch-screen Controls
Many in-dash car video receivers feature simple, intuitive touch-screen controls. This can improve safety by permitting the driver to keep his or her eyes on the road and limiting distractions. Touch-screen controls also simplify and smooth out the look of a car video system, adding a touch of elegance, luxury, and modernity.
iPod Compatibility
Some in-dash car video players connect directly to a driver's iPod and will display a song library on the touch screen. This feature makes it easier for drivers to control their music, which improves convenience and road safety.
Multi-zone Audio
A vehicle can be turned into a mobile entertainment center with a car video receiver that supports dual or multi-zone audio. These receivers come with extra audio/video inputs and outputs so that a driver can play more than one video or audio source at a time. A driver can hook up a game console or any type of media source. For example, if a car has two front seat headrest monitors, one of the passengers can watch a movie while another plays a video game.
Remote Control
A remote control can be used to control the video system while remaining safely seated.
TV Tuner
DVD players can often play a wide range of media formats, including DVD, VCD, SVCD, CD-R/RW, WMA, and MP3. Some even come with a broadcast and/or satellite TV tuner.
Navigation System
A navigation system can be added to a car video system to take advantage of GPS technology, available everywhere. GPS navigation systems can map locations, give driving directions, and some even provide information about points of interest along the route.
Rear-view Camera
A car video system that supports a backup camera displays troublesome blind spots on a monitor, allowing a driver to see hazards such as pets, children playing, or mailboxes, as they backup.
Rig a Vehicle for Car Audio
Deciding which car audio system is best for a car's video system can be difficult. Fortunately, the aftermarket car audio and video industry has developed a number of solutions.
Keeping the Inside of the Car Quiet
Many car video monitors, especially those that come with backseat systems, include inputs to receive an audio signal from a player and headphone jacks for listening. This removes distracting sounds like movie and video game soundtracks. Buyers should consider jacks for regular headphones, or, if they prefer to go wireless, they should buy a receiver with a wireless transmitter and wireless headphones.
Use the Sound System
Fully integrated overhead monitor systems that combine a car monitor and player will often include a wireless FM modulator to transmit audio through a factory-installed stereo system. These units also use infrared transmitters to wirelessly send audio to wireless headphones. A buyer can also purchase an FM modulator for other types of car video systems or use their receiver's auxiliary inputs to play audio from their media player through their car stereo system. Some systems even take advantage of Bluetooth technology to easily and seamlessly stream sound through the car's audio system.
Play Surround Sound Audio and Video
Buyers should consider a car video system that supports Dolby Digital or DTS. They can then supplement their car's front and rear speakers with a center-channel speaker and subwoofer to take advantage of 5.1 surround sound. Upgrading to surround sound audio may require the addition of a surround-sound processor if the car video system does not feature an internal one. Most in-dash car video receivers feature surround-sound processors, however. Additionally, they should consider upgrading their car's speakers, adding a subwoofer speaker, and possibly adding a multi-channel car amplifier if they want to get the best out of their car video system and enjoy a truly engaging cinematic experience.
Installing Car Video Systems
It's not difficult to install a car video system as many systems rely on a vehicle's existing car audio system.
Installing an In-Dash Car Video System
These units are usually fairly simple to install, especially because in-dash video systems utilize an existing car audio system by replacing the factory-installed head unit. Single and double DIN in-dash car video systems typically require a wiring harness adapter and in-dash mounting kit. They may also require an additional adapter if the factory-installed radio antenna is not compatible with the radio antenna input on the new in-dash car video receiver. To install an in-dash car video system, basic hand tools will be required. These include slotted screwdrivers, as well as interior panel removal tools and, in some cases, radio keys to remove the factory-installed head unit and replace it with an aftermarket in-dash car video receiver. Electrical connectors, such as crimp-style or solder-style connectors, will be needed to install a wiring harness adapter. The process is almost identical to installing a new in-dash receiver.
Install Backseat Car Video Systems
This requires that the a car video DVD player, VHS VCR, or video game console be placed in the center console or under a seat. A buyer needs to make sure that they can connect headrest monitors or overhead monitors, and easily insert discs. They should be sure to allow a few inches of clearance for air circulation on either side of the electronic device to prevent the it from overheating, which can cause electronics to fail. They may also want to use foam vibration insulation on the mounts of the media device to prevent it from vibrating and skipping while driving. Vibrations can also damage electronics over time.
Find Car Video Electronics on eBay
Once you know what type of car video equipment you want, go to the Consumer Electronics portal. Click More Electronics and then Car Electronics, and start searching for items on eBay.
eBay Categories
The Categories list on the left side of each page will help you narrow down your listings by item type. You will find links for Car DVD/Video Units, In-Dash, Car In-Dash DVD Players Only, Car TV Tuners, Car VHS VCRs and Players, Car Video Monitors Only,GPS and Navigation Software, and Other Car Video.
eBay Keyword Search
Search eBay listing titles for specific words. For example, if you want to find an in-dash DVD player and monitor system or package, type "in-dash DVD monitor" (without quotation marks) into the Search box. Click Search Title and Description to expand your results. Visit eBay's Search Tips page for more tips on searching with keywords. If you can't find exactly what you want, try shopping eBay Stores,, tell the eBay Community what you want by creating a post on Want It Now,, or save a search on My eBay and eBay will email you when a match becomes available.
Buy Car Video Electronics With Confidence
Before making your purchase, make sure you know exactly what you are buying, research your seller, and understand how eBay and PayPal protect you.
Know Your Purchase
Carefully read the details in item listings. Figure delivery costs into your final price. If you spend a lot of money, make sure the seller will insure the item when it ships. If you want more information, ask the seller questions by clicking the Contact Member link in the seller's profile. Always make sure to complete your transaction on eBay (with a Bid, Buy It Now, or Best Offer). Transactions conducted outside of eBay are not covered by eBay protection programs. Never pay for your eBay item using instant cash wire transfer services through Western Union or MoneyGram. These payment methods are unsafe when paying someone you do not know.
Know Your Seller
Research your seller so you feel positive and secure about every transaction. What is the seller's feedback rating? How many transactions have they completed? What percentage of positive responses do they have? What do buyers say in their feedback? Did the seller receive praise? Most top eBay sellers operate like retail stores and have return policies. Do they offer a money-back guarantee? What are the terms and conditions?
Buyer Protection
In the unlikely event that you don't receive your item or it is not as described, eBay Buyer Protection will cover your purchase price plus original shipping.
Conclusion
Buying and installing a car video system is a great way to provide entertainment to your friends and family, especially during long car trips. It is also a great way to improve the functionality and safety of your car, truck, or sport utility vehicle if you include GPS navigation technology or add a rear-view camera. No matter what type of car video system you choose, you will find that it will drastically increase your enjoyment of your vehicle and make long trips more pleasurable.