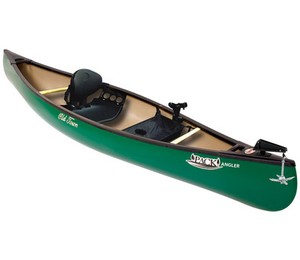 Whether youre looking to kayak between glaciers, ride the rapids, or spend a lazy afternoon drifting down a river, boating is a great outdoor activity. From family-sized rafts to canoes and single-person kayaks, eBay has everything you need to get started in a new hobby or upgrade to a newer craft.
Pick Your Style: Canoe, Kayak, or Raft
Canoes, kayaks, and rafts come in a variety of shapes and sizes. Select a watercraft based on your experience, your budget, and how you want to use it.
Canoes
These popular boats are small, light, and usually very narrow. Canoes are propelled using single-bladed paddles while the pilot sits on supports or kneels in the hull of the boat. Canoes are usually open at the top, but slalom canoes are closed like kayaks.
Canoes are famous for their instability (which can be fun), and good communication is needed if two people are piloting a canoe together. Round-bottom canoes are more "tippy" but are more resistant to capsizing. Flat-bottom canoes are generally more stable, until you pass a "tilt threshold," in which case they capsize fairly easily.
Popular canoes include Grumman canoes, Wenonah canoes, and Coleman canoes.
Kayaks
Kayaks are somewhat smaller than canoes and are covered with a deck. The paddler sits in a hole in the center of the kayak and paddles with a double-bladed paddle. A spray skirt prevents the kayak from becoming filled with water. Skilled paddlers can even completely capsize and then right the kayak.
Kayaks are fairly stable because the paddler is positioned at a lower center of gravity than in a canoe. Most recreational kayaks are between 9 and 14 feet long.
Popular kayaks include Perception kayaks, Necky kayaks, and Old Town kayaks.
Rafts
Rafts differ from canoes and kayaks because they do not have a hull. Rafts float paddlers on top of the water by their buoyancy, not by the displacement of water as with a canoe and kayak. Rafts are mainly used for recreation and navigating whitewater rapids. Most rafts are paddled with a single-bladed paddle.
Select a Material: Natural or Manmade
Now that you have a better sense of what kind of boat you want to buy, its time to figure out what material youd like. There are numerous natural and synthetic materials available, and they all have their own distinct benefits.
Canoe construction
Canoes have traditionally been made of wood, but fiberglass and aluminum have become popular choices. The strength of fiberglass and aluminum makes those materials appropriate for river travel, while their light weight makes it easy for canoers to carry the canoe (or portage) if needed.
Antique or craftsman canoes can be constructed from thin strips of wood, or canvas stretched across a wooden frame.
Kayak construction
Most modern kayaks are made of plastic. Plastic kayaks are rugged, light, and cheap to manufacture. Kayaks used for whitewater rafting are often made out of an extremely durable high-impact plastic.
Antique kayaks are often made out of animal skins stretched tight over a wooden frame. Some are even designed to be collapsible and are called folders.
Raft construction
A raft can be made out of any material that is buoyant and can float on the water. Commonly, inflatable rafts are made out of flexible PVC plastic. While this material is puncture-resistant, its always a good idea to bring a patch kit with you.
Be Prepared With Watercrafting Accessories
Now that youve picked your watercraft, its time to hit the water, right? Not just yet. There are a number of other things that youll need to get before youre ready to go.
Personal flotation device (PFD): Your personal flotation device is the most important purchase you can make. It can mean the difference between life and death, so its important to buy a personal flotation device that is reliable, durable, and fits you properly. U.S. Coast Guard regulations state that you must have a class III PFD onboard, but the American Canoeing Association recommends that a PFD be worn at all times. Of all canoeing fatalities, 83% occurred when the person involved was not wearing a PFD. So buy one, wear one, and make sure that it fits properly.
Appropriate clothing: Find clothes that are loose-fitting, comfortable, and quick-drying. If its hot out, bring a hat and sunglasses.
Sunscreen: Its very easy to get sunburned when out on the water. Sunscreen is an absolute necessity.
Drinking water: Canoeing, kayaking, and rafting can all leave you dehydrated, so its important to bring a supply of clean drinking water with you. Nalgene and Camelback, among others, make durable products for carrying water for a variety of outdoor activities.
Patch kit: Since even the best-quality boats can spring a leak, patch kits can provide an extra measure of safety. While some small holes can be patched with something as common as duct tape, read the instructions from your boats manufacturer on what to do to adequately repair a leak.
Find Canoes, Kayaks, and Rafts on eBay
Once you know what type of canoe, kayak, or raft you want, go to the Sporting Goods portal, click Canoes, Kayaks, and Rafts, and start searching for item listings on eBay.
Categories: The Categories list on the left side of each page will help you narrow down your listings by item type. You'll find links for Accessories, Canoes, Inflatable Canoes, Kayaks, Inflatable Rafts, Kayaks, Life Jackets, Preservers, Paddles, and more. As you dig deeper into the site, you'll also be able to narrow down your choice by brand.
Keyword search: Search eBay title listings for specific words. For example, if you want to find whitewater rafts, type "whitewater rafts" (without quotation marks) into the Search box. Click "Search title and description" to expand your results. Visit eBay's Search Tips page for more tips on searching with keywords.
If you can't find exactly what you want, try shopping eBay Stores, tell the eBay Community what you want by creating a post on Want It Now, or save a search on My eBay and eBay will email you when a match becomes available.
Buy Canoes, Kayaks, and Rafts With Confidence
Before making your purchase, make sure you know exactly what you're buying, research your seller, and understand how eBay and PayPal protect you.
Know your purchase
Carefully read the details in item listings.
Figure delivery costs into your final price. If you spend a lot of money, make sure the seller will insure the item when it ships.
If you want more information, ask by clicking the "Ask seller a question" link under the seller's profile.
Always make sure to complete your transaction on eBay (with a bid, Buy It Now, or Best Offer). Transactions conducted outside of eBay are not covered by eBay protection programs.
Never pay for your eBay item using instant cash wire transfer services through Western Union or MoneyGram. These payment methods are unsafe when paying someone you do not know.
Know your seller
Research your seller so you feel positive and secure about every transaction.
What is the seller's Feedback rating? How many transactions have they completed? What percentage of positive responses do they have?
What do buyers say in their Feedback? Did the seller receive praise?
Most top eBay sellers operate like retail stores and have return policies. Do they offer a money-back guarantee? What are the terms and conditions?
Buyer protection
In the unlikely event that you don't receive your item or it is not as described, eBay Buyer Protection will cover your purchase price plus original shipping. Learn more.