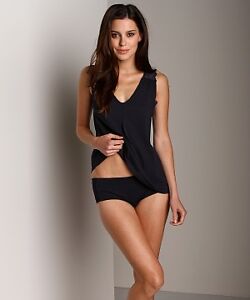 Historically, the word "camisole" has been applied to jackets that are worn by men and women, to overshirts, and also to negligees. Today, however, a camisole is considered a sleeveless garment that is worn under low-cut tops, sweaters, jackets, and is sometimes even worn on its own. The invention of nylon and other stretchy materials has allowed for the creation of better fitting camisoles that serve a multitude of purposes. Camisoles may vary in length from midriff-baring to hip-hugging, and they can offer a wide variety of support through the use of several different strap widths and built-in foundational devices.
Camisoles can also be constructed from several different fabrics and are found in many colors and prints. Lace trim and other embellishments can also enhance the appearance and style of camisoles, both in unseen elements as well as those meant to be seen by others. The purpose of this guide is to educate readers on the various types of camisoles that are available for purchase, as well as to assist shoppers in finding the right camisole to suit their needs.
Types of Camisoles
Although a camisole is considered both a wardrobe staple and a basic item, this should not fool shoppers into thinking that there is just one plain item that is considered to be a camisole. There are several different types of camisoles, from strappy, shiny items, to supportive, beige ones. Camisoles, also called camis for short, come in many different manifestations of fabric, length, neckline, strap type, and style.
Camisole Fabric
Camisoles are typically constructed from cotton jersey, silk,, satin, or polyester. Camisoles that are made from cotton jersey and polyester can offer more stretch, while those made of silk and satin are more loose and flowy. All of these materials can be used to construct camisoles to be suited toward both underwear and outerwear, depending on the fit, the embellishments, and the styling of the cami. Lace trim made from all of these materials may also be applied, as can piping and beading for special touches. Seamless camisoles are woven out of one piece, eliminating lines and creating a smoother appearance under other garments.
Camisole Length
The length of a camisole can vary from the above midriff cut all the way to mid-hip. Anything longer would be considered a chemise instead of a camisole, while any shorter might be considered a bralette top. The length of the camisole will depend on the wearer's needs and size. Shorter, cropped camisoles might be used as fashion tops for evening wear, while longer pieces might be used to tuck into suits, or they may even include lace detailing that is designed to peek out under other layered pieces. Longer camisoles also pair well with more tailored pants or skinny jeans for an up-to-date fashion statement.
Camisole Necklines
The neckline of a camisole is usually chosen to complement both the outfit and the wearer. Typically, camisole necklines are either scoop or v - neck, although some spicier, more risque camis may have sweetheart necklines that emphasize the bustline. These are usually found on camisoles that are intended for use as lingerie, or perhaps for use under a sheer blouse for a sexier effect.
Camisole Straps
A wide variety of types of camisole straps is available, and the width and length of these straps is contingent upon the purpose of their use, as well as on the comfort level and the needs of the wearer. For women who require more supportive bras, for example, thin cami straps would not be practical, as they will not cover wide bra straps. If worn under a jacket, however, this would not be an issue. Below is a chart that details a few of the types of available camisole straps, while also showing both the advantages and the disadvantages of each type.
| Type of Cami Strap | Advantages | Disadvantages |
| --- | --- | --- |
| Fixed Wide Strap | Fixed wide straps cover bra straps, are comfortable, and offer added support. | They are more visible and are not layerable with other, thinner-strapped tops. |
| Fixed Spaghetti Strap | Fixed spaghetti straps are not visible under other layering pieces. | They are not adjustable, they may not fit all wearers, and they do not cover bra straps. |
| Adjustable Spaghetti Strap | Adjustable spaghetti straps come with slide adjustments (like the ones found on bras) and can be fitted to specific wearer. | They do not offer much support and will not cover bra straps. |
Camisole Support Elements
For camisole wearers who require added bust support but do not want the bulk of also wearing a bra, there are camisoles available with built-in support garments that range from a thin, extra elasticized band known as a shelf, to a full underwire built - in bra.. Both types reduce bulk and allow the wearer to have thin camisole straps without having to worry about covering wide, unattractive bra straps.
Uses of Camisoles
Camisoles are a basic staple of the modern woman's wardrobe. They have many everyday as well as specialized uses, from serving as a layering garment under lower-cut tops to offering added support during exercise. The number of uses for camisoles is as varied as the above-mentioned styles and elements that are available. Some of the most common uses of camisoles are as undergarments, as layering pieces, as exercise apparel, as fashion tops, and as maternity and nursing wear.
Camisoles as Undergarments
The most traditional use of the camisole is as an undergarment. Those available with built-in bras make great substitutes for bras when combined with slips to eliminate bulk. Some women may also choose to wear a camisole as an undergarment that is considered shapewear, meaning that it provides extra support and concealment of what is referred to as "muffin top," which is when a woman has extra bulk around her middle that hangs over her pants or skirts. Shapewear can help to conceal this, providing the wearer with more confidence as a result.
Camisoles as Layering Pieces
For those who are not bold enough to wear just a camisole on its own, wearing them as layering pieces is a great way to add interest to an outfit. The wearer can allow a part of the camisole, perhaps a waistline trim for example, to be visible, which can add a specialized, unique touch to an outfit.
Camisoles as Exercise Apparel
Lycra camisoles that are constructed with built-in bra support are also made for exercise wear. Women who are doing yoga, Pilates, weight lifting, or cardio activities can stay cool while wearing supportive apparel. Special fabric that wicks moisture away from the body is also often utilized in constructing exercise camisoles.
Camisoles as Fashion Tops
Many women wear a camisole on its own. These are great tops to be worn casually, at the beach, or even for evening wear on occasion. Women should be cautioned, however, that camisoles are not considered proper professional attire when worn alone. In addition, some camis are clearly meant to be used as undergarments and should not be confused with outerwear.
Camisoles for Maternity and Nursing
In addition to the many uses for camisoles that have previously been mentioned, a specialized form of camisole is the maternity and nursing top. Stretchy material supports the partum and postpartum tummy, while tabs on the straps of nursing tanks allow the mother to uncover her breast for nursing her baby without having to lift her entire top, sacrificing modesty in the process. Maternity and nursing camisoles are usually sold interchangeably.
How to Buy a Camisole
There are several places and ways to purchase a camisole. Many brick and mortar establishments and some box stores sell a wide variety of camisoles. Specialty stores and websites that carry undergarments also sell a variety of camisoles, both of the fashion and functional type. Thanks to several well-fitting materials that are now used in camisoles, they are not an item that generally needs to be tried on before being purchased. Online retailers are also a great place to find camisoles, and one segment of these kinds of retailers would be online auction sites like eBay, where prospective buyers can find and either bid on or purchase fixed price camisoles.
How to Buy a Camisole on eBay
In order to buy a camisole on eBay, visit the homepage, locate the All Categories option, and select the Fashion category. Next, select Women, which will take you to a variety of options for women's clothing. Depending on the type of camisole that you are looking for, you might choose Athletic Apparel, Intimates & Sleep, Tops & Blouses, or even the more specialized Maternity. Within each category, there will be more specific possibilities for limiting your search options, and some will even contain specific links for Camis.
Once you have limited your results by these categories, there are several other parameters by which to limit your search. You can select different size classifications, such as Juniors or Women's, and then size types, whether by letter or numerical size. Additionally, you may choose to limit your search to certain colors or brands, to certain types of materials, and on whether the camisole is new or used. You can also choose to set price limits, both minimum and maximum, and shipping and payment requirements.
Once you have selected the item that you are considering for purchase, take care to examine the listing carefully. Click on the name of the seller to be taken to their feedback page, where you should be sure to note how many transactions the seller has completed successfully, as well as the tone of comments left by previous buyers. As you read through the listing, note the details carefully. Make sure to pay close attention to the picture (or pictures) so that you are clear on the color of the item. If the brand of the item is not one that you have previously purchased, pay attention to specific measurements and sizing details. Do not be afraid to email the seller with any additional questions or concerns that you may have about the item or the listing by using either the Ask a Question link on the listing page or the Contact Member link on the seller's profile page.
eBay can be a great place to find deals on camisoles so long as you take the time to find the perfect match to your needs.
Conclusion
Whether a person needs to purchase a camisole to wear under their favorite jacket, under a sweater for added warmth, as a means of providing extra smoothness and shapewear, or just as a cute top to wear for a night on the town, this guide has provided the guidance needed to find the perfect camisole. No matter if the shopper is looking for a super-embellished, lace-decorated, shiny satin spaghetti-strapped cami or a simple beige, standard-length, foundation-wear camisole, with a small amount of research and patience, the perfect camisole is well within any buyer's reach.