On a daily basis ebay sellers, internet sellers and shops are offering figurines and other small porcelain objects as being made by Camille Naudot and bearing an N over C mark matching that as shown for Naudot by several popular marks guides. The Paris porcelain maker Camille Naudot & Cie produced no porcelains of this type (i.e. no headvases, cat figures, cupid or cherub figurines or vases, no molded or applied flowers on vases, no piano babies) in fact Naudot produced no figures at all.
An exhaustive search of the decorative arts literature and exhibition catalogs from 1890-1920 reveals no work or production of Naudot which remotely suggests he made these type of objects being offered as Naudot on the internet. None of these types of figures and other small objects have ever been seen with with a mark including 'France'.
The actual work of Naudot is extremely rare and consists simple shaped bowls and vases enamelled in the Art Nouveau style. Many of his works imitate 'plique-a-jour' enameling or pierced holes filled with transparent glaze. True Naudot is rarely seen on the open market and is extremely expensive when it does. See the ARTNET website for true examples of Naudot's work.
So what are these pieces that bear a similar mark but not the style of Camille Naudot's work? This NC (or CN) mark is documented to be on exports from Japan after WWII. The mark, impressed, printed or scratched, is found on pieces by many different makers (Miyao/Py, Maruri, Kowa Toki (figures marked with KW before numbers) and others) and many different importers/exporters (lefton, esd, ardalt (often with AA before the model number), l'amour, ucagco, coronet, sadek, acme, crown shafford, tilso and others). However, Norcrest has never been documented to use the NC/CN mark as often mistaken (thanks to c-me-for-lefton-info on eBay's pottery, glass and porcelain discussion board)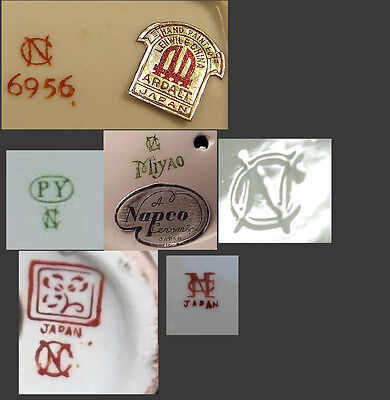 Naudot did not use a printed or impressed mark or printed or impressed model numbers with his mark. To this date no one has documented what this mark means. Are these pieces fake or misleading? No, as Naudot did not produce anything like these figures, they are not fakes or reproductions and since Naudot is in reality a very obscure company, the Japanese would unlikely be copying his company'smark. It must be taken that the NC mark on Japanese porcelains is simply a coincidence.
Why do the marks guides say this is a Camille Naudot mark? In some cases the marks guides are correct in that the Naudot mark is an N over a C. However, the true mark is hand-painted underglaze, never printed, with a very elongated N and very oval C. Naudot also never impressed the NC mark as is found on many pieces of Japanese origin. The marks guides also seem unaware that this mark is found on many Japanese exports. One pictorial mark guide shows a 'Naudot' figure group along with a mark. These are known to be Ardalt imports from Japan.
If your NC marked item has a 4 digit model number starting with 6 such as 6135 or 6135B, ect. it is most likely an Ardalt, Arnart or Sadek import.
One guide does get the Japanese origin correct for this mark-The World of Head Vase Planters by Mike Posgay and Ian Warner, 1992. However, as the rest of us, they can only hypothesize the meaning of the mark.
Some contributors to ebay's pottery, glass and porcelain discussion board have been researching this problem for as many as 30 years. It bears note that we are aware of only one true Camille Naudot piece on ever appearing on ebay. For further information, consult ebay's pottery, glass and porcelain discussion board.
Occasionally this NC mark on porcelains is also mis-identified as the mark of Newcomb college, but the absurdity of that attribution goes without saying.
It should also be noted that a similar NC mark can be found on some ceramics of German origin, from after World War II. This NC mark is usually under a crown. The origin of this mark is also unknown but as the mark is often accompanied by Germany or US Zone, it cannot be mistaken for Naudot.