"An American Institution"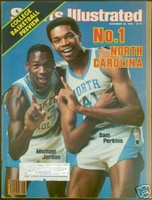 Few weekly magazines have enjoyed the ongoing popularity or impact of Sports Illustrated. Fewer still can be considered "collectible" and have such a loyal and devoted following as the magazine referred to simply as "SI".
Some of us may have old back issues lying around the house and are curious about their potential value. Others wish to supplement their sports collection with certain issues and wonder where to find them.
This guide provides a background for those who find this American sports institution to be an irresistable collectible or simply want more information about where to find older issues, which have premium value, how to preserve the magazines and where to find them.
HISTORY OF SPORTS ILLUSTRATED
The first issue didn't hit the newsstand until 1954, but Sports Illustrated was actually a product of World War II. As American soldiers returned home and the economy prospered, recreation became increasingly important. A few executives at TIME, Inc. saw a potential audience hungry to learn more about participatory sports as well as established spectator sports like baseball and football. Against the wishes of others who saw it as a trivial venture, far beneath the company's image, Sports Illustrated was born in the early 1950s. A few 'dummy' issues were produced as the magazine worked on the model for what SI would become.
Finally, in August of 1954, the first issue was released to the public. Other sports magazines had been published on a regular basis, but nothing quite as attractive was available weekly and SI found it's early readership very receptive.
Through those first few years, SI struggled a bit with it's focus. One week might feature pro football, the next found gymnastics or even bullfighting on the cover. "How to" stories continued well into the 1960s. As time passed, the magazine morphed into what it has become today, concentrating primarily on superb coverage of the major sports like baseball, football, basketball and golf. Other sports are included and the Olympics covered extensively, but the cover rarely strays from the mainstream.
The prestige of being on the cover is a boost for the subject, but readers are addicted to the consistently brilliant writing, award-winning photography and bright, funny commentary of current columnists like Rick Reilly and Steve Rushin. In short, many simply find SI to be of such high quality from cover to cover, they simply can't throw it away. And thus is born the SI collector!
THE FIRST ISSUE
The most famous issue of SI is the August 16, 1954 edition featuring popular Milwaukee Braves' slugger Eddie Mathews on the front. It's the first regular edition and carries a value today of approximately $150-200 in excellent condition.
To entice fans, SI's editors included a three-page center foldout of 1954 Topps baseball cards. The 'cards' were actually printed on the same paper stock as the magazine, and included Jackie Robinson, Willie Mays, Ted Williams and other superstars. Collectors purchasing issue #1 should be certain this foldout section is intact.
The inaugural issue was preserved by many who even then saw it as a collectible item. The folks in charge also had the foresight to save dozens of boxes of the magazine in storage, untouched since the day they were printed. SI delved into that archive in later years, releasing some of those pristine issues. Were it not for it's fairly widespread availability, the issue would likely carry a higher price tag. Still, it holds an important place in the minds of collectors, historians and sports fans in general.
The second issue, dated August 23, also included a card foldout of New York Yankees and is actually more difficult to find and more expensive today. In '55, SI also offered the card insert issues that carry a similar premium.
SWIMSUIT ISSUES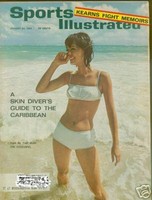 The phrase "Sports Illustrated swimsuit issue" usually draws some kind of reaction when mentioned. The annual editions are collectible on their own, with the tradition of an attractive female on the cover dating back to January of 1964 (see above). Tame by current standards, the first SI swimsuit issue is one of the most valuable on today's market. SI has produced the issue each year since with modern releases now double or triple the size of the normal weekly issue. Because of their popularity the early swimsuit issues are often on the want lists of collectors.
OTHER DESIRABLE COVERS
Mom didn't just throw out our baseball cards. Spring training in the majors was spring cleaning time at home and many of those old SIs went to the trash or were donated to doctor's offices. Thus, many older issues, especially those in the 1950s and 60s are much more difficult to locate today.
While collectors who chase covers of various players, college teams or events may not necessarily want a 1956 issue with harness racing on the cover, the Mickey Mantle issue from a few weeks earlier is very desirable. Mantle appeared on the cover several times and the issues featuring his likeness often fetch an excellent price. Michael Jordan and Muhammad Ali have graced the cover more than any other athletes and issues from early in their respective careers are very popular as is the case with the first issue that featured Jack Nicklaus. Nicklaus' 1st cover on eBay
Other subjects have appeared only once but share a prominent place in SI history. Steve Prefontaine, a cult hero among distance runners, had his life tragically cut short by an accident. His fans simply can't find enough copies of Prefontaine's lone SI cover appearance, June 15, 1970, and will often pay over $100 to acquire it in top grade. Prefontaine cover on eBay
The few covers that feature famous non-athletes like Bob Hope, Ernest Hemingway and John F. Kennedy are also sought after.
Fans of certain colleges will seek out any older issue with their team on the cover. Coverage of Texas Western's victory over Kentucky in the 1966 NCAA basketball championship game was featured in a late March issue (see above). The movie "Glory Road" rekindled interest in the story and the magazine is generating bids of $50-100 today. March 28, 1966 issue on eBay
The vast majority of issues that don't show a famous athlete or popular team are very inexpensive, however. SI is news oriented and it's often a more pedestrian subject or concept that makes the cover.
CONDITION, CONDITION, CONDITION
As with any collectible, condition plays a critical role in determining the desirability and value of the item. Magazines are particularly subject to wear. Examine issues for loose or missing pages, spines that show tears and covers stained or disfigured by moisture.
LABEL OR NO LABEL?
Subscribers receive the magazine with a mailing label on the cover. While certainly collectible with the label, issues purchased at the newsstand years ago didn't carry a label and are more desirable, particularly to collectors who display their magazines and when the subject is well known. Those who collect autographed copies of SI are especially fond of 'no label' copies. They are fairly rare but are often found together.
AUTOGRAPHED ISSUES
SI is great for autographs. The magazine is, by nature, a terrific collectible when signed on the cover. A Sharpie or other medium felt tip pen is best when gathering signatures. It's an honor to be on the cover and most subjects are more than willing to add their signature if they are typically generous with autograph seekers. If you locate one already signed by a deceased star such as Mantle, the autograph greatly enhances the value of the magazine.
WHERE CAN I FIND BACK ISSUES?
Obviously eBay is a wonderful place to locate past issues of Sports Illustrated, with hundreds available each month. However, they are sometimes found at:
Garage Sales

Flea Markets

Sports Memorabilia Shows
Sports Illustrated's circulation department does carry a limited number of back issues from various years and makes them available for sale. Contacting the magazine to fill your needs is certainly an option.
PROTECTING AND STORING
You'll want to make a small investment in some storage sleeves and preferably a thin cardboard backer board if you're saving SI. These are available on-line or at your local comic or well-stocked sports card shop. Make certain to buy the 'magazine size' sleeves and boards. They run only pennies each and will protect your issues while allowing easy access. You can also buy magazine storage boxes to keep them upright. Several dozen issues will fit inside of one box, which can typically be purchased for $5 or less.
CHRONICLE OF AMERICAN SPORTS
SI is really a chronicle of American sports, a veritable history of the games and times we've experienced over the past 50+ years. Collecting these beautiful magazines is a unique hobby enjoyed in a number of different ways. Pulling out an issue from years past and enjoying a first-hand account of the events of the time is a treat shared by fans of sports... and great writing.