It is very easy to clean copper jewelry and keep it a beautiful copper color. You don't have to have a store-bought cleaner, you can use things that can easily be found around the house in most any kitchen; vinegar, lemon juice, or ketchup!
(Click this link
White Tiger Tracks Store
to go to my store where you can find great copper rings, necklaces and bracelets like my His & Hers Copper Baby Boomers Bracelets pictured below!)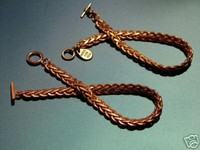 !
Vinegar
Place your copper jewelry in a glass, or plastic container, not metal. I use a drinking glass. Pour enough vinegar over it to completely cover it. Let stand for 5-10 minutes. Rinse. Dry. You're done!

Lemon Juice
Follow directions used above for vinegar.

Ketchup
This is my least favorite, as it is a little messy, but it will certainly do in a pinch! Simply rub your piece of copper jewelry with ketchup on a cloth until it is shiney. Rinse. Dry. You're done!

NOTE: If you buy a piece of copper jewelry that has a protective lacquer on it, do not try to clean it by any of these methods. Be especially careful if you have purchased a vintage piece as you could possibly decrease its value. A lot of collectors sell pieces that have not been cleaned by them and leave the cleaning up to the buyer if they so desire.