THE CAVEMAN THEORY ON HEADLIGHT RESTORATION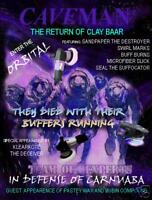 IN A TIME WHEN THE ONLY TOOLS AVAILABLE WERE CLUBS AND ROCKS, THE CAVEMAN INVENTED HEADLIGHT CLEANING
How do you know when you're talking to a caveman? He will say things like
1."Start out with 800 grit sandpaper then go to 1000 grit sandpaper (wet)
then go to 1500 grit (wet) then go to 2000 grit (wet) then buff the
lights with a good polishing compound."
2. He will become angry if you suggest there may be a better way than the method he suggests. Cavemen tend to attack things they do not understand.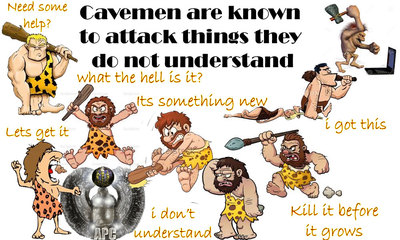 HOW DID THE CAVEMAN CLEAN HEADLIGHTS?
First the caveman will take a perfectly good headlight, covered with natural oxidation. he does not know what this substance is or how it got there but he knows he dosen't like it.
Being a caveman, his brain is capable of rudimentary thinking so he devises a plan to remove the oxidation.
First thing he does is pull out the headlight beam and sit it on his work boulder.
This is where the caveman breaks up into two groups.
Group 1. will attempt to use tried and tested tools and methods
Group 2 will attempt to improve on group 1's design.
Group 1 applied auto body work techniques: Sandpaper, rubbing compound, drills, buffers, goggles.
Group 2. applied finish wood work techniques: Sandpaper, rubbing compound, drills, buffers, gloves and time consuming elbo grease.
Both proclaiming to be the best, while both are based on the same techniques and the only difference is one caveman has a bigger club than the other but nether the less they are both using clubs.
Group 1 will use various grades of sandpaper rubbing compounds and polish to force the removal of oxidation along with much of the lens natural surface including the factory applied UV coating.
Results of cheap abrasive cleaners
Group 2 will use abrasive creams in order to wear down the oxidation. these creams may or may not work on your headlights and if they do they will continue to cut into your lens beyond the oxidation creating thousands of fine scratches over the surface. These will make themselves evident after you wash the car.
For a little more money Group 2 offers an abrasive cream product with a sealer that will keep your headlight looking shiny a little longer but ultimately the sealer will turn yellow and begin to peel leaving your headlights in worse condition.
Face it Caveman days are over and old myths die hard. each day thousands around the world are faced with the decision on what to do about clouded headlights. Because of misinformation provided by the Caveman, the caveman has snared many of them.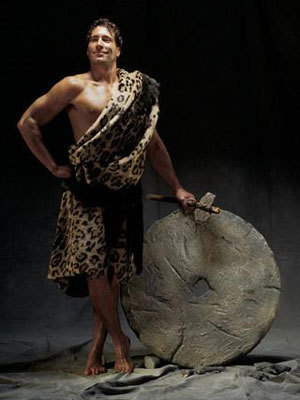 Don't let the caveman snare you too.
KNOWLEDGE IS YOUR FIRST LINE OF DEFENSE.
There is nothing that is safer, faster, or more cost effective then the non abrasive pure liquid de-oxidizer
PITTMAN'S ORIGINAL ONE STEP ACRYLIC LENS RESTORER.
Bio technology created this revolutionary one step process which can clear the oxidation of your headlight lens in 60 seconds. There is nothing like it on the market today.
Specifically designed ; tested to clean, restore and polish
****** ON CONTACT ******
the most heavily oxidized headlight lens on, Ford, Lincoln, MGF, MGTF, Mercury, GM, Pontiac, Cadillac, Oldsmobile, Gulf Stream, Beech Craft, Peterbilt, Mac, Kenworth, Chevrolet, Buick, Chrysler, Dodge, Plymouth, Porsche, Jeep, Jaguar, Nissan, Sterling, Subaru, Skoda, Smart, Ssangyong, TVR, Vauxhall, Lexus, Mercedes, Maserati, Toyota, Kia, Geo, Peugeot, Saturn, Suzuki, Hyundai, Volvo, Volkswagen, Audi, Acura, BMW, Mitsubishi, Mazda, Mini Cooper, Ferrari, Cooper, Soarer, Altezza, Infiniti, Saab, Alfa Romeo, Aston Martin, Audi, BMW, Citroen, Daewoo, Daihatsu, Ferrari, Fiat, Hummer, Isuzu, Lamborghini, Lancia, Land Rover, lada, Lotus, MX7, MX5, RX8, Perodua, Peugeot, Proton, Range Rover, Reliant, Renault, Rolls Royce, Bentley Rover, Opel, Honda, Maxima, Camry, versa, titan, frontier, xterra, murano, pathfinder, armada, z, quest, altima, tacoma, tundra, prius, matrix, yaris, corolla, four runner, highlander, RAV4, fj cruiser, sequoia, sienna, avalon, accord, civic, cr-v suv, odyssey, pilot, gx, ngv, sedan, honda, element, ridgeline, s2ooo, fit, si coupe, mazda3, mazda5, mazda6, mx-5 miata, tribute, b-series truck, clear vinyl, plastic, acrylic, polycarbonate, projector head lights, taillights, headlights, lightbars, and convertible rear window.
*Conventional headlight cleaners and so called restorers are priced from $5 to $40 dollars. All require multiple stops to completion and the use of abrasives. None will tell you that their product results will not last for ever, The fact is that oxidation will eventually return and will have to be removed again. Thats a job that never ends. Cleaners that sell for less than $20 are generally composed of toothpaste and or paint rubbing compound. The free shippers are almost always sell toothpaste. The worst sellers are those who charge twice as much for their shipping than the product actually costs. It wise to read their feedback from buyers and the "feedback left for others" A seller who has a reputation of poor communication or indifference to their customers, is someone you should avoid at all costs!*
What condition are your headlights in? which can be restored and which have to be resurfaced?
1. Do you see flakes peeling off your lens?
2. Does your lens appear to have a thin layer of plastic wearing off the lens
3. Is the lens deeply pitted
4. Are there scratches visable on the surface of the lens?
5. Does the lens appear to have thousands of tiny micro fractures in it? (common with early Chrysler, Dodge, Plymouth headlights)
These are conditions that go beyond the effect of natural oxidation.
These lens are damaged and cannot be restored. They can be resurfaced with a complex sanding and polishing system but none of the cheap free shipping kits have what it takes to repair the damage described above.
On the other hand
1. If your lens surface is cloudy
2. If the suface your lens are opaque
3. If the surface your lens are white
4. If the surface your lens are yellow
5. If the surface your lens are brown
6. If oxidation is so thick on your lens that no light can come through
You can restore them to like new in seconds with: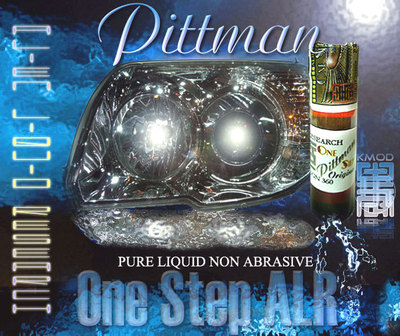 PITTMAN'S ORIGINAL ONE STEP ALR
100% guaranteed to perform as advertised or your money back!
Each 14.7cc vial averages 100 drops and will restore 50 or more headlights
There is no other product on the market today that can instantly remove oxidation from Acrylic in one step without the use of harmful abrasives, or give you as much value for your money.
It is fast, safe and easy to apply.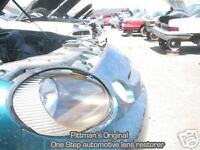 If you found this an entertaining way to learn about headlight cleaning, indicate so below. Thank you
******Read other Ebay Guides:******
by KEMETIAN MOTIF
***************