** Please note due to ebay error I cannot properly add pictures to this guide as there systemisn't working, but please visit my "about me" section for pictures!!
For the past several years my buying and selling has focused on Vintage Gucci. I've gained a wealth of knowledge and I think most people don't realize that you can purchase an athentic Mint/Excellent Condition Gucci Bag for only a few hundred dollars. If you don't mind the extra wear and tear you can even find Authentic Gucci Bags even cheaper. In Fact I love my Vintage Gucci bags so much I have no desire to purchase one brand new for thousands of collars when I know I can find a great authentic gucci bag here on Ebay.
I've decided to take all my knowledge over the years from buying and selling Vintage Gucci and explain the different Vintage Gucci Collections and Popular Fakes so you the buyer can enjoy and feel more secure with your Ebay Shopping experience.
Below is my personal guide to Buying and Spotting Authentic Vintage Gucci Bags, I hope you find it helpful!!!
~ Lets start with the most popular and well know line of Vintage Gucci "The Accessory Collection" developed in the early 1980's which can best be spotted by the signature Accessory Collections Tag, and also the authentication paper tag, which unfortunetly gets ripped off a lot of vintage bags. Below are some pictures of the Collection Tag as well as some of the most well know bags ascociated with this collection. You will often find several of these styles in the blue, brown, black and tan monogram colors....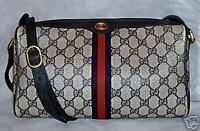 ~ Then in the late 1980's to early 1990's Gucci replaced its Tag with a Gold Metal Plate that reads "GUCCI" or "Gucci Made in Italy" with a Gucci Shield in the front many of these bags come in the same style as the accessory collection, but I did notice a new darker blue monogram canvas and white
~ Now lets discuss the early Vintage Gucci from the 1950's -1970's which feature a Gold Gucci Stamp instead of a Tag. The earlier version have "Gucci made in Italy" or just the Gold Gucci Shield embedded on the inside or the strap.
Some earlier versions made in the late 70's show a tag of just the Gucci sheild..again please visit my "about me" to see pictures..
***Avoiding Fake Gucci Bags*****
Many fake gucci bags have plastic like tabs and/or sewn in gucci tabs I would avoid these on Ebay,......for pictures of fake gucci tags please visit my about me =)
I hope this guide helps and please vote to help avoid buying fakes, and Enjoy buying authentic Vintage Gucci =)