Bullying Remedies
Part One: Workplace Bullying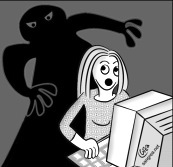 Psycho Boss - Grea: sangrea.net
This introductory to a report from the school bus safety CD presents a compilation of concepts studied among school bus drivers, industry staff, parents, and behavioral experts gathered over the past two decades. None of the information presented here should be considered a substitute for legal or medical professional services provided from those professions.
By James Kraemer, 2safeschools.org (excerpt)
For several years my interest in workplace bullying had my attention. It was disappointing to eventually discover how often attempts to stop bullying in the workplace fails, that most bullying in the workplace is initiated by managers, and that about seventy-percent of the time (eighty-percent in Canada) the target can find no remedy that stops the bullying. Once targeted the only real remedy for most 'targets' is to leave that department or that employer as soon as possible.
Adult workplace bullying behavior seemed to involve an identifiable group of willing individuals clustered around a primary instigator, oftentimes their boss.
So many maltreated employees do the same thing. They hope and wait, and wait, and wait hoping things will get better. And when it doesn't they hope and wait some more failing to understand that once a target the attacks continue until the employee leaves.
There is no point to becoming publicly angry. That pitfall is what the bully counts on. There may be a need to get smart, know the options, know ones' own healthy limits, and to act.
Among the thirty-percent that prevailed in the workplace are those that acted quickly to stop the bullying. These did not allow it to go too personal. They often carefully documented bullying events and were also able to demonstrate to upper management how workplace bullying affected morale, efficiency, and the costs of workplace bullying to the employer. Can they really afford that manager in charge?
The greatest successes that can come from engaging in battle is when the position taken is the correct one and when it helps others beyond the specific person wronged.
Although there are many excellent stop 'workplace-bullying' organizations, the Workplace Bullying Institute (workplacebullying.org) stands out as one of the best US adult workplace online help sites for both employees and employers.
Founders Drs. Gary and Ruth Namie established an online presence to help others after Dr. Ruth experienced uninvited bullying firsthand at a large HMO. In 1998 the Namie's began helping others in the US by starting the Campaign Against Workplace Bullying in the San Francisco Bay Area. They established the only US bullying telephone crisis-line at that time, helping over 5000 individuals.
When working within a dysfunctional workplace environment it is not hard to do well on behalf of fellow employees, the employer, and oneself. The hard part is surviving it.
Part Two - (To be continued)
Schoolchildren experience a similar dilemma in their schoolplace.
~ Read the full reports, additional stop bullying rescources and new stop bullying forms on our school bus safety CD, available on eBay ~
eBay Links
The Bully at Work - Authors: Gary and Ruth Namie
The 7 Habits of Highly Effective People - Author: Stephen R. Covey. An Interdependent management style that helps ease away the effects of a previous workplace bullying management style.
School Bus Safety CD - Strategies and processes that help establish and maintain safer, calmer school bus environments for children, and also a safer workplace for school bus drivers. CD includes over 900 files covering school bus safety issues, including school bus stop safety. policy examples and FastTrack© extended forms for safer, calmer school bus environments.