The Dunkin Donuts Coffee Guide: A Guide to Brewing Your Own Morning Coffee
I moved out to California almost two and half years ago from the east coast... more specificly from
Boston
. Much to my amazement, the closest Dunkin Donuts to LA is in Sacramento. This was shocking to me considering that a
Dunkin Donuts
sits on every corner of Boston and there is even a Dunkin Donuts Arena (for basketball games). Not only was this shocking, it was disturbing. Where else do the masses of drone-like workers funnell into each morning for delicious donuts and donut-holes (I once at 50 holes in a sitting)? Where else can you get large coffees for a dollar (certainly not
Starbucks
!)? And where else can you flavor you coffee with anything from Marshmallow to Cherry?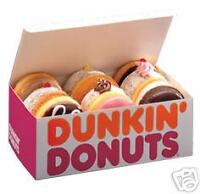 So the point of my story - I arrived in California and became upset and disturbed by the lack of Dunkin Donuts. As a last resort, I bought a coffee making system that I use each morning and, of course, I use Dunkin Donuts coffee beans (which can be bought online or on eBay).
My Dunkin Donuts Coffee System:
My morning set up includes the following - all of which can be bought brand new on eBay and at great prices:
Braun KF550-BK AromaDeluxe 10-Cup Coffeemaker & Braun KSM2-BLK Aromatic Coffee Grinder

I am a firm believer that Braun manufactures the best coffee makers - and they are typically available at great prices.
The Braun KF550
specifics:
Measures 14.3 by 13 by 7.5 inches
10-cup capacity with easy-to-read water-level indicator
Brita water filter for better tasting coffee; 2-hour auto shut-off
Pause-and-serve feature for mid-brew pour
Push-button filter basket release with gold-tone screen filter
The Braun KF550 is a newer model of the
Braun KF510
AromaDeluxe 10-Cup Coffeemaker, Black. Also a great coffee maker.
Any coffee fan knows that the best coffee comes from whole beans - and to brew the beans, you need a grinder. I use the Braun KSM2 Aromatic
Coffee Grinder
:
Measures 3-3/8 by 3-3/8 by 7-1/2 inches; 1-year warranty
Grinds beans for up to 12 cups of coffee
150-watt motor

Graduated measuring scale on transparent lid
Stainless-steel blades; safety on/off switch and cord storage
Find All Braun Coffee Products on eBay:
Braun Coffee
Of course, you can have the best equipment, but you will need great beans to make great coffee. And thats where Dunkin Donuts comes into play:
Dunkin Donuts Coffees
There are 6 primary blends of Dunkin Donuts Coffee beans and flavors. My recommendation are the Dunkin Donuts Original Blend and Cafe Blends:
Original Blend
Cafe Blend: Bolder, Darker Roast
Hazelnut
French Vanilla
Cinamon Spice

Dunkin Decaf



About Dunkin Donuts
From Dunkin Donuts: In 1950, Bill Rosenberg opened the first Dunkin' Donuts shop in Quincy, Massachusetts. Dunkin' Donuts licensed the first of many franchises in 1955.
Dunkin' Donuts is the world's largest coffee and baked goods chain, serving more than 2.7 million customers per day. Dunkin' Donuts sells 52 varieties of donuts and more than a dozen coffee beverages as well as an array of bagels, breakfast sandwiches and other baked goods.
There are over 6,000 Dunkin' Donuts worldwide in 30 countries. In the U.S. there are over 4,400 Dunkin' Donuts locations across 36 states. Internationally, there are over 1,700 Dunkin' Donuts locations in 29 countries. Dunkin' Donuts' most significant presence overseas is in the Philippines, Indonesia, South Korea, and Thailand. Sadly - there are almost no Dunkin Donuts in California (a mystery to me!).
Related Coffee Pages on eBay