Hi, welcome, come on in! The purpose of this guide is to help people know specific name brands of collectible figurines and glassware they can look for to purchase for resale while out at auctions, yard, tag, garage, or estate sales, antique or thrift stores.
Going to these places can be so intriguing, yet overwhelming. Where in the world does one begin?
We will start by giving several name brands, along with a few pictures of examples of these brands. This is not an all inclusive list, but is intended to give a beginner ideas of where to start looking.
Let's start with collectible figurines. There are many on the market, some sell much better than others. Some brands to look for might be:
Precious Moments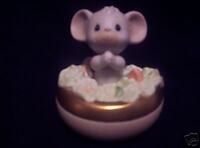 All God's Children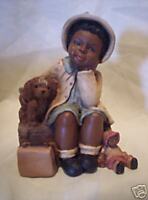 Made In Occupied Japan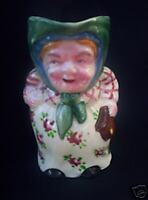 Homco
And many more, including Andrea by Sadek, ANRI, Armani, Dreamsicles, Enesco (Calico Kittens, Cherished Teddies, Lucy and Me, Mary's Moo Moos, Raggedy Ann and Andy, Rudolph, Tender Tails, This Little Piggy), Faberge, Flambro, Franklin Mint, Halcyon Days, Harbour Lights, Harmony Kingdom, Hummel, Goebel, Josef, Lefton, Lenox, Lladro, Mary Engelbreit, Norman Rockwell, Patricia Breen, Pendelfin, Royal Copenhagen, Royal Doulton, Schmid, Sebastian Miniatures, Swarovski, Tom Clark, Willitts, and Willow Tree.
Another popular collectible is Glass, Art Glass, and Glassware. Some brands to look for in Glass are:
Fenton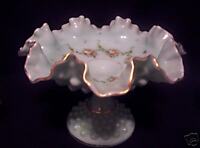 Westmoreland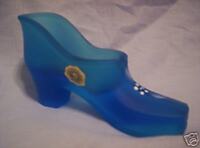 Viking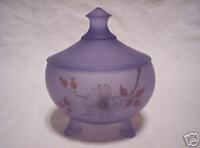 U S Glass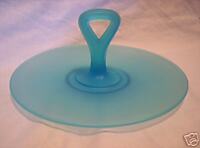 Jefferson Glass
Boyd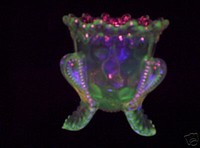 There are many more art glass and crystal makers including Italian and other makers such as Lalique, Baccarat, Daum, Sabino, Loetz, Moser, Caithness, Blenko, Pilgrim, St. Clair, Steuben, Tiffany, Holmegaard, Kosta Boda, Orrefors, and Murano.
Glassware from the 40's-60's that might bring a profit includes Anchor Hocking, Federal, Hazel-Atlas, Indiana, Jeanette, L E Smith, & Libbey.
Contemporary glass includes Degenhart, Lenox, Princess House, and Tiara.
Depression Glass makers include Akro Agate, MacBeth-Evans, and McKee.
Elegant glass makers include Cambridge, Duncan & Miller, Fostoria, Heisey, Morgantown, New Martinsville, Paden City, & Tiffin.
A few types of glass to keep an eye open for are vaseline glass (it "glows" under a black light), opalescent (it has a white edge around it), carnival glass (has a beautiful irridescent multi colored shine), crests (Fenton made several colors of crests, a colored edge around the very top edge of a piece) stretch, and crackle.
This is just a drop in the bucket so far as collectible figurines and glassware go. When purchasing for resale, make sure to check and see if there are original boxes available for any items you buy, as that will likely increase the value some.
Also, when purchasing collectibles, it is a must to check every inch of the item to see if there are any fleabites, chips, or cracks. Make sure and view them in bright light and at all angles. Some hairline cracks are difficult at best to see. Investing in a loupe magnifying glass with a light may be quite beneficial in spotting potential damage to an item. If one is not available, run your fingers extremely carefully (so as to avoid cutting yourself on any hidden chips) along the inside edge of a bowl where the lid would sit. Check the inside of the spout of a teapot. The sawtooth edges of glass pieces are particularly fragile, so check to see if they have chips. The bottom where the item has been displayed may have some chips and roughness. Is there a chip, too? If there is a handle, such as for a basket or teapot, make sure to pick up a piece from the bottom and refrain from using the handle. Does the handle have any wear around where it connects to the basket? Do bells have the clappers? Do bowls have the lids that originally came with them? Does the edge of the lid have any damage? Check thoroughly for flaws, and then check again. Have a friend triple check it for you. Flaws can easily be overlooked when a person is in a hurry and has someone breathing down their neck to look at the same item.
Don't hesitate to ask questions at a sale or auction. Make sure you get satisfactory answers before spending any kind of money you don't want to gamble on. How old is the piece? Where was it purchased originally? Has it been on display, in the box, or used? Where was it made? Is there any historical value?
If there are protruding edges or accessories like a horse's hoof or a fishing pole, make sure it hasn't been broken or chipped. Pieces that have floral roses or other decor are most often damaged because a little tiny bit of a rose leaf has been chipped off. Fingers can be broken off, the ends of noses or toes, the edge of a flowing dress...check it all and make sure your treasure is really that....a treasure.
This is the first of 2 or 3 guides on what brands to look for when buying to resell, so please check back periodically to see what other treasures we can help you to find.
Thanks for taking the time to read our guide, and we hope you can print it out, take it with you, and find that rare WOOOHOOOO that makes the ebay pulse and sells for a whopping, hugemongous profit for you!
Good luck and happy sales!
Sincerely,
Mr. and Mrs. Skywalker_track