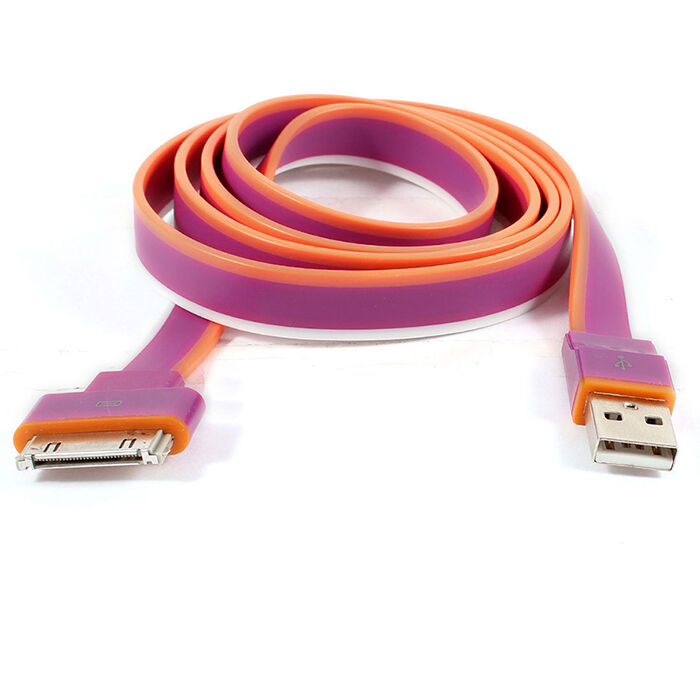 A data cable charger is a useful cable to have, as it not only charges an iPhone, but also transfers data to and from the phone. With its USB connection, it charges directly from a wall socket when used with a corresponding wall power adapter.
Data cable chargers are available from various electronics stores and cell phone stores, as well as online at eBay. Buyers have the option of purchasing branded chargers, such as those from Apple, or off-brand chargers. In order to know which data cable charge is ideal, it helps for buyers to have some knowledge of data cable chargers, their benefits, the various options available, as well as the main differences between buying branded or off-brand data cable chargers for the iPhone.
Benefits of Using Data Cable Chargers for the iPhone
Plugged into a computer or laptop via the USB port at one end and into the phone's charger outlet, an iPhone data cable charger is a great way transfer data either to the iPhone or transfer data from the iPhone. A data cable charger can also allow iPhone users to share their phone's Internet connection. Another benefit of using a data cable charger is that it works with a USB power adapter so the phone's battery charges directly from a wall power outlet.
Whether one opts to use a branded or off-branded data cable charger, he or she can benefit from the convenience of only having to carry around and use one cable.
iPhone Data Cable Options
When looking to purchase data cable chargers for the iPhone, it helps if purchasers are aware of the various options when it comes to cable length, different connection ends, as well as iPhone compatibility.
Data Cable Length
Many iPhone users find the commonly used 3-foot data cable chargers more than sufficient for their needs. Cables are also available in half-foot and 1.5-foot lengths. Many of the branded chargers do not come in extra long lengths. For a long 10-foot iPhone data cable charger , it may be better to consider an off-brand cable charger. Branded cables, such as those from Apple or Belkin, tend to be limited in the lengths they offer, so an off-branded charger may be ideal.
Data Cable Connector Differences
Over the years, Apple has released their iPhones and other mobile devices with different types of connections. When considering which data cable charger to buy, purchasers should be aware of the differences between the various connections available to ensure they purchase a cable charger that is compatible with their particular generation of iPhone.
FireWire Connector
Developed in the late 1980s and early 1990s by Apple, the FireWire connector worked in the same way as USB. The 30-pin connector replaces this type of connection.
30-Pin Connector
The 30-pin connector allows both USB and FireWire connectivity. This connector works with various Apple accessories, including branded accessories made by Belkin and Griffin, as well as a selection of off-branded accessories. Off-branded 30-pin connectors are readily available and offer good value for the money.
Lightning Connector
An 8-pin connection as opposed to a 30-pin connection, Apple introduced the Lightning connector in 2012 as a replacement to the 30-pin connector. The Lightning connector inserts into the iPhone with either side facing up. Because Apple has manufactured their official Lightning connector cable chargers with an identification chip, only a few other brands are able to offer this, one of which is Belkin.
iPhone Generation Compatibility
The following table provides a quick guide as to which connection is used with which Apple devices and their generations.
| Connection | iPhone Generation |
| --- | --- |
| | iPod Classic (1st generation), iPod Classic (2nd generation) |
| 30-Pin Connection | iPhone, iPhone 2G, iPhone 3G, iPhone 4, iPod (3rd generation), iPod Nano (1st generation), iPad (1st generation) |
| Lightning Connection | iPhone 5, iPod Touch (5th generation), iPod Nano (7th generation), iPad (4th generation), iPad Mini |
Fortunately for Apple iPhone owners, branded and off-branded data cable chargers are readily available with the above various connections at one end and a USB connection at their corresponding ends. These cables are ideal for use in a computer or laptop when plugged into a power adapter or a wall socket. They can even be used with a USB car charger adapter .
Differences Between Branded and Off-branded Cables
When comparing branded against off-branded data cable chargers for the iPhone, the significant differences are in their style and price. In general, there is not a considerable difference in how they work and in how fast they charge or transfer data.
Branded vs. Off-brand Data Cable Charger Style
One of the significant differences between branded and off-branded data cable chargers is their styling. Apple are renowned for their unique, sleek, and simplistic product styling, which is why many people are happy to pay extra for Apple branded data cable chargers and other Apple branded accessories.
Those looking for stylish cables without paying top dollar for authentic Apple branding should consider alternative branded data cable chargers, such as Griffin . For the buyer on a budget who is not interested in paying extra for attractive cable styling, an off-brand cable may be ideal.
Branded vs. Off-brand Data Cable Charger Price
When it comes to comparing branded vs. off-branded data cable chargers, iPhone users should consider how much they wish to spend. The benefit of purchasing off-brand cable chargers is that buyers can pick up a good quality cable charger for significantly less than a branded cable charger.
Branded vs. Off-brand Data Cable Quality
Although there is some debate as to whether there is significant quality difference between branded and off-branded cables for use with iPhones, many believe there is not a great deal of difference in quality. Charging time and data transfer times tend to be the same whether using a more expensive branded charger or a less expensive off-brand one.
How to Find Branded and Off-branded Data Cable Chargers on eBay
If you are looking to buy a data cable charger to charge or transfer data to or from your iPhone, then you can find a wide selection of both branded and off-branded data cable chargers for the iPhone on eBay. Simply use the search bar on eBay's home page to see the wide range of different options available. eBay allows you to refine your search by selecting the suitable sub-categories. You can search by brand, condition, or price range.
Utilizing eBay's Mobile Applications
A useful buying tool, eBay offers its users the use of their mobile applications. Simple, fast, and free to download, eBay's Mobile Applications allow you to receive messages and alerts, search for an item, bid, and pay, all from your mobile device. Applications are available for Apple, Android, Windows Phone, and Blackberry users.
Conclusion
Smartphones have become an integral part of people's everyday lives, and living without a smartphone can make life a little difficult. iPhone users can take advantage of a wide range of useful accessories, allowing them to utilize their iPhone to its fullest potential. One such iPhone accessory is a data cable charger, which allows users to plug the phone into their laptop, computer, or even into their compatible car charger connector. Many different types of data cable chargers are available, and buyers should consider the differences between branded and off-branded chargers. The differences between a branded and off-branch charger include the charger style, price, quality.
Buying a branded or off-brand data cable charger for the iPhone, either new or used, is easy when purchased online at eBay.