Were you just changing around your Boyds displays and, to your horror, see that some hangtags are missing? Vanished into thin air? Don't worry... there is a way to get another tag!
DIRECTIONS FOR GETTING REPLACEMENT TAG(s):
Write a list of the bears you need tags for. Send list and a legal size SASE (Self-Addressed Stamped Envelope) to Boyds. If you are unsure of some of the bear's names, you can always send a good close-up photo with dimensions and detailed description written on the back of the photo. (Color of ribbons, stitching, eyes, dates on tush tags, etc.) It is not guaranteed you will get an identity, but it's possible. There is a limit to how many Boyds will send, so don't be greedy!
ADDRESS FOR REPLACEMENT TAGS:
The Boyds Collection, Ltd.
350 South Street
McSherrystown, PA 17344
ATTN: Hang Tag Request
THE REPLACEMENTS:
Keep in mind, your replacement tag will most likely not be the same as the original.
Original Tags:
More than likely, you will get a generic, all-purpose tag. It will not have printed style numbers or names. The inside just says, "Hi, I'm... and I'm a Genuine Boyds!" Here is an example of a common replacement tag: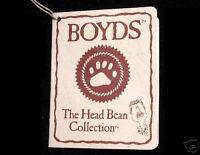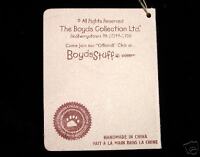 Happy Collecting! And tell those Bears not to be so ornery and go losing their hangtags!