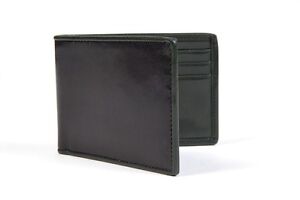 Wallets are no longer simply a basic, utilitarian item. They are more versatile, functional, and stylish than ever. Different types of wallets are available for formal, dressy, casual, and even sporting occasions. The billfold, also known as bifold, is one of the popular types of wallets that can be tailored with different functional purposes and be designed for a variety of occasions. It is sleek, simple, and is made to slip into a pocket without creating a bulge. The billfold is characterized by its ability to open up to a conveniently sized wallet and then fold in half.
Wallets should make carrying and organizing money easy. They should store as many items as needed while still being slim enough to fit into the pocket or purse compartment they were intended for. A billfold wallet can deliver these capabilities plus more. This buyer's guide will help men and women purchase a billfold wallet by explaining the types of billfolds and their optional features, as well as the many styles of billfolds available and where to shop for them.
Types of Billfolds
There are four basic types of billfold wallets. They have different shapes and purposes so their level of functionality and formality varies. The chart below describes the different types of billfold wallets, their functional capabilities, and how formal they are.
| Billfold Wallet | Description | Uses |
| --- | --- | --- |
| | The breast pocket billfold is large, vertical, and thin. Bills can fit vertically into the pocket without ever being folded in half. The majority of the time they have an extra slot on the side for carrying loose checks. | This is the most formal of billfolds. It is designed to fit into the inside pocket of a suit coat. It is larger than other wallets so it is not practical for daily use since it will not fit anywhere else. Because of the thin nature of the wallet, it cannot carry a lot of cash or extra items like credit cards. |
| | The front pocket design is the smallest of the billfolds. Its construction is simple with one to three pockets on either size of the fold for cash and a few cards. | These billfolds can be casual or formal depending on the material. Because they cannot hold a lot and the wallet will not close if it is too small, this design only works for those who either do not have a lot of stuff to carry, or keep their cash in a money clip. |
| | Hipster wallets usually have the most pockets. They open horizontally and feature a large money pouch in back with several rows of card slots on both sides of the fold. Often times they come with an ID holder or picture inserts. | The purpose of these wallets is to prove the maximum amount of organization and storage while still fitting in the rear hip pocket. They are less formal but can still be dressy if they are made from materials like leather. |
| | The vertical wallets are taller than they are wide. They can fit regular US bills inside without folding them. They also often come with various inserts for IDs or photos. | The vertical wallets are similar to the hipsters except for the shape. They are less formal but they hold more and offer more ways to organize everything. They can be casual, dressy, or sporty depending on the material. |
Before choosing which type of wallet to look for, determine the number and size of items that need to be stored in it and the occasions when it will be used. If a lot of items need to be carried, the hipster or vertical design would work well for everyday use. For formal use and a minimal number of items, the breast pocket is a good choice. The front pocket billfold is a conservatively sized wallet for everyday use but it cannot hold very much.
Billfold Wallet Features
Each type of wallet has a variety of features available that appeal to different people with different needs. This can range from safety measures to ways to easily store certain items. Choose from the listed features below based on the things that need to be kept inside the wallet.
| Billfold Feature | Description |
| --- | --- |
| Card Slots | Almost all billfolds have card slots. However, they vary in the number of slots that they have. These are designed to hold credit cards, membership cards, and IDs. |
| Chain Ring | This is a small, metal ring on the edge of the wallet. It allows the wearer to connect the wallet to their pants with a chain. In some cases this is considered a security measure, while in others, it is a fashion statement. |
| Change Compartment | Change compartments hold loose coins and either snap or zip closed. They cannot hold a lot and even just adding a few coins increases how bulky the wallet is. Because of this, they are only found on casual wallets. |
| Check Slot | Check slots are found on vertical wallets and are made to hold checks or smaller notes. This feature can be formal or informal, but is rarely seen on sporting wallets. |
| Folded Bill Pocket | Horizontal billfolds have a folded bill pocket. When opened, a dollar bill can be placed into the slot without being folded. However, the wallet then closes over the center of the bill, creating a crease. |
| ID Slot | These slots are clear and designed to hold an ID while still making it visible. It is a convenient way to show identification to someone but it requires holding out the entire wallet for them to see. |
| ID Insert | ID inserts are clear, detachable pockets for identification cards. They are easily removable and provide quick, easy access when an ID needs to be shown. |
| Non-Folded Bill Pocket | Non-folded pockets are features on vertical wallets. The bills can fit into the top of a large slot without being folded and since the wallet folds from top to bottom, they never get bent. |
| Picture Insert | Picture inserts are clear and easily removable. They can have one or several slots for photos. Unfortunately, these inserts can quickly add bulk to a wallet. |
Selecting the features is easy since their need is determined by what has to be carried. However, it is important to keep in mind that each feature makes the wallet bigger and more difficult to fit inside pockets.
Selecting a Billfold Style
While wallets may not be accessories that are noticed as much as ties and purses are, they can still add a subtle fashion statement to an outfit. Wallets can be sporty, classy, or formal. The sporty and classy wallets are the most popular for everyday use, while the formal versions are not as practical and therefore less used. The three styles are described below.
| Billfold Style | Description |
| --- | --- |
| Classy | Classy wallets are sleek and are usually solid colors. Typically they are made out of leather, but for women they may be made out of synthetic materials or patent leather as well. They are made to be smaller so the more items a wallet holds, the less formal it is. Classy wallets may come with a small, simple embellishment like a buckle, engraving, or metal logo. |
| Formal | Formal wallets are only made of leather or patent leather and have no embellishments. They are very thin and cannot hold very much. |
| Sporty | Sporting wallets are generally made from vinyl, cotton, nylon, twill, or rubber. In some cases, they are even made out of a paper material that is as indestructible as duct tape. They come in a wide variety of colors and patterns and are strictly for casual occasions. |
Choosing a type of wallet, selecting the features, and then determining the formality of the wallet are the steps in deciding what wallet to begin shopping for.
Shopping for Billfold Wallets
Billfold wallets can be found at a number of places. Department stores and outlets may carry casual wallets, sporting goods stores sometimes have wallets in stock, and specialty stores that have formal attire may have formal wallets as well. If more than one type of wallet is needed, or if a buyer is seeking a specific billfold, it could be necessary to go to several different stores. Wallets are a novelty rather than a necessity, so sometimes they are not the first priority in stores. Some men and women have discovered that it is faster and easier to shop for billfolds online. eBay is one of the places that has a large number of wallets with all varieties of features to choose from.
Shopping for Billfold Wallets on eBay
Both men and women can shop for and purchase billfold wallets on eBay. Simply go to the website and click on All Categories, and then on Clothing, Shoes & Accessories. From this page, men can select the Men tab, and then click on See All in the Men's Accessories section. Next, click on Wallets, and then on Bifold in the Style section. This page shows all of the billfold wallets for sale on eBay in the men's department and they can be narrowed down by selecting the brand, color, features, and materials.
Women can begin shopping by clicking on the Women tab after going to the Clothing, Shoes & Accessories section as above. They can then click on the See All selection under Accessories. In the Women's Accessories section, click on Wallets. Now select Bifold in the Style section in order to only view the billfold listings. Women can also narrow down the wallets by selecting the brand, color, price range, and features that they are interested in.
When shopping on eBay, it is important to pay attention to the shipping costs because they can raise the price of the wallet unexpectedly. Some sellers have a shipping calculator that you can use to figure out the price if it is not a flat rate.
Conclusion
Wallets are a must-have item. With all of the cash, checks, IDs, credit cards, and membership cards, it has become necessary to find an organized way of carrying them around. Luckily, the wide selection of styles, features, and shapes allows people to find a billfold wallet that perfectly matches their tastes and needs. This guide has helped shoppers select a billfold wallet to purchase by discussing the different types that are available; the optional features to choose from; how to select sporty, casual, or formal wallets; as well as where to shop for and purchase them.