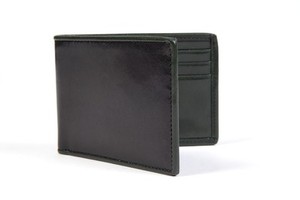 Wallets are a convenient necessity, protecting and organizing money while looking stylish. A woman may carry a wallet within her purse to keep all of her payment methods in one place, or she may carry a wallet alone. Either way, a wallet should look attractive as well as be functional, because wallets are frequently on view. The bifold wallet is one of the simplest styles of wallets, consisting of two panels or "folds" that face each other when the wallet is closed, similar to a book. Each fold offers a variety of slots, pockets, and other storage and organizational features.
In order to choose the right bifold wallet, one should be familiar with different styles, materials, and closure types available. A section on organization addresses the importance of color and wallet condition in general. A breakdown of some popular wallet brands helps shoppers know where to start looking within their budget. Last, readers should learn how to find and shop for wallets once they have some specific ideas in mind.

Styles of Bifold Wallets
There are a few different types of bifold wallets. The first type is sized and designed much like a man's billfold. It generally has smaller pockets on either side of the fold for storing credit cards and business cards in a horizontal orientation (with either horizontal or vertical pockets or slots), and a pocket at the back that runs the length of the wallet for cash and checks. This type of wallet may fold across, like a book, or from top to bottom.
One sees more variety in women's bifolds than in men's. Some other options for bifolds for women include longer wallets, about the size of an open book-style billfold. These larger-size wallets can accommodate checks and bills at full length without folding them. For a woman who carries her checkbook on a daily basis, a checkbook bifold wallet is the right style.

Materials for Bifold Wallets
The traditional bifold (or trifold) wallet is made of leather, but this certainly is not the only option. Leatherlike materials may be referred to as faux leather, synthetic, or vinyl. Other variations of leather include suede; patent leather; and alligator, ostrich, or other exotic animal skins are available. Aside from skins, other options for wallet materials include a variety of textiles: canvas, nylon, and polyester microfiber being the most common. There are even plastic and metal bifold wallets.
The choice of wallet material is really up to the consumer's fashion tastes and individual preferences. Vegans usually opt for faux skin or fabric wallets, while environmental enthusiasts prefer natural materials, such as leather or canvas. Leather wallets have a timeless, classic appeal. Modernists may prefer aluminum wallets or something equally unusual. Cotton fabric wallets usually have a cheerful, crafty look.

Bifold Wallet Closures
Men's bifold wallets typically just fold shut and are held closed by the pants pocket. Most women's bifolds have a snap, zipper, or other method of securing both sides together. A zip-around style of wallet offers the most security and privacy, keeping the contents out of sight and preventing any slips of paper from fluttering away. Be sure that the closure is not only secure but that it opens and shuts easily with one hand. Fumbling with a wallet at the drive-thru or when a policeman asks to see a driver's license is frustrating no matter how cute the wallet looks.

Good Wallet Organization
Yes, the ancient Chinese art of feng shui applies even to wallets. Because money, for most people, equals an investment of time and energy, keeping hard-earned assets securely and attractively stored is a way of acknowledging and appreciating that exchange of work for money. The feng shui theory says that if money physically has a pleasant "home," then that home will attract more money. A wallet should be treated with respect and kept in good condition.
A larger wallet is an invitation for more money to take up "residence" there. New things cannot enter one's life if there is no room for them, and room in one's wallet is no exception. Bulging wallets give off the message that there is not enough room for wealth or that one is thinking negatively and "hoarding" wealth in preparation for scarcity. Overstuffed wallets certainly do not send out a vibration that more money is desired; in fact, they seem to say "There is already too much money here."
Bifold wallets are good for wallet feng shui. They hold bills either flat (in a long wallet) or bend them softly in a smaller wallet. Be sure that money does not need to be folded or crumpled in order to fit into a wallet. Paper money (as well as coins) should be respected and treated carefully.

Wallet Color Choices
The subject of feng shui is mentioned because it affects several variables in selecting a new wallet. Color is a major factor in feng shui. Consult the following chart for suggestions regarding positive wallet colors.

| Wallet Color | Element Represented | Significance |
| --- | --- | --- |
| | Water | "Flow" of money |
| | Metal | Permanence of prosperity |
| | Fire | Energizes money flow |
| | Wood | Growth of money |
| | Earth | Grounding, stability |

Materials and Designs for a Good Wallet Choice
As mentioned in the materials section, shoppers should choose a wallet made of an appropriate material that reflects their values. Vegans may want to consider that even a synthetic leather-look material may send conflicting messages; either people will assume the wallet to be made of real leather, which they will find confusing or note that vegans find leather so attractive that they prefer imitations to other good-looking, suitable alternative materials.
The logo, emblem, design, patch, insignia, or other embellishment on a wallet can affect a person's mindset. People may think nothing of carrying a wallet that represents their favorite sports team or graphic image, but consider how the words "Buccaneers" and "Pirates" or the image of a skull and crossbones relate to money. Choose your wallet wisely in every respect. Wallets also play a part in forming children's attitudes toward money, so parents buying a child a wallet should make similar considerations.

Bifold Wallet Brands
The brand of wallet one carries is a matter of both one's taste and one's budget. Low cost does not necessarily indicate lower quality, but with luxury brands, it is a sure bet that the wallet will be crafted with the utmost care and attention to detail.
Most wallets fall into one of three ranges: high-end, mid-range, and low-cost, with Hermès being one of the most expensive in the world and discount or no-name brands being quite plentiful. The following chart gives some examples of brands to look at when shopping in these ranges.


More important than the designer's or brand's name or logo, however, is how the wallet works for the person who carries it. If a wallet is too heavy, bulky, difficult to open, or does not hold enough, then the wallet is not a smart purchase, even if it does cost as much as a used car.

Where to Find Bifold Wallets
Wallets are generally sold anywhere clothing and accessories are sold: designer boutiques, department stores, independent clothing retailers, and discount chains. Wallets are typically displayed in the handbag and accessories department, since some styles of wallets (such as the clutch style) cross over into purse territory. Other sources for wallets include leather goods shops and gift shops. Online sources include retailers that do Internet business exclusively, as well as classified ad sites and auction sites. Pre-owned wallets can be found at yard sales, thrift stores, consignment shops, and online, but make sure that the wallet is in good condition before buying it.
How to Buy Bifold Wallets on eBay
Bifold wallets are easy to find on eBay. To start shopping, visit the home page and navigate through the Fashion portal to Women's Accessories. Look under Categories and choose Wallets. Then, under Style, click on Bifold. You can shop for specific brands, colors, and materials by selecting those variables. Special features may also be selected, such as wallets with organizers, photo holders, and zip-around closures.

Conclusion
Spending money is part of daily life, and wallets are displayed just about everywhere. A shabby or dirty wallet may be hidden in a pocket or handbag most of the time, but showing it in public (as it inevitably will be) weakens one's image. A good wallet is a necessity, whether one carries cash or plastic. The bifold is a simple style of wallet for carrying the essentials. In a smaller size, one can carry cash, an ID card, a few charge or credit cards, and perhaps a couple of photos; larger bifolds may accommodate a checkbook and even a calculator, pen, or small notepad. The material, closure, color, and brand are all a matter of personal preference, but good choices also symbolize one's attitude toward money, enhance one's image, and teach others to care for their money as well. Shoppers will be surprised at how putting thought into a new wallet purchase can affect their attitudes and their finances.