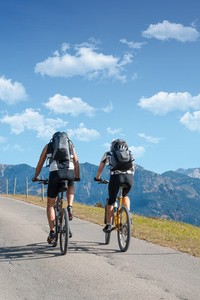 A drive toward leading healthier, eco-friendly lifestyles is driving more people to take an interest in bicycles as an alternate means of transportation as well as recreation. Bicycles come in a host of designs catering to several different types of riders, and at price points to fit every budget. Whether you want to buy your kid a bike for the front yard, exercise your way to work, or take a rough-and-tumble ride through the woods, finding a bike that fits your style of riding requires knowledge of the different types of bikes and an understanding of how to find one that is the right for you.
Types of Bicycles
Before shopping, buyers should realistically examine how they plan to use their new bicycle. There are many types, so they will want to find one that fits their individual needs.
Road Bikes
Bikes designed for use on paved streets are fast, lightweight and have thin tires. Road bike designs can be geared more toward racing or for commuting. Frame durability and handlebar style are the two most distinguishing factors among road bikes.
Racing Bikes
Racing bikes are designed for speed, and their frames are often made from lightweight aluminum or carbon. Racing bikes typically feature drop-bar handlebars that allow riders to sit crouched toward the handlebars in a streamlined position well suited for traveling longer distances at higher speeds. Drop-bar handlebars give riders a wider choice in hand positions while riding but some riders feel they put strain on their backs.
Commuter Bikes
Commuter bikes are more rugged than road bikes designed for racing. Sturdy frames and strong wheels give them the durability to stand up to rough city streets. Commuter bikes, also called urban bikes, feature flat-bar handlebars to accommodate a more upright riding position, enabling riders to see and be seen by other vehicles on the road. Though not as aerodynamic as drop-bar handlebars, flat-bar handlebars reduce joint strain on hands, wrists, and shoulders.
Mountain Bikes
Mountain bikes are designed to handle rugged, off-road terrain. They feature sturdy frames and wide, knobby tires. They offer a higher, more upright riding position and often come with a dense foam seat/saddle that has some stitching to keep riders from slipping around while they ride. Mountain bikes usually have toe clips to keep riders feet on the pedals and can have up to 27 speeds. The trade off for durability is that mountain bikes are neither as light nor as fast as road bikes.
Suspension Systems on Mountain Bikes
True mountain bikes will feature one of two types of suspension systems. Each style is best suited for different riding conditions and demands. Hardtail mountain bikes are less expensive and lighter since they only have shocks on the front forks. These bikes are more versatile for riders who will be riding both on- and off-road. With shock absorbers on both front and rear forks, full-suspension bikes provide more shock absorption and better rear wheel traction than hardtail bikes. Full-suspension mountain bikes are better equipped to stand up to challenging terrain and bigger drops. The most important point to keep in mind with regard to mountain bikes is that they are intended for trail riding and off-road use. Often riders buy them and never end up taking them off-road, in which case they are paying for features they never use.
Recreational Bicycles
Bicycles deemed recreational bikes include a variety of bicycle styles geared toward more casual riders. Hybrid bikes, comfort bikes, and cruisers are just a few of the many styles of bikes that provide recreational riders with a balance of versatility and comfort.
Hybrid bicycles
Hybrid bikes make great all-purpose bicycles. Their upright seats and handlebars allow riders to sit in a more comfortable position than mountain bikes. Smoother tires and lightweight frames make them perfect for use on pavement, but they can handle light off-roading on dirt and gravel as well.
Comfort bicycles
Comfort bikes have the same sporty look as mountain bikes, with a wide seat and wide tires, but they are designed to let riders sit more upright for superior comfort. Comfort bikes also typically have lower gearing and softer saddles than standard mountain bikes or hybrids. Although they will not go as fast as a hybrid bike or deal with rough terrain as well as a mountain bike, they work great for beginners, commuters, or people who want to take a ride through the park.
Cruisers
Cruisers are mechanically simplistic, sometimes with just a single gear. Commonly seen in beach communities, they have upright handlebars, and wide tires and seats. They are best suited to flat terrain, and slow, leisurely riding.
Lifestyle or Niche Bikes
Some bike designs fill a specific niche that is more highly specialized than what the average rider is looking for. Recumbent bicycles, tandem bikes, and even tricycles offer unique riding experiences for a riders shopping for less conventional bicycles.
Recumbent bicycles
Recumbent bikes allow riders to sit in a chair-like seat lower to the ground than traditional elevated seats. They have the appearance of a chaise lounge, and a riding style with a rider's legs extended straight out in front, similar to the Big Wheels of years ago. Although some people may be taken aback by the unconventional look, recumbent bikes offer riders a comfortable place to sit back and relax. Some riders may not feel comfortable with the different center of gravity and climbing hills is harder on a recumbent bike since body weight can't be used when pedaling.
Tandem bicycles
With seats and pedals for two riders, tandem bicycles have a longer wheelbase and are heavier than regular bikes. The design differences mean stopping takes longer and turns require wide swings, so it is a good idea to practice riding a tandem in a safe area before taking to the streets. For couples who want to explore together, or in situations where one rider has a disability that prevents riding alone, tandem bikes can be a great solution.
Tricycles
Tricycles aren't just for preschoolers anymore. The three-wheel design of tricycles makes them more stable and less prone to tipping, but they are also wider and unable to turn sharply. Tricycles are a good fit for riders with physical impairments or balance issues. Tricycles can be fitted with large baskets on the back for riders who regularly carry heavy loads. Due to their size, tricycles can be difficult to transport.
Children's Bicycles
Bikes geared toward younger kids have a small frame and raised handlebars fit a child's body. They also include a spoke guard and coaster brakes that allow a child to stop when pedaling backwards. Older kids and teenagers love BMX bikes, which have the look of a motocross dirt bike. They have higher handlebars than road bikes and mountain bikes and the frames look small compared to the rider.
Finding the Right Bike
A good bike will fit both a cyclist's budget and body. Buying a well-made bike is important, but spending more on components a cyclist doesn't need is unnecessary. Frame styles are measured differently depending on the style of the bike, so looking for a bike based on frame measurement can be confusing. Understanding how bike frames are measured and how they should fit will make shopping for the right size bike easier, and knowing which components make the biggest difference in quality and performance will ensure a smart purchase.
Fit
Different bikes fit different people. Riding a bike that fits a bicyclist's body size and shape makes riding safer and more enjoyable. Find the right size frame, the correct seat height, and comfortable handlebars when shopping for a bike.
Frame Size
Bikes are sold in a host of frame sizes, and manufacturers use different methods for measuring frames. Most frame measurements are based off seat tubes, but some measure the length of the top tube. Some bikes simply give the wheel diameter as the bike size. A basic guideline for rim size is that inseams between 30.5 to 33.5 inches generally fit a 24-inch wheel, and inseams above 33.5 inches will better fit a 26-inch wheel. Buyers should know which measurement they are comparing when shopping for the correct size bike.
No matter how a bike is measured, it is the length of the seat tube that makes the biggest difference in fit. Different seat tubes (the metal tube that extends from the seat down to the pedal sprocket) work for different inseam measurements. Adult bikes normally come with 12 to 26 inch (31 to 65 centimeter) frames, measured from the top of the seat tube to the middle of the bottom bracket. Road bike frames are measured in centimeters (divide by 2.54 to convert to inches) while mountain bikes and hybrids measure frame size in inches.
To find the perfect fit, the simplest way is to use the stand-over test. Place one leg over the bike so you are essentially straddling it, with both feet flat on the floor. There should be roughly 1 inch of clearance for a road bike and 2 inches for a mountain bike. Alternatively, you can find your inseam measurement in inches and do a little math. Multiply your inseam by .59 and round to the nearest whole number if trying to fit a mountain bike or hybrid. For comfort bikes, multiply your inseam by .65 and round to the nearest whole number. If trying to fit a road bike, first multiply your inseam measurement by 2.54 to convert to centimeters, then multiply your product by .65, and round to the nearest whole number.
Seat Height and Handlebars
A properly fitting bike will be comfortable to sit on as well. When seated, adjust the height of the saddle so that when the pedal is at its lowest point, the leg has a slight bend. Adjust the handlebars so rather than having arms fully extended, there is a slight bend in the elbows.
Fitting Children's Bikes
A properly sized bike is the most important consideration when purchasing a bicycle for a child. Juvenile bicycles are typically measured by rim size. Children 28 to 38 inches tall usually need the smallest, 12-inch bikes. Bikes with 16-inch wheels are sized for children from 38 to 48 inches tall. Children from 48 to 60 inches tall typically fit well on bikes with 20-inch wheels. To tell if the size is right, have the child stand over the bike. He or she should be able keep both feet comfortably on the ground. Handlebars and seat height should be adjusted as for adult bikes.
Bicycles designed for women
Many bikes now have a gender-neutral fit. But, women who have shorter torsos compared to leg length may be more comfortable on a women's bike. Women's bikes have a seat designed especially for a female's pelvis and a shorter top tube to avoid uncomfortable stretching when using the handlebars. Some women's bikes also have shifter designed for a shorter reach.
Budget
Another important consideration when shopping for a bike is price. Discount retailers sell lower- to mid- quality bikes starting at less than $100 and going up to $300 or slightly more. While bikes at this level are fine for occasional riders or children just learning to ride, they will not stand up to years of hard use from more serious riders. Specialty outdoor stores and bike stores sell more expensive, but generally better quality, bikes. Prices on well-made mountain bikes range from $200 to over $3,000, and a serious road bike can cost anywhere from $700 to $10,000. The average rider can expect to pay between $300 and $600 for a well-built bike that will last for years with regular maintenance. Buyers who need to spend less should look consider a second-hand bike. There is a strong market for used bikes created by the tendency of more serious riders to trade-up. Used bikes can be found at local bike retailers, consignment stores, garage sales, and even online. When buying a used bike, be sure to test drive it to make sure all the gears, brakes, and levers are working and that the bike rides smoothly.
Quality
With such a broad range of prices, it stands to reason that the quality of bicycles varies greatly as well. As price goes up, quality generally increases, but not always. Some key components to consider when it comes to bicycle quality are frame, wheels, brakes, and gears. For frames, look for chromoly steel, aluminum or titanium over ones made from less expensive, high-tensile steel. Most rims are made from aluminum and more expensive bikes may have carbon fiber rims. Steel rims should be avoided if possible. Better quality shocks on mountain bikes will be stiffer that lower quality ones. Brakes, pedals, and gears are also important. Plastic pedals and levers are generally a sign that quality is lacking.
Bicycle Safety Gear
Safety is important while riding a bicycle. Bike helmets are mandatory for children and adults in many places, and should be worn regardless of local laws. Reflectors help ensure motorists can see cyclists on the road, and powered lights are required if riding after dark.
In addition to the more obvious safety gear, cyclists will want to prepare for the unexpected with a few essential accessories. Bicyclists can maintain proper tire pressure by mounting a tire pump on their bike. Additionally, knee and elbow pads protect new riders from scrapes and bumps. Cyclists should carry a water bottle or hydration pack to ensure they stay hydrated during long rides. Also riders should get a bag or basket to carry food, clothing, or anything else they want to take along for the ride. When bikers are not riding, they should keep their bike stored on a stand or on hooks, and their bike should be locked up whenever it's parked in public locations. Cyclists can also store their bike or take it on vacation with a car rack. Additionally, cyclists can bring their little tykes with them on rides using a bike seat or trailer.
Find Bicycles on eBay
Once you know what type of bike you want, go the Sporting Goods portal, click Outdoor Sports,, then Cycling,, and start searching for items on eBay. Buyers can then refine their search by filtering by category and conducting a keyword search.
Categories: The Categories list on the left side of the page will help you narrow down your listings by item type. You will find links for BMX Bikes, Comfort Bikes, Kids Bikes, Mountain Bikes, and Road Bikes. As you dig deeper into the site you will also be able to narrow down your choice by brand.
Keyword Search: Search eBay listing titles for specific words. For example, if you want to find a new mountain bike, type new mountain bike (without quotation marks) into the Search box. Click the "Include Description" box to expand your results. Visit eBay's Search Tips page for more tips on searching with keywords.
If you can't find exactly what you want, try shopping
eBay Stores
, telling sellers what you want by creating a posting on
Want It Now
, or saving a search on
My eBay
and get notified by email when a match becomes available.
Buy Bicycles with Confidence
Before making your purchase, make sure you know exactly what you're buying, research your seller, and understand how eBay and PayPal protect you.
Know Your Purchase
Carefully read the details in item listings. Figure delivery costs into your final price. If you are going to spend a lot of money, make sure the seller will insure the item when it ships. If you want more information, ask by clicking the "Ask Seller a Question" link under the seller's profile. Always make sure to complete your transaction on eBay with a bid,, Buy It Now,, or Best Offer..
Know Your Seller
Research your seller so you feel positive and secure about every transaction. Below are a few questions to think about when researching a seller:
What is the seller's Feedback rating?

How many transactions has he/she completed?
What percentage of positive responses does he/she have?
What do buyers say in their Feedback?
Did the seller receive praise?
Understand Buyer Protection
Most top eBay sellers operate like retail stores and have return policies. Do they offer a money-back guarantee? What are the terms and conditions? In the unlikely event that you don't receive your item or it is not as described, eBay Buyer Protection will cover your purchase price plus original shipping. Buyers must actually bid and buy on eBay to be covered by eBay protection programs and purchasers must pay using PayPal in order to be covered by PayPal protection programs.. Transactions conducted outside of eBay are not covered by eBay protection programs. Never pay for your eBay item using instant cash wire transfer services through Western Union or MoneyGram. These payment methods are not safe when paying someone you do not know.
Conclusion
Bicycling can make for an enjoyable hobby, a cheap commuting method, or an exciting sport. Before purchasing a bike, buyers should take their time learning about the different types of bikes available and the features they provide. Additionally, it's important to find a bike that fits the rider, in order to provide long-term bicycling enjoyment. By using the tips provided to find and buy bicycles on eBay, cyclists will be able to find the right bike to meet their cycling needs at affordable prices. Likewise, eBay's large selection of bike parts and accessories makes keeping a bike up-to-date easy. And, with all the money cyclists will save by biking everywhere, they'll be able to buy all the extra add-ons they could dream of on eBay, not to mention the great feeling they'll get not only from the exercise but also from knowing that they're helping to save the environment.