If you don't have a two-year old boy, it can be hard to know what to buy for birthdays, Christmas, or just because. And what do you get for the two-year old who already has everything?
Here are things my own two year old boy has loved. I've tried to focus on some of the more creative toys that you can't usually get at the local mass retailer.
1) Fire Engine Playhut (around $20)

For the boy really into vehicles (trains, planes, fire trucks, etc...), this is a great gift. Kids love to be able to climb and hide inside of things and this is collapsible & easy to store for parents, unlike many other playhouses. In addition to fire engines, there are many other designs out there too. See playhuts on eBay.
2) Foam Tub Stickers (around $10)

Make bath time fun all over again! My son started going through a phase where he just did not want to take a bath anymore. I got these (remember, he's the one obsessed with vehicles) and he loves building roads & driving the buses, trains & trucks on them. He even loves the little stop signs & railroad crossing signs. Comes with a handy bag to store the stickers conveniently on the wall of your tub. These also come in letters & numbers, farm animals, dress-up dolls & more! Find tub stickers on eBay.
Also for other great bath ideas, check out toys made by Alex.
3) Snappy Little Bugs
What 2 year old boy doesn't LOVE bugs?! This book has all the favorites -- spiders, ladybugs, butterflies, caterpillars & more --all in colorful 3-D! I introduced this book one day to my son when he was still cranky waking up from a nap and he was instantly captivated. He's now almost 4 years old and still loves this book. There are also other books in the "Snappy Little" series such as colors, farmyard, numbers & more.
4) Giant Blocks (around $40)

They say that blocks & puzzles are two of the best toys to encourage mathematic skills in kids. My son loves to build towers & bridges and then play demolition man. The best things is that these blocks are made of cardboard and so they are lightweight yet durable and safe for young kids. See cardboard blocks on eBay.
5) Blue's Clues Mailbox (around $20 & up)

Another popular character but in a very hard-to-find toy. My son is really into the Blue's Clues mailbox and although I can't find them anywhere in stores or hardly anywhere online, on eBay you can get mailboxes that sing & say famous phrases from the show or simple mailboxes in which you can store stuff. See Blue's Clues mailboxes on eBay.
6) Thomas the Tank Engine Puzzles ($10-20)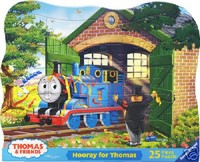 You can get Thomas toys almost anywhere, but I've found that it's really hard to find Thomas puzzles at the local mass retailer, which is why this is such a great gift for the Thomas fan. Educational, hard-to-find & a great addition to any Thomas fan's collection! See Thomas the Tank Engine puzzles on eBay.
7) Thomas the Tank Engine Magnetic Play Book (around $12)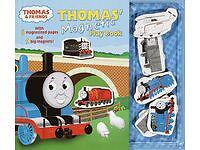 Another great gift idea for your Thomas fan is a magnetic playbook. Not found in many stores! This is GREAT for car rides or plane trips. Very portable and keeps your little one quietly occupied as he drives Thomas & friend magnets on different scenes on the magnetized pages. Find Thomas magnetic play books on eBay.