Beginner's Guide to Olympic Pin Collecting-Sports Pins
Sports pins grow more popular with Olympic pin collectors each year. Almost every Olympic fan has one or more sport which they avidly follow. Every modern Olympic Games have produced individual pins featuring the sports competed. In this small guide I would like to concentrate on the Sports Association and Federation pins produced by the Olympic Committees.
Structure-Individual federations for every Olympic Sport exist in most nations that compete in the Olympic Games. Some are called associations. These national federations administer, promote, schedule competitions, and select their national and Olympic teams for each sport. In turn these national federations are members of international federations. These organizations do many of the same things, but on an international level. The international federations are members of broader groups, such as The Association of Summer Olympic International Federations (ASOIF), The Association of International Olympic Winter Sports (AIOWF), or The Association of the IOC Reconized International Sports Federations (ARISF). These are administered by the International Olympic Committee (IOC). It might sound confusing but think of the structure as if it were government. Municipal government is a part of county government, which is a part of state goverment, which is a part of the federal government.
National federations and associations run the everyday affairs of their sport within their own nation. The International Federations are very active with the IOC in helping to organize competition in their sport during the Olympics. They also govern, promote, and manage competitions on a world level. The Associations of International Sports Federations often discus common problems and decide on their events calendars. AISFs have large voices within the IOC when planning either a Winter or Summer Olympic Games.
Usage-Federation sports pins are mainly internal usage pins, as are NOC, IOC, bid, and many corporate sponsor pins. This fact alone makes them very desirable to collectors. Because they reflect a particular sport, these pins are desirable to many different collectors. You would have interest in a Boxing Federation pin from Olympic collectors, Olympic Boxing collectors, college boxing fans, Golden Gloves fans, professional boxing fans, armed forces boxing fans, and the participants themselves. Pin swapping is an art form for many athletes, coaches, and fans during international competitions.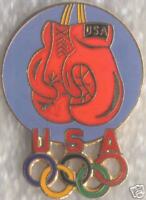 What to Look For-There will either be a pictograph which identifies the sport, the sport name, or in the case of photo-etched pins, you might have an actual picture of an athlete participating in the event.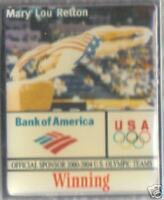 The name of the nation producing the pin will be on it. Also look for the Olympic Rings. This identifies the producing organization as an official part of the Olympic Movement. Most Federation pins are made under the auspices of the National Olympic Committee. The copyright of the NOC is often marked on the pin back. In the example below, the German Baseball Association made a very simple pin for internal usage.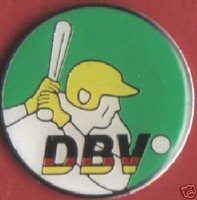 I have a pin which has a combination of many of the markings I mentioned. It has USA with the Olympic Rings, USBA (United States Badminton Association), a sports pictogram, gold on red, white & blue background, and is backstamped with the US Committee copyright.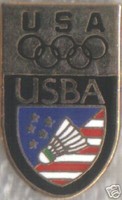 Rarity-Just because federation pins are made for an individual sport and internal use does not make them rare or expensive. Often a federation uses a generic style for many years. These are usually fairly easy to find. The USA Archery pin below has been a popular pin for many years.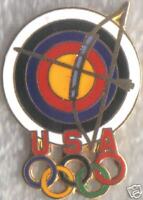 Ocassionally a federation wants different styles for different Olympics or events. These can be more difficult to find after the events. There are always pins which become instantly popular as soon as they are released. They will be the hardest to find. The USA Skiing Association continues to make different pins frequently. The common feature is the basic logo.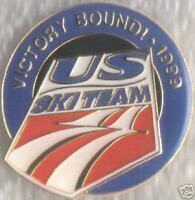 How much should I pay?-Over the years I've sold maybe 250 federation pins. They have sold anywhere from $3.95-$6.95. I was very surprised when a water polo pin brought $22.75 on auction. The next one sold for $4.95. I believe that $4.95 is about right for the average sport federation pin if the quality and condition is good. You might check eBay auctions, fixed price, and stores to find pins from your favorite sport(s). That's always a good method of determining fair market prices and availability. Happy collecting!