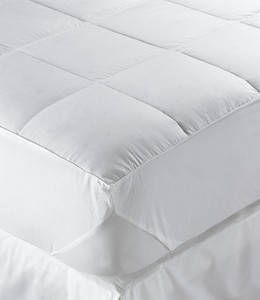 Most consumers are aware of the benefits of a quality mattress when it comes to getting a good night's sleep. But far fewer realize that their choice in bedding can often mean the difference between a restful slumber and a restless night. Today's bedding industry offers a host of choices in fabrics, patterns, and styles. With a little knowledge, you will be able to choose just the right bedding for your climate, sleep habits, and style to meet your bedding needs. Likewise, with a few helpful tips on how to find and buy bedding-related products on eBay, shoppers will be able to not only find the bedding products they want at great prices but also shop with confidence.
Get to Know Bedding Basics
Every bed needs basic bedding: mattress pads, sheets, blankets, and pillows. Adding a decorative touch with a comforter or bedspread isn't a bad idea either, as it can make a room feel cozier and more inviting. Before shopping for new bedding, it is important to know the exact size of the mattress and to learn a little about the different bedding options available so buyers can choose the items best suited to their needs.

If you need more info on bedding basics, check out this video:


Mattress Sizes
Mattresses come in six common sizes, and bedding is sized and labeled according to mattress size. If mattress size is unknown, find a tape measure and check against these common measurements: twin, full-size, queen, and king.
Twin: A twin mattress, also referred to as a single, measures 39 inches wide by 75 inches long. Twin mattresses are also available in slightly longer version, known as twin extra long, which is 39 inches wide by 80 inches long.
Full-Size: The next biggest mattress is referred to as either a full-size or double mattress, and its standard measurements are 54 inches wide by 75 inches long.
Queen: A queen-sized mattress measures 60 inches wide and 80 inches long.
King: The largest mattresses, king sized, are available in two variations: the standard or eastern king, which is 76 inches by 80 inches, and the California or Western king, which measures 72 inches wide by 84 inches long.
There are other specialty sizes on the market, several of which simply increase the length of the standard sizes from 80 to 84 inches.
One other important measurement is mattress depth. While the width and length of each size category of mattress have little variance, the mattress thickness can range from under 5 inches to over 16 inches. Especially when shopping for mattress pads and fitted sheets, buyers will need to know how thick their mattress is.
Mattress Pads
A mattress pad or cover can be placed on a bed to protect the mattress from spills and stains, improve comfort and back support, and get a better night's sleep. A mattress pad fits directly over a mattress, like a fitted sheet, but it has a layer of padding to protect the mattress and give extra support. Mattress pads made with hypoallergenic materials offer a degree of allergy relief since they provide a barrier against dust mites and bacteria. Mattress pads or protectors are generally made from cotton, wool, latex, memory foam, or goose down (feathers).
Cotton mattress pads
Cotton mattress protectors are thin, quilted, naturally hypoallergenic, and machine washable. They are the least expensive variety of mattress pad, while still offering a level of protection and comfort.
Memory Foam Mattress Pads
Memory foam has been shown to reduce nighttime tossing and turning with its ability to conform to the contours of the body. Memory foam mattress pads are lightweight but are not breathable, so they may raise a person's body temperature during the night. Because memory foam mattress pads provide high-quality support, they may cost as much as some low-end mattresses.
Latex Mattress Pads
Highly durable latex mattress pads have a long life span. Latex can either be synthetic or natural and is naturally hypoallergenic. Similar to memory foam, a latex foam mattress pad will mold itself to the shape of the body, offering support and reducing joint strain, usually costing less than memory foam. Although latex doesn't give the same level of support as memory foam, it breathes more easily to prevent nighttime overheating. People with latex allergies should avoid this type of mattress pad.
Feather and Down Mattress Pads
Feather mattress pads, sometimes called feather beds, add cushioning to a mattress without adding supplemental support. Less expensive than latex and wool mattress pads, feather pads lose their shape quickly and need to be shaken out regularly to retain their fluffiness. Feather beds are usually made from a combination of feathers and down from ducks or geese. They breathe easily and help maintain body temperatures for year-round comfort.
Wool Mattress Pads
A good wool mattress pad will keep bedtime cooler in the summer and warmer in winter. Wool is naturally resistant to dust mites and other allergens and is highly durable. Mattress pads made with alpaca wool retain their shape well and last for years. Lambs wool mattress pads are slightly softer than those made with alpaca wool, but tend to flatten more quickly. Steam cleaning usually brings them back to life. Some manufacturers use a blend of lamb and alpaca wool, which gives the softness of lamb's wool with fewer tendencies to flatten out.
Sheets
High-quality bed sheets can last up to 15 years. Whether king-size, queen-size, or twin-size sheets are needed, look at pocket depth, thread count, and fabric before buying.
When shopping for fitted sheets, keep in mind that pocket depth refers to the thickness of the mattress the sheet will best fit. To find pocket depth, measure from the highest point on the mattress, including the mattress pad and any additional bedding that may be used under the sheets, to the bottom edge of the mattress. Fitted sheets should also have elastic all the way around the sheet. Sheets with elastic just at the head and foot are more likely to slip off the bed.
Thread count, the number of threads per square inch, determines the quality of a sheet. Generally, sheets with thread counts in the 300-and-above range are durable and lustrous, and they use a soft fabric that gets softer over time. They are also less prone to shrinkage than lower thread count sheets in the 80- to 120-thread count range. Low thread count sheets, though less expensive, have a rougher feel and are more likely to wear through.
Each fabric commonly used to make sheets has its own merits. Some sheets will last for years, but can require quite an up-front investment. When deciding which type of fabric will suit a buyers needs, they should consider budget as well as whether they will enjoy a silky softness or prefer cotton-type comfort. Below is an overview of the most common types of sheet fabric.
Combed Cotton Sheets
Combed cotton sheets undergo a cleaning process to eliminate impurities and short, less desirable fibers. The combed cotton is then spun to create a yarn that is strong and compact. The process results in a soft, smooth, durable fabric. Organic cotton sheets are made from cotton grown without pesticides or chemicals, and they aren't subjected to any chemical treatments during manufacturing.
Muslin Sheets
Muslin sheets, commonly used in children's character-themed bedding, have a rough and tough feel and are at the lower end of the cotton spectrum. The thread count for muslin sheets is usually between 128 and 140.
Percale Sheets
Percale sheets offer a smooth, flat, and closely-woven fabric, finer than muslin, usually found in sheets with a thread count of 180 to 200. The over-under weaving pattern used to make percale sheets gives them a crisp feel and provides durability. Percale sheets can be found in 100-percent cotton or 50/50 cotton/poly blends.
Sateen Sheets
Sateen sheets are woven in a different manner than percale. This method not only gives sateen sheets a smoother, softer feel but also means they have a tendency to snag.
Bamboo and Modal Sheets
Fabrics made from bamboo and modal offer ecologically-friendly alternatives to standard cotton sheets. Bamboo is a fast-growing plant that doesn't require pesticides, but a chemically-dependant process is used to separate the fibers. When mixed with another fiber such as cotton, bamboo sheets are soft and breathable and will resist shrinkage and pilling. Modal sheets have a similar feel and quality as bamboo, but they are made from the soft wood of the beech tree.
Pima Sheets and Supima Sheets
Pima sheets and Supima sheets are soft, high-quality cotton and have thread counts in the 200 to 300 range. Pima cotton is made of long fiber staples grown in the southwestern part of the U.S. Supima comes from extra-long staple Pima.
Egyptian Cotton Sheets
Highly durable, lustrous, and silky Egyptian cotton sheets usually have a thread count above 200. The most desired of all bedding fabrics, Egyptian cotton is made of extra-long fiber staples grown along the Nile River.
Flannel Sheets
Warm and insulating, flannel sheets are great for colder climates. Flannel, a cotton textile, may be blended with a synthetic fabric. Instead of describing thread count, manufacturers measure flannel in ounces per square yard. Good quality flannel sheets typically measure 4 oz. of flannel per square yard or more and resist pilling after repeated washings.
Synthetic Fabric Sheets
Synthetic fibers such as Lyocell and polyester are known for their strength and durability, but they are not the most breathable fabrics. Synthetic sheets can simulate silk or suede, resist wrinkles, and they can be easily washed and dried. The extra-thick dye used for printed sheets makes the fabric feel a bit rough at first. Rest assured, however, they will soften up after only a few washings. To keep synthetic sheets looking as nice as possible, take them out of the dryer immediately to avoid wrinkling.
Blankets
Blankets can add an extra layer of warmth and style to a bedding set. For the cold winter months, place a blanket made from fleece, down, or vellux between the sheets and comforter. For shoppers who reside in a warmer climate, a simple cotton or chenille blanket might be all that is needed. Or, they can spice things up in the bedroom by throwing a cashmere blanket or afghan across the bed, raising their style quotient any time of year. To keep expensive or fragile comforters or quilts in mint condition, they should be folded at the foot of the bed each night and, for warmth, a less expensive blanket should be used instead.
Pillows
Choosing the right pillow for a particular sleeping style and preferences can be a daunting task. Available in standard, queen, and king sizes, pillows are generally labeled either by firmness level (soft, medium, or firm) or by sleeping style (back sleeper, stomach sleeper, or side sleeper). Stomach sleepers should choose pillows with a gently sloping surface and tapered ends. A firm, flat pillow provides back sleepers with the support they need. Side sleepers should look for pillows with a raised, even sleeping surface, which provides improved neck alignment.
Filling determines the firmness of a pillow, and there are several filling options readily available. Allergy suffers might want to steer clear of feather pillows; and, fortunately, there are numerous other hypoallergenic choices available. Sleepers should decide the sleeping position in which they are most comfortable and choose a pillow that matches the type of support they need.
Feather and Down Pillows
For those who like softness without a lot of support, down and feather pillows are plump and comfortable, and they tend to last longer than pillows with other fillings. Down and feather pillows are particularly suited for stomach sleepers. A lack of neck support makes them unsuitable for side sleepers, and allergy sufferers will want to steer clear of them. There are hypoallergenic down and feather pillows available, but they tend to be more expensive.
Latex Foam Pillows
Latex foam pillows are firm, offer excellent neck support, and won't bunch or clump during the night. They're not as soft and plump as some other types of bed pillows; however, they have good ventilation and retain their shape well. There is some uncertainty as to their resistance to allergens, and for some the initial odor of the latex is unpleasant, but the odor usually subsides with use. Pillows that combine latex and cotton receive high ratings by experts for comfort and durability.
Memory Foam Pillows
Memory foam pillows are extremely supportive, as they are made from specially treated polyurethane that retains its shape during use. Side sleepers and people with back or neck problems usually benefit from this type of pillow. Their dense structure means they don't breathe well, and, subsequently, they retain body heat. Memory foam pillows show good resistance to dust mites and are hypoallergenic and anti-microbial.
Buckwheat Pillows
Packed with the husks from buckwheat, these pillows are heavy, but offer good air flow and give great head and neck support. Although shifting them can be a noisy task, buckwheat pillows are extremely pliant and adjustable, and they suit both back and side sleepers.
Polyester or Synthetic Pillows
Inexpensive polyester pillows, filled with polyester threads of varying thread counts, wear out quickly and are known to attract dust mites. They offer only mediocre neck support, but their low price point makes them easy to replace. Polyester pillows lend well to machine washing, which helps counteract their tendency to absorb sweat and oils. Less common are pillows filled with gel-type polyester, which are said to be hypoallergenic and have a feeling similar to a down pillow.
Natural Fibers (Cotton, Silk, Wool)
Natural fiber pillows filled with wool, cotton, or silk, are priced higher than many other types of pillows, but their all-natural ingredients and easy upkeep make them attractive to consumers. Their tendency to absorb facial oils and sweat means frequent cleanings, but being machine washable makes it an easy chore. Considered comfortable and luxurious by many, critics say they flatten out quickly.
Decorative Covers and Accessories
Once all of the basic bedding has been determined, buyers will want to finish it off with a top layer to provide warmth and style. Adding a comforter or duvet is the final step to making a bed cozy and inviting. Bedspreads and quilts are other options for adding that finishing touch to a bed. Accessories like accent pillows and bed skirts can complete a room and give it a polished look. Before selecting a comforter, duvet, or bedspread, buyers should make sure to know how much warmth they want their bedding to provide and which design style they prefer.
Quilts, Comforters, Duvets, and Bedspreads
The comforter, bedspread, quilt, or duvet cover chosen for a bed will likely become the focal point of the bedroom decor. Good quality bedspreads and comforters are made with matelasse, cotton chintz, chenille, or even velvet. These fabrics tend to have a tight weave and thick threads that increase the durability and opulence of the cover. Bed coverings can be purchased as separate pieces or as a matched set, sometimes referred to as a "bed in a bag" set.
Quilt
A quilt is a thick blanket in three layers held together by embroidery stitching, known as quilting, which runs in patterned shapes. The top layer is usually a colorful array of several different fabrics stitched together, while the bottom layer is one piece in a solid color. The center layer of batting, or stuffing, offers a slight amount of warmth.
Comforter
Thicker and warmer than a quilt, comforters are the most common type of bed covering. Comforters are filled with either synthetic fibers or down, and are available in a host of patterns and colors to suit any taste preference. Many comforters come with a warmth rating depending on the type and amount of material with which they are filled. Shoppers should consider not only their climate but also their preferred sleeping temperature when comparing these ratings. Comforters are bulky and need to be laundered regularly, either at home in a large capacity washing machine or by a dry cleaner.
Down comforters vary greatly in price and quality. The fill power, the space one ounce of down occupies in cubic inches, determines the warmth of a down comforter. Down comforters with higher fill power measurements are fluffier, and they will last longer and provide more warmth at lighter weights. A fill power of 800+ is considered superb quality, 700+ excellent quality, and 600+ good quality. To prevent the down from leaking out over time, choose a down comforter with a high thread count casing.
Duvets and Duvet Covers
Duvet is the French word for comforter, and generally refers to a comforter filled with down or polyfill enclosed in a plain white or off-white cotton covering. Duvets are made with the intent that they will be placed inside a duvet cover, a large slip cover that fits over the duvet, much like a pillowcase, and closes with ties or buttons. Duvet covers come in all manner of styles, colors, and patterns, and they are easy to remove and launder. Duvet covers can be used to extend the life of an older comforter or as a way to quickly change the look of a room.
Bedspread and Coverlets
Bedspreads, also known as coverlets, are usually made with either using a patterned fabric backed with a thin batting or from a single layer of lightweight fabric, such as chenille or damask. Bedspreads are larger than comforters and are designed to cover the entire mattress and box spring ensemble. More to add a decorative touch than to provide warmth, they can be used alone in warmer climates and over blankets in colder temperatures.
Accessorize with Pillows and Bed Skirts
Depending on buyers' decorating tastes, they may want to accessorize their bed with accent pillows and other trimmings. For an easy look, simply add a bolster pillow or neck roll along with a couple standard pillows in coordinating pillow shams. If a more luxurious style is preferred, pile the smaller pillows on top of a set of 26-inch square Euro-style pillows.
Bed skirts cover the box springs or foundation of a bed and are designed to be used with comforters and duvets. Before purchasing a bed skirt, measure the distance from the top of the box spring to the floor. This is the drop measurement and will help to find the right length bed skirt.
Choose Your Style Preference
A bed is the most significant piece of furniture in a bedroom, so buyers should make certain to dress it in a style that appeals to them. For inspiration and ideas, look around the home for the most loved items or flip through some decorating magazines for pictures of rooms that catch the eye. Choose colors and patterns that are enjoyable to look at and begin the search there. Knowing a few basic principles of some of the most common designs styles is helpful, but buyers should give themselves some room to be creative. Brands and designs should not be the determining factor and buyers are advised not let labels and style deter them from be that suits their needs. The most common considerations when choosing a style of bed are whether or not it is more masculine or feminine, contemporary or traditional, and rustic or elegant.
Masculine or Feminine
If no one else shares the bedroom, deciding between a masculine or feminine look might not be an issue. Stripes and geometric patterns in dark colors are generally preferred by men, while floral prints and toiles tend to be favored by women. It's important to remember that these distinctions are simply generalizations and that, ultimately, the design is up to the buyer, regardless of gender.
Contemporary or Traditional
Contemporary bedding tends to have clean lines and simple patterns. A fussier traditional style is characterized by rich colors and elaborate prints. Shoppers should choose bedding that compliments their taste preferences by assessing the rooms in their home they love the most and carrying that style into the bedroom.
Rustic or Elegant
For those who love the country and long to live in a cabin, try out a rustic style with an old-fashioned quilt or a duvet cover in denim or corduroy. If elegance is preferred, consider going for a Hollywood Regency look with rich fabrics like satin or velvet in metallic shades or jewel tones.
Find and Buy Bedding on eBay
With so many bedding options from which to choose, it can be a bit overwhelming. With a few tips on how to search and find bedding items on eBay, shoppers can save a lot of time and effort locating the products they want quickly and easily. Additionally, shoppers will need to know a bit about how to buy bedding on eBay, to ensure a safe buying experience.
Find Bedding on eBay
Once you know what type of bedding items you want, go to the Bedding portal. From there, shoppers can refine their search by using the category links or by conducting a keyword search.
Categories: The Categories list on the left side of each page will help shoppers narrow down their listings by item type, where in links for Sheets, Blankets, and more can be found. As shoppers dig deeper into the site, they'll also be able to narrow down their choice by subcategory, refining their search by type, size, condition, etc.
Keyword search: Search eBay listing titles for specific words. For example, if buyers want to find a specific type or brand of bedding product, simply type the keyword, such as Egyptian cotton sheets, into the Search box. Click "Include Description" to expand the results. Visit eBay's Search Tips page for more tips on searching with keywords.
If shoppers can't find exactly what they want, they can try shopping eBay Stores, telling the eBay Community what they want by creating a post on Want It Now, or saving a search on My eBay and eBay will email them when a match becomes available.
Buying Bedding with Confidence on eBay
Before making a bedding purchase, it's important that buyers know their product, research their seller, and understand how eBay and PayPal can protect them. Below are some tips to help shoppers purchase with confidence.
Know Your Purchase
Below are a few tips to help buyers make certain they are getting the bedding-related product they want.
Read: Carefully read the details in item listings.
Determine Total Cost: Figure delivery costs into the final price. For expensive items, make sure the seller will insure the item when it ships.
Ask: If more information is needed, ask by clicking the "Ask seller a question" link under the seller's profile.
Shop on eBay, Buy on eBay: Always make sure to complete all transactions on eBay with a bid, Buy It Now, or Best Offer. Transactions conducted outside of eBay are not covered by eBay protection programs.
Use Secure Payment Methods: Never pay for an eBay item using instant cash wire transfer services through Western Union or MoneyGram. These payment methods are unsafe when paying someone a seller with whom a buyer does not know.
Know Your Seller
The following tips will help buyers to verify whether or not to work with a particular seller.
Research: Research the seller in order to feel positive and secure about every transaction.
Review Transactions: Review the seller's number of completed transactions and check to see what percentage of his or hers transactions received positive responses from past buyers.
Check Feedback: Check the seller's feedback rating and comments to see what other buyers have had to say. Look for sellers who have received the most praise from their customers.
Clarify Terms and Conditions: Most top eBay sellers operate like retail stores and have return policies. Find out if the seller offers a money-back guarantee and any terms and conditions that may apply.
Buyer protection
In the unlikely event that a buyer does not receive his or her item or it is not as described, eBay Buyer Protection will cover the purchase price plus original shipping. For more information, visit eBay Buyer Protection.
Conclusion
The right bedding will not only help you sleep better, but can transform your bedroom into your own private sanctuary, a place to relax and escape for a while. With the basics in mind, and an idea of the style and colors you like, you are ready to search for just the right bedding to compliment your bed. You will find an abundance of choices in department stores and discount retailers. Online stores and marketplaces, like ebay, generally offer all types of bedding in patterns, colors, and sizes to meet every budget and design style.