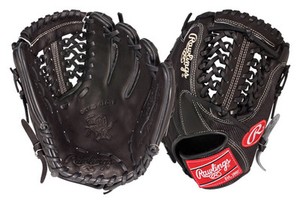 In the earliest days of baseball, players didn't wear gloves. The first baseball gloves began showing up in the 1870s, and were little more than a piece of leather padding with holes for the fingers to fit through. It wasn't until about 20 years later that baseball gloves began to resemble what we know them to be today.
Technological advances over the last century have taken gloves from simple leather pads to position-specific, high-tech tools with the ability to enhance skills and success as a baseball player. When shopping for a baseball glove, an abundance of styles and brands makes it easy to get overwhelmed and even easier to end up with the wrong glove for your needs. Familiarizing oneself with the three main features of baseball gloves, and learning the size and style recommendations by age and player position before beginning your search for a game-winning glove.
Find a Glove With the Right Pattern
A baseball glove that fits the player's hand, position, and abilities can help him play a better game. If you're in the market for a new glove, you can prepare yourself for that game-winning grab at the wall or series-ending tag at the plate by learning the basic differences among glove styles, as well as the most beneficial glove patterns for each position.
Three Main Features of Baseball Gloves
Although all baseball gloves look similar, there are actually three major design elements that together give each glove unique abilities on the field. An understanding of these features will help players choose the glove that is best suited to his age, size, and position. Being able to recognize the different styles of baseball gloves will help shoppers select a glove that will enhance their individual performance on the field.
Webbing
The webbing of a baseball glove connects the thumb of the glove to the fingers and helps players catch and hold onto the ball. Although there are numerous different types of webs, all with highly specialized patterns to improve ball retrieval, they all end up being classified into two distinct categories: open webs and closed webs.
Gloves with closed webbing patterns have a solid, strong web made by tightly woven patterns of leather. This design is sturdier than open web styles and gives added support for catching. Open web gloves, in contrast, feature cross patterns of leather in a loose weave with spacings that can be seen through. The open weave assists with quick ball transfers to your throwing hand and provides better visibility when catching pop flies.
Pocket
The pocket of a glove is the indentation in the palm of the glove. It is where the ball rests once it is caught. Pocket depth can be shallow or deep, and can impact how long it takes to transfer the ball to the throwing hand. It also impacts the player's hold on the ball. Shallow pockets are geared toward making fast plays, while deeper pockets are better for snagging fly balls and hard hit shots.
Back
Gloves either have an open space above the Velcro wrist closure on the back of the glove or a closed back for more strength and support. Many middle infielders prefer an open back design for better mobility and a quicker turnaround. Outfielders' preference is often for closed back gloves, especially ones equipped with a finger hole for added support when catching flies. But for most players, open back or closed back is a matter of personal preference.
Glove Sizing
In addition to the different design features, baseball gloves also come in an assortment of sizes. Glove sizes correlate not only to the size of the player but also to the position he plays. Infielder gloves are smaller than outfielder gloves, and youth gloves, for obvious reasons, are smaller than gloves designed for adults. The following table gives recommended glove sizes based on the age of the player and position on the field.
| | Under 8 Years Old | 8 - 13 Years Old | High School - Adult |
| --- | --- | --- | --- |
| Infield | 9 inches | 9 - 10 inches | 10.5 - 11.5 inches |
| Outfield | 11 inches | 11 - 12 inches | 12 - 12.5 inches |
Glove Design by Position
The design features of glove - that is, its webbing, pocket, back, and size - form what is called the glove's pattern. The pattern of a glove determines the glove's use and performance on the field. Knowing which patterns are geared toward different positions and players will help players find a glove that meets their specific needs.
Outfielders
Typically, outfielders favor longer, larger gloves with open webbing, a deep pocket, and a closed back. The larger size offers them an added advantage when catching pop flies while the deep pocket gives them a better hold on the ball. An open web design allows outfielders greater visibility of the ball if it is high in the air and even helps filter glare from the sun or stadium lights. Some outfielders prefer a closed back style for extra strength and support when catching hard-hit balls.
Infielders
An infielder needs to be able to stop hard hit shots and make fast throws. Their gloves generally feature shallower pockets for faster ball transfer and open backs for improved wrist mobility. Open web styling is commonly used by shortstops, first basemen, and second basemen.
A second baseman will usually have the smallest glove on the field to give him a greater advantage in attempting double plays. Slightly longer, closed web gloves better assist third basemen in snagging line drives. The unique demands put on a first basemen, meanwhile, require a more specialized glove. Many first base players actually wear a mitt instead of glove. Mitts are designed without separate fingers and with more padding to give more protection. A longer glove helps first basemen scoop those low throws out of the dirt, and a deep pocket means less chance the ball will pop out of the mitt.
Pitchers
Pitchers' needs aren't as highly specialized as other positions and many times their glove choices simply reflect personal preference. The most popular pattern choice for pitchers is an intermediate length with a closed web design to help shield their grip, and the ball, from the batter's view.
Catchers
Catchers have a demanding job behind the plate and catcher's mitts are required to help their performance and prevent injury. Like a first baseman's mitt, catcher's mitts are fingerless, but they have heavier padding and thicker leather in the palm for maximum protection. A catcher's mitt should be round and wide to help block those pitches that land in the dirt. Catchers also need a shallow pocket to make quick throws when runners attempt to steal a base. Catcher's mitts are sized in circumference rather than length. Youth sizes are 32 inches and under, while adults wear mitts with a circumference of 32 inches and up.
Glove Quality and Fit
Buyers who have determined which style of glove suits their age and position can begin searching for a glove that fits their budget as well as their hand. Baseball gloves range in price from under $20 for a synthetic youth glove to over $300 for a highly specialized, high-quality leather glove. A glove made from top grain leather may cost more but will last longer and perform better.
Leather Quality
Gloves made from higher-grade leather generally have better construction and design. The most commonly used leathers are full-grain, steer hide, cowhide, and pigskin. Less expensive gloves are often made from synthetic materials and are suitable for the youngest players.
Full-grain leather is most common in adult gloves. Since full-grain leather gloves are stiffer and heavier, they need a longer break-in period. The wait is worthwhile, though, as these gloves will ultimately give superior performance and durability. Full-grain leather is the preferred material for catcher's mitts. Full-grain leather gloves may also be labeled premium or pro series.
Steer hide is also heavyweight and durable, and can either be standard grade or premium. There is no standardized definition of premium steer hide, so pay attention to the quality of the glove if it is made from steer hide. Steer hide gloves have a similar break in to full-grain leather. Cowhide leather, meanwhile, is typically a medium-weight material that can vary a great deal in quality. Cowhide gloves will break in quickly and perform well but wear out faster than full-grain leather or steer hide. Cowhide is a good choice for youth gloves. The same can be said of pigskin, which is is the most flexible and most economical type of leather, That said, it is also the least durable. Pigskin may be a good choice for a young player who may only wear the glove for a single season.
A glove made from synthetic materials is best suited to T-ball or farm ball. Look for models that closely resemble leather and avoid the ones with a shiny, plastic appearance. Some inexpensive gloves have a leather palm and synthetic back-another option for discerning shoppers.
Right-Handed or Left-Handed Glove
Baseball gloves are intended to be worn on the non-dominant hand, as it is important to keep the primary hand ready to retrieve and throw the ball. In other words, if you are right-handed, you would wear a glove on your left hand. A glove that fits on the left hand is subsequently call a "right hand thrower," while a glove made for the right hand is referred to as a "left hand thrower," or sometimes, a "full right."
Getting a Good Fit
The two most critical factors in selecting a baseball glove are age and field position. That said, buying a glove that fits well is equally important. A baseball glove should fit snugly on the hand, and be stiff enough to provide strength. At the same time, it should have the flexibility to offer agility and control of the ball. It is a good idea to try on several models to find one that feels comfortable on your hand, and that is easy for you to open and close.
Find Baseball Gloves on eBay
Baseball gloves of all sizes and patterns can be quickly and easily found on eBay. A wide selection of styles, competitive prices to fit any budget, and vendors who offer free shipping means you are sure to find a great glove for an attractive price.
Once you know which type of baseball glove you want to buy, you can visit www.ebay.com, and access the Sporting Goods portal via the "All Categories" listing in the top-left portion of the screen. From there, click on Team Sports, and then the Gloves and Mitts link under Baseball and Softball. You can use the links in the Categories list on the left side of the page to begin narrowing down item listings. Links are provided for most common queries, including Catcher, Infield, Outfield, and First Base. Some of your results pages will have additional Categories lists to help you narrow down your options even further.
In addition to eBay's built-in search filters, you can use keywords to help you quickly narrow down your choices. Type the words you want to find in the Search box to find listings that match your specifications. For example, if you want a new left-handed glove, type the keywords "left new" (without quotation marks). Visit eBay's Search tips page for more tips on searching with keywords.
A good item listing should include information about the type of glove and its materials, the name of the manufacturer, and a clear picture. If you can't find exactly what you want, try shopping eBay Stores, telling the eBay community what you want by creating a post on Want It Now, or saving your search. Saving a search will trigger eBay to email you when a match becomes available.
Conclusion
Baseball gloves might look fairly similar-but seasoned players know that perfection on the field requires a glove that offers the right combination of size, quality materials, and design. By focusing on these considerations, glove shoppers can find satisfying options to match almost any budget.