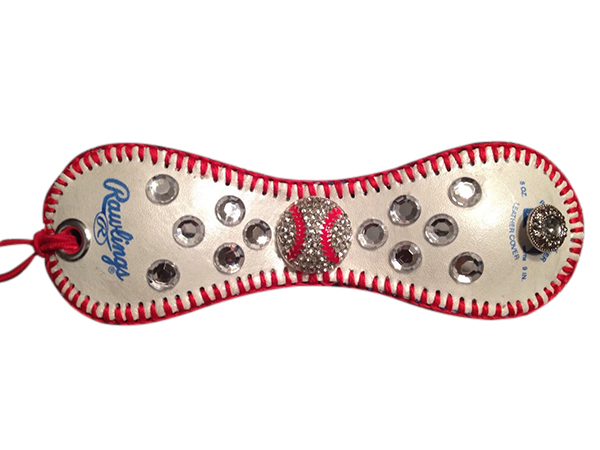 Major league baseball fans, amateur players, and proud parents of little leaguers share a love of the sport. Baseball cuff bracelets make unique accessories for this crowd. Made of real baseball leather, baseball cuff bracelets embody the love of baseball in a simple, yet fashionable cuff.
Baseball cuff bracelets often retain the red-and-white aesthetic of a baseball and can also incorporate team logos. However, some baseball cuff bracelets sport subtle colors and jewel-like details that make them as appropriate at a dinner party as they are at the ball game. An awareness of the range of baseball cuff bracelet choices helps consumers to choose cuffs that are well suited to their own style and needs.
Basic Baseball Cuff Bracelets
A true baseball cuff consists of material taken from the outside of a baseball. Craftspersons shape the leather into a cuff and finish the edges with thread or leather. Some also affix a clasp to the cuff.
Craftspersons use new, used, or even historic baseballs to make baseball cuffs. The origin of the ball affects the value of the finished product. Leather from a baseball used in an important major league baseball game, for instance, is more valuable than leather from a normal used ball. Signed cuffs are worth even more as collector's items.
A basic baseball cuff retains the red and white color scheme of a baseball. The only added material is the thread used to close the seam, which is usually red to match the thread used on the original baseball.
Some bracelets also incorporate a clasp. A jewelry clasp, hook-and-eye clasp with a leather loop, and a button, snaps, or a simple tie closure serves.
Colors
Unlike a basic baseball cuff bracelet, a colored bracelet incorporates colors not used in the original baseball.
Colored Seams
Some baseball cuff bracelets retain the original white of the leather and rely on seams to add color to the bracelet. Rather than the standard red thread, craftspeople use white, black, brown, or another color. This gives the cuff a more refined appearance, making it less obvious that the leather came from a baseball. Bright colors, such as blue, green, or yellow lend the cuff an attractive look.
Colored Leather
Some jewelry makers dye the white leather a different color. Dyed baseball cuffs have a dusky, vintage appearance. Crafters may also flip the material inside out and use the unfinished side as the outside of the bracelet. Dyed cuffs are rarely finished with the signature red thread of a baseball.
Details
The wide cuff of a baseball bracelet is an open invitation for embellishment. Crafters add innumerable elements to their bracelets, making some look elegant, others punk. With baseball cuff bracelets, it is truly all in the details.
Rivets
Metal finishings make baseball cuff jewelry look edgy and rock-and-roll. Rivets dotted along the edges, or placed near the center of the cuff, lend to this aesthetic. Snap closures also have a rivet-like appearance and make good clasps for cuff bracelets.
Bottle Caps
Bottlecaps, another metal component, give off a recycled vibe. They also fit well with the baseball theme, since drinking soft drinks or beer at baseball games is commonplace. Crafters hammer bottle caps down and use them as centerpieces for baseball cuff bracelets. Bottlecaps can hold team logos, player numbers, or other signature material.
Beads
For more elegant pieces of jewelry, crafters sew tiny beads onto the lining of baseball cuff bracelets. Tiny clear or pearl beads give cuff bracelets a sophisticated edge. On the other side of the spectrum, for especially baseball-themed baseball bracelets, baseball decals make appropriate centerpieces.
Jewelry
Brooches make sparkling centerpieces to leather baseball cuffs. Rhinestones lend a similar effect. Baseball cuff bracelets decorated in this way are barely recognizable as baseball memorabilia, instead blending in with fashion-forward pieces.
How to Buy Baseball Cuff Bracelets on eBay
Crafters often choose to sell their baseball cuff bracelets on eBay. To find these bracelets, search for them using the search bar located on every page of the site. To find a bracelet with specific attributes, like a team logo, add that criteria to the search term. For example, a search for "Detroit Tigers baseball cuff bracelets" brings up different search results than a general inquiry.
Baseball cuff bracelets make an interesting fashion statement at baseball games and just about anywhere else. The wide variety of styles available offers something for the die-hard fan and the fashionista alike. Gather up a few for different occasions, or give some as gifts to baseball aficionados.