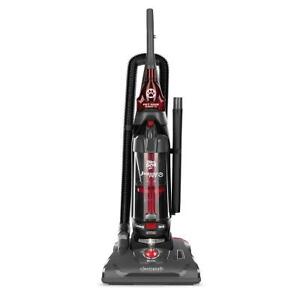 Bagless vacuums offer convenience and economy by eliminating the need to continuously purchase and install replacement bags and instead simply empty a canister or cup into the trash when it gets full. There is a lot to consider when buying a bagless vacuum as they come in many varieties to suit different needs and price points. A bit of research into vacuum brands and styles, as well as sellers, will help find the right quality vacuum that will last for years.
About Bagless Vacuums
Bagless vacuums are trending in today's market. Instead of sucking dirt and particles into a disposable bag that must be changed when full, bagless vacuums have a reusable canister or cup that can empty into the trash when full. If an item gets accidentally sucked into the vacuum, it is much easier to retrieve when a vacuum is bagless since the item can be seen inside the canister. Bagless vacuums with clear canisters also allow the user to see at a glance when the vacuum is full and needs to be emptied. It can also provide motivation to clean more as the user can see what the vacuum is picking up from the floors. They are also cost-effective as replacement bags don't need to be purchased.
Keep in mind, however, that while bagless vacuums do not require the purchase or hassle of bags, they do require filters that need to be cleaned or replaced periodically so that they don't clog and cause the vacuum to lose suction. The canisters can also be messy to empty and release particles into the air, which can be particularly unpleasant for those suffering from allergies or asthma. While most vacuum brands carry bagless vacuum options, not all are created equal. The filters, if designed poorly or not cleaned regularly, will cause the vacuum to not function properly and lose suction.
Choosing a Bagless Vacuum
If well-researched and properly maintained, a bagless vacuum can provide years of use. There are many bagless vacuum options on the market. While many are quality vacuums, the particle filtration, size, volume, uses, and features should all be considered according to the user's unique needs.
Trusted Models
Not all vacuums are created equal. Some sellers may be selling because the vacuum never worked well in the first place. Through research, the user should be able to determine which brands and models have a history of good performance and which don't. There are enough quality products out there, with rating and reviews to back their claims, that there is no reason to settle for a vacuum with a poor track record. Moreover, it will be easier to find replacement parts for popular brands.
Research
The Internet provides a wealth of information available with a few easy clicks. Buyers should take advantage of photographs, product testing, and reviews from customers and organizations. Also, buyers should become acquainted with the going price of various makes and models. Lastly, buyers should research sellers to know with whom they are doing business.
HEPA Filters
High-efficiency, particulate-air (HEPA) filtration traps 99.97 percent of fine particles as small as 0.3 microns that might otherwise escape through the vacuum and into the air. While other non-HEPA vacuum filters are on the market, such as micron filters that filter more particles than a regular vacuum, HEPA filters provide the highest filtration levels. This is particularly beneficial if a household member has allergies.
Vacuums with HEPA filters have received excellent ratings on emissions tests. However, some non-HEPA filter vacuums have also rated highly on emissions tests, so if the buyer wants to go green without spending too much green, consider one of the low-emissions non-HEPA models.
Size and Volume
If the buyer only plans on using their vacuum for light cleaning, a basic model may be enough to do the trick. If the buyer has a large home, frequent cleaning and/or hard-to-reach areas to clean, such as ceiling fans and stairs, it is better to get a heavier-duty model with the necessary attachments. Buyers should note the vacuum head size as well. Typical vacuums clean anywhere from 12 to 15 inches. A smaller head is suitable for small areas, but if the buyer has a large space, they should opt for a larger head that will get the job done more quickly. Cord lengths vary, so buyers should make sure they have one long enough for the space so that they don't have to keep switching outlets. A 25-foot cord should allow ample room although some vacuums come with cords more than 30 feet long. Buyers should also consider noise. Vacuums can be loud enough to require hearing protection. If noise is a concern, buyers should opt for a vacuum model with lower decibels.
Floors: Carpet and Hard Floors
Many vacuums come with either an attachment or setting for hard floors that turns the bristles off so that floors don't get scratched. There also may be a setting for varying carpet heights, so users can adjust the vacuum height depending on the particular carpet, and even from room to room. This offers a deeper clean so that users aren't trying to clean plush at the same height as a low-pile carpet. Some height adjustments are automatic, but manual can provide more control.
Features and Attachments
Tools, brushes, and extension wands can help clean in all those awkward and difficult places. Most vacuums come with crevice, upholstery, and dusting tools that attach to the vacuum hose or extension wand. These should meet most vacuuming needs. However, if the buyer plans to clean stairs, ceiling fans and pet hair, they might consider a vacuum with the appropriate attachments. Vacuum hoses that are at least nine feet long and a vacuum that doesn't easily tip over are ideal to clean with attachments.
| Features and Attachments | Description |
| --- | --- |
| Detachable hose or micro power bar | Makes cleaning stairs much easier. |
| Telescoping wands | Can reach under furniture, the tops of cupboards, and up to tall ceilings. |
| Edge cleaners | Clean corners and baseboards, which the main vacuum held will miss. |
| Headlights | Illuminate dark places under furniture and in corners to see what the vacuum is cleaning. |
| Dirt sensor | Some vacuums alert the user to the presence of dirt so that they can know which areas are and are not clean. |
| Self-propelled motor | Takes the strain off by assisting the user in propelling the vacuum throughout the room as they guide it. |
| Pet care | If there are pets, it may be a good idea to look for a vacuum that does well picking up pet hair. There are many vacuums that specialize in cleaning up after pets. |
| Easy on/off switch | Lets the user conveniently turn the vacuum on and off with their foot. |
| Suction control | The user can control the amount of air flow through the hose for more delicate cleaning. |
Buying a Bagless Vacuum with Confidence
Final considerations the buyer should make when searching for a bagless vacuum on eBay are product information, the possibility of hidden costs, and buyer protection.
| | |
| --- | --- |
| Product Information | Buyers should inspect photographs and carefully read the description. They should ask for more photographs or angles if needed and make a mental note of any flaws mentioned or seen in the photographs. |
| Hidden Costs | When comparing prices, buyers should factor shipping into the total cost. Also, they should be sure the appliance is insured in case it is damaged during shipping. |
| Buyer Protection | If anything is wrong with the appliance when it arrives that wasn't mentioned in the description, the purchase, including shipping, will be fully refunded. |
Finding Bagless Vacuums on eBay
Vacuums can be found on eBay by choosing the All Categories tab on the eBay homepage, then Home, Outdoors & Decor, followed by Home & Garden. Under Housekeeping & Organization, select Vacuum Cleaners. On the left side, under "Type," click "Upright" to view all upright vacuums, which includes bagless. Narrow the field further by choosing such options as brands and condition or by inputting a price range. Another option is to type "Bagless" or another search option under the Vacuum Cleaners search bar at the top to narrow the field. Other ideas for search terms can be found in the Related Searches hyperlinks underneath the search bar. Alternately, use the search bar at the eBay homepage screen to type in a search, such as "bagless vacuums" or "Dyson bagless vacuum."
Conclusion
There is a lot to consider when purchasing a bagless vacuum. Vacuums come in many sizes, shapes, and colors and with a variety of features and attachments. The particular budget and needs of every individual and space is unique. Buyers should arm themselves with research on quality brands and models and carefully scrutinize available items and their sellers as they shop around for the best deals. Then they can purchase with confidence. The right bagless vacuum can last for years and will keep the home or office looking its best.