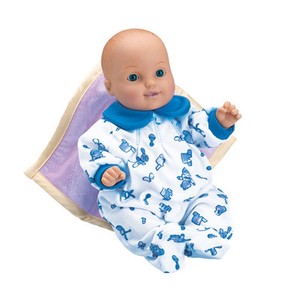 Adored by both children and adults, baby dolls are a treasured collectible all over the world. From high-quality, custom-made designer babies to the plastic infant replicas available at many department stores, baby dolls and their multiple accessories offer people of all ages a precious model commemorating the most endearing stage of human development. Available in all budgets and at multiple levels of quality, the options for purchasing baby dolls are nearly infinite.
Baby Doll Styles
The earliest dolls were crafted from found materials like corn husks and red clay. Some of these dolls were used in religious or spiritual practice, and others simply for play. Though dolls have been in existence for practically all of human history in one form or another, dolls meant to look like babies and small children only came into popularity over the last 150 years.
Baby dolls from centuries past were created using bisque, porcelain, and cloth. Most modern dolls are made from vinyl or a combination of vinyl and cloth. While some are made to appear almost indistinguishable from a living, breathing infant, others feature exaggerated facial structures and painted-on eyes that never close.
Reborn Dolls
Reborn dolls are extremely popular with collectors and hand crafters. They are designed using delicate layers of vinyl and meticulous paint to create extremely lifelike models, often using images of real infants as a guide. These dolls look so much like real babies that there have been publicized incidents of civilians, and even police officers, breaking out car windows to rescue what they believe to be a living infant in grave danger from the backseat of a vehicle, only to find that it is instead a reborn doll. They are even sometimes used in films to replace real infants and cut down on production costs.
These particular dolls, created by home crafters, as well as world-famous doll making companies like Ashton Drake, often come with birth certificates, adoption sheets, and even hospital bracelets to make the experience even more realistic. Though collected by individuals of all ages, these are particularly popular amongst elderly individuals. They bring on a bittersweet reminder of early parenthood, and the lifelike features are believed by some to create surges of the "love hormone" oxytocin, which helps create the bond between mother and child during birth, early motherhood, and lactation.
Some of the baby dolls, such as those from the "Truly Real" collection, developed by Ashton Drake Galleries, offer interaction. For some dolls, this interaction comes in the form of mechanical hands that will squeeze in response to touch. For others, an apparatus in the chest creates realistic breathing motions.
Vintage/Antique Dolls
Though dolls have always been popular, those meant to mimic the appearance of babies and young children did not grow into popularity until around the middle of the 1800s. By the end of the decade, however, they came to dominate the market.
Today, vintage and antique baby dolls are very popular collectors items. In excellent condition, they may have original clothing and hair. However, many antique and vintage dolls are carefully restored by collectors to improve their appearance. Often, older dolls were playthings, under the rough treatment of children for years. They also may have been stored in a damp place, and materials like fabric and rubber have a limited shelf life. So, when it comes to a collectible item made out of these materials, consumers should expect some restoration to be necessary before display.
Though values vary greatly, some antique and vintage dolls in good condition are worth hundreds of dollars or more. Collectors often look for rarities like German Bisque or classic vintage Americana like Betsy Wetsy and Chatty Cathy.
Baby Alive, Chatty Cathy, and Other Famous Baby Dolls
In an effort to provide more realistic playtime for young children, 20th-century toy designers began to create baby dolls that could cry, open and close their eyes, eat, and even wet or soil a diaper. Popular models include Kenner ' s Baby Alive, Mattel ' s vintage Chatty Cathy, and the Ideal Company ' s Betsy Wetsy.
Many of these dolls, which blossomed into popularity during the 1950s through the 1970s, are beloved collectors items today. A few lucky collectors even have models that are still in the original packaging.
Kenner's Baby Alive
Baby Alive dolls were first introduced in 1973. They came with small packets of powder that could be hydrated to create "baby food." They also came with disposable diapers and a spoon. Children could spoon bites of baby food into the baby's mouth and push a lever on her back to make her chew the food. Of course, the food went straight through the doll, resulting in a soiled diaper.
In the 1990s, Baby Alive advanced to speaking and automatically chewing when the spoon came in contact with her mouth. In 2006, the Hasbro company took over production of the Baby Alive Doll. Modern incarnations include editions that can use the potty, drink a sippy cup, and feature more realistic appearances and eating capabilities.
Mattel's Chatty Cathy
Chatty Cathy dolls were manufactured between 1959 and 1965. They featured a pull-string that prompted a low-fidelity phonograph to emit 11 different phrases. Originally Chatty Cathy was a female doll with blonde hair and blue eyes. However, as time went on Mattel expanded the line to include a male doll named Tiny Chatty Brother, as well as Cathy dolls featuring other skin, hair, and eye colors. These dolls were the second most popular doll of the 1960s, behind Barbie.
In 1984, Mattel released a similar doll, known as Chatty Patty. In 1998 and 2001, dolls meant to look like the original 1960s version of Chatty Cathy were developed as special collector's editions.
Ideal's Betsy Wetsy
Ideal's Betsy Wetsy was first produced in 1935. It was one of the first and most popular drink-and-wet dolls. The doll was continuously produced through the 1950s, when it was at the peak of popularity. In 2003, Betsy Wetsy was named added to the Toy Industry Hall of Fame. Similar dolls from the same era included the Dy ' Dee and Bye - Lo.
The Cabbage Patch Doll
Another set of famous baby dolls, created in 1978, are Cabbage Patch Dolls. Originally created by art student Xavier Roberts, these dolls were part of a mythos that included several characters and a place called Babyland General Hospital, where the babies were said to have been born. Each baby came with a birth certificate. Through the multiple manufacturers that have held rights to Cabbage Patch dolls, some of the materials used have changed. However, the traditional Cabbage Patch Doll featured an onion-shaped vinyl head and cloth body. They had a diaper and came with multiple hair, eye, and skin colors. The birth certificate featured a name, as well as a birth date. There are also collectible, porcelain versions available from the Danbury Mint company.
Baby Doll Clothing and Accessories
When it comes to finding baby doll clothing and accessories, collectors can find just about everything for a baby doll that they can for a baby human. Options include disposable and cloth diapers, pacifiers, bottles, furniture, strollers, and baby carriers. Some of the more realistic dolls, like the reborns, could actually fit in the clothing and gear designed for a real human infant.
Finding Baby Dolls on eBay
Many collectors enjoy displaying classic and meticulously designed baby dolls around their home. Parents also collect these mock infants for their small children to play with. eBay's easy-to-use interface makes it simple to search for dolls of every kind using key terms or by browsing from within the bountifulDolls & Bears portal. Add to that the safety provided through eBay Buyer Protection, and most shoppers feel pretty confident about buying and selling on the site.
Looking with Keywords
From nearly any eBay page, you can easily search for a specific kind of baby doll using related keywords. Begin by inputting related terminology in the search bar across the top of the page. For example, to find Ashton Drake So Real Babies on eBay, simply type in the phrase and click the blue search button to garner results. If the response is too great, try searching only within the Baby Dolls category to narrow results.
Browsing Categories
To browse the availability of baby dolls and accessories, begin by visiting theBaby Dolls section on eBay, located within the Dolls & Bears portal. From there, use the options to the left to refine results. Narrow results within the Baby Dolls section by condition, price, location of the seller, and more.
Making a Smart Buy
When you are ready to complete a purchase, it is important to be sure the transaction is finished entirely through eBay. Paying for items through MoneyGram or Western Union is not considered safe, and these purchases are not eligible for coverage through eBay Buyer Protection.
Items can be purchased on eBay through a bid, Buy It Now, or Best Offer. Before agreeing to a sale, always check the cost of shipping to your area. When ordering from other countries, shipping can at times be more expensive than the product itself. Consumers who find local sellers often have the option of picking up the item, saving time and money. Also, for collectors items, inquire about possible insurance options offered by the seller. You can alter your results to include only local sellers, using the refinements to the left side of the search page.
Getting to Know the Seller
Finding out more about the seller helps to guarantee a good experience. By clicking on the seller's username, you can go to his or her profile. From there, you can review related items for sale by the same user, review feedback left from previous clients, and find out if the seller offers a return policy.
Conclusion
Collecting and playing with baby dolls, meant to replicate the appearance of human infants, is a tradition that has carried on for centuries. Whether an adult collects reborn dolls to help fill a void following the departure of their own children from the home, or a child collects the latest offering from Mattel to play "house" with neighborhood friends, dolls almost always bring happiness. When it comes to collecting dolls, eBay offers a wide selection of treasures from all over the world, both brand new and antique.