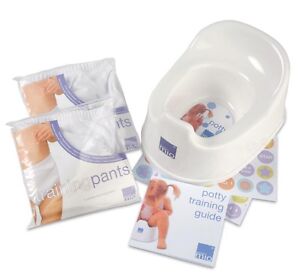 From baby diapers to training pants to the grown-up toilet, every baby eventually makes the potty training transition. In a baby's first three to four years, parents need a lot of supplies to keep their babies happy and healthy. From diapers, cleansing wipes, and changing pads to training pants and potty chairs, parents can find everything they need on eBay including great deals. Because there are so many different types and brands to choose from, deciding which products are best for babies can be difficult and confusing. In order to take some of the stress away from diaper and potty training product shopping, parents will first need to determine what their needs are. Researching the different types of diapers and diaper accessories as well as learning proper diaper care and effective potty training techniques can make this transitional time easy for both parent and baby.
Choose the Right Kind of Diapers
When mom's due date approaches, it's time to stock up on diapering supplies. Whether she will use cloth or disposable diapers is a personal choice. Both have advantages, so she may want to try each kind. She might even wind up using a combination as her child grows. Below is an overview of the different types of diapers so expectant parents can get started.
Cloth Baby Diapers
Cloth diapers come in cotton, terry, or flannel, and they can be purchased either pre-folded or unfolded. Cloth diapers can be fastened with safety pins, Velcro, or special diaper covers depending on the type and convenience to the parents. In order to prevent irritation, cloth diapers must be changed promptly when soiled. Dirty cloth diapers must be rinsed and then machine-washed in hot water so that they are properly cleaned and disinfected. For easier cleanup, they can be used with disposable diaper liners.
Economic Value
Many parents prefer cloth baby diapers, especially for everyday use at home, because they are more economical in the long run than disposable baby diapers. Some parents use the savings to hire baby diaper-cleaning services. These services are provided by companies that pick up soiled baby diapers and drop off a fresh supply of clean, folded ones. This can also save money on the wear and tear of their personal washer and dryer.
Environmental Value
Some parents opt for cloth diapers for environmental reasons. A baby may go through upward of 5,000 diapers before potty training, and using cloth diapers cuts down on landfill waste. Even parents who use disposable diapers often keep some cloth diapers on hand because they double as burp cloths and versatile towels.
Popular Brands
Popular brands of cloth diapers include Kushies, Kissaluvs, Bumkins, Motherease, Wonderoos, Fuzzi Bunz, and Little Lambs. Each brand is made differently, so it would be wise for parents to research the different brands to determine which ones would meet their needs and fit within their budgets.
Disposable Baby Diapers
Disposable diapers fasten with tape or Velcro strips. Hence the name "disposable" diapers, these types of diapers are thrown away when they becomes soiled. They are designed to prevent diaper rash and irritation by drawing wetness into a gel layer and keeping it away from the skin. Though more expensive than cloth baby diapers in the long run, it's hard to beat the convenience of disposable baby diapers, especially when traveling. Disposables are typically used by daycare centers because they are more convenient. Popular disposable diaper brands include Pampers and Huggies.
Swim Diapers
Swim diapers are specifically designed for the pool or beach. Both reusable and disposable, swim diapers prevent leaks while babies play in the water. Disposable swim diapers do not swell up like regular diapers in the water, which makes the baby more comfortable when playing. Many swimming facilities require that babies wear swim diapers to protect others. Swim diapers are not as absorbent as other diapers, so they should not be used when the baby is not swimming. They are also more expensive than regular diapers because they are designed for a specific function.
Stock Up on Diapering Necessities
Besides baby diapers, many other baby diapering items make diaper changing easier, more hygienic, and more convenient for mom and dad. Here are some of the products for baby that parents can find on eBay.
Baby Diaper Bags
When parents are out and about, it's a great help to have a baby diaper bag to keep everything in one place. Baby diaper bags come in all shapes and sizes, including bags by designers like Petunia Pickle Bottom, Fleurville, and Vera Bradley. Parents can also find travel cases for baby wipes, safety pins, and so on.
Baby Changing Pads
Whether parents are at home or on the go, they will need a comfortable and clean place to change their baby's diaper. Baby changing pads come in many varieties from cloth to vinyl. Some are disposable, while others are contoured to keep the baby from rolling over while having their diaper changed.
Baby Diaper Covers
If parents choose to use cloth diapers, they may want to use baby diaper covers or baby diaper wraps. In general, diaper covers are slightly larger than regular underwear because they are designed to slip over the baby's diaper. These reusable panties help prevent leaks, and they can also be very stylish.
Disposable Baby Diaper Liners
Disposable diaper liners are also for use with cloth diapers. Designed to be lightweight and absorbent, these pads are placed inside the cloth diapers, attaching to the bottom so that they stay in place. In addition to helping prevent leaks, these liners allow parents to flush solid waste so that cloth diaper cleanup is easier.
Baby Wipes
A must for diapering, baby wipes are great not only for cleaning up when changing a baby's diaper but also for wiping up drool, baby food, and all the other little messes little one's are sure to create. These are also available in both disposable and clothe varieties.
Baby Diaper Disposal and Storage
Baby diaper stackers help keep fresh diapers neatly stored while baby diaper pails, hampers, and disposal systems are designed to contain odors and assist in cleanup when diapers are no longer fresh. They are also designed with locking mechanisms to keep curious babies from getting into them. Popular diaper pails include the Diaper Genie, Diaper Dékor and Baby Trend.
Baby Ointments and Baby Powders
Ointments and powders should be kept on hand to prevent irritation and diaper rash. Diaper irritation can occur at any time, so it is wise for parents to stay stocked up on baby skin care items.
Other Baby Diapering Accessories
Parents may find it helpful to travel with sealable bags that allow them to store soiled baby diapers while on the go. Having a baby toy or rattle for the baby to play with while being changed can often make the ordeal easier for everyone. There are supplies like safety pins, diaper tape, and so on that parents might want to keep on hands, all of which can be found within eBay's Diapering category.
Get Ready for Potty Training
Kids develop at different rates. They'll let parents know when they're ready to start potty training, usually between ages two and four. It's best to let them set the pace and to use positive reinforcement throughout the process.
Determine Whether a Child Is Ready for Potty Training
The following signs indicate that children may be ready to begin potty training:
Stays dry for several hours (indicates that bladder muscles have developed).
Follows simple directions and can pull their own pants up and down.
Lets parents know when they're having a bowel movement (indicates an understanding of the physical signals associated with going to the bathroom).
Uses words for urine and bowel movements.
Demonstrates an interest in adult bathroom habits.
Gear Up for Potty Training
When a child is ready, parents will need to get a potty seat and some training pants. Potty seats come in many designs and colors to help make toilet training fun for kids. The basic requirements are simply a comfortable place to sit and a removable bowl that mom or dad can empty into the toilet. When the child is comfortable with a potty seat, parents can find child-sized toilet seats that fasten to regular toilets to ease the transition for them.
When toilet training is under way, it's time to start using training pants. These pants are easy for the child to take off and put on. This also helps them ease into the transition of using regular underwear. Disposable training pants absorb wetness and are convenient for travel or daycare.
Cloth training pants can also help with toilet training because they're uncomfortable, and the feeling of wet pants encourages kids to use the toilet. Cloth training pants also ensure that a child gets changed quickly, since diaper rash is still an issue when using training pants.
For parents that are looking for some guidance around toilet training, books and videos for adults and kids can help provide direction and tips to work through any problems that may arise.
Tips for Potty Training
Toilet training is a fact of growing up. For first-time parents, the best advice is to be patient and let it happen at its own pace. Here are a few more tips:
Don't Rush or Compare the Child With Others
Every child has his or her own timing for toilet training. Kids can be ready any time between 18 months and four years. Waiting until they are ready will help make it easier. Comparing a child with others may discourage him or her and hinder his or her progress.
Make Using the Potty Part of the Child's Routine
Allow and encourage the child to sit on the potty at regular times while clothed, even before they start using it. This will help them become familiar with sitting on the potty. Eventually let the child sit on the potty seat without diapers. Again, this is just to get them used to sitting there and making it a routine habit.
Involve the Child
Parents should teach their children where bowel movements go. They can show them how to empty a diaper into the toilet to help them make the association. Parents can even let their child flush the toilet and teach them how to wash their hands afterward. Special soap pumps designed specifically for children can make hand washing more fun.
Give Encouragement
Gradually encourage the child to use the potty for its intended purpose. Parents should have the children tell them when they have to go so they can associate the physical urges with the process of using the toilet. Parents should be sure to congratulate them and celebrate their accomplishments at each step.
Be Patient
Accidental wetting during the day and bed-wetting at night are normal for many months after a child has learned to use the toilet. This problem usually passes. Parents can lessen bed-wetting by limiting liquids before bedtime. Special overnight training pants are available just for nighttime use if it is taking a child longer to get out of the bed-wetting habit. These come in several sizes and can be used for older children as well. Parents should never get angry or punish a child for accidents. Parents can always check with the pediatrician if they have questions about their child's potty training.
Find Diaper & Potty Training Items on eBay
After some research you should be able to determine which products will work for you or which products you want to try out. When you're ready to buy diapering and potty training items, go to the Baby category on eBay and click the Diapering or Potty Training section on the left-hand side to see item listings on eBay. There are a few tips and tricks that you can use to make your eBay searches more successful. You can browse by category or look for specific items with a keyword search.
Categories
The "Browse by" categories list on the left side of each page will help you narrow down your listings by item type. Under Diapering, you'll find links for the following: Disposable Diapers, Cloth Diapers, Changing Pads, Diaper Bags, Diaper Covers, Diaper Disposal, Swim Diapers, Baby Wipes , and more. Once you select the category, you are further able to narrow down the choices to find the products that meet your needs. For example, if you select the category for cloth diapers, you will then be able to refine the search results based on condition, price, seller, buying format, shipping, and location.
Advanced Search
You can also search eBay listing titles for specific words. This is helpful if you know the precise products for which you are shopping. This process can be expedited by performing an Advanced Search. For example, if you want to find a diaper bag or a potty chair, type "diaper bag" or "potty chair" (with no quotation marks) into the search box at the top of the advanced search page. You can then search the listings by clicking the option to search "Title and Description." With an advanced search you are also able to automatically filter the results for buying formats, prices, or any other criteria that you choose. You can visit eBay ' s Search Tips page for more tips on searching with keywords.
There will be times where you can't find exactly what you are looking for. In these instances, try shopping eBay Stores, telling the eBay Community what you want by creating a post on Want It Now, or saving a search on My eBay so that eBay will send you an email when a listing you are looking for becomes available.
Buy Diaper & Potty Training Items with Confidence
Prior to making your purchase, you need to be sure that you know exactly what you're buying, whom you are buying from, and how eBay and PayPal can protect you.
Know Your Purchase
Be sure to read the description of the items carefully. Don't look at the price alone; remember to look at how much the seller is charging for shipping. You should include this in your final price. For purchases where you are spending a lot of money, be sure that the seller will insure your package. Don't hesitate to contact the seller with the "Ask Seller a Question" link on the seller's profile. The seller will be able to give you more information about the product, its condition, and pricing/shipping info.
Know Your Seller
You should also be sure to research sellers so you feel positive and secure about every purchase. You can check their feedback rating and see the percentage of positive responses that they received. You will also be able to see how many positive transactions they have made. Aside from looking at their overall score, be sure to read a few of the comments to see what the customers are saying. Lastly, find out if the seller offers a money-back guarantee or returns on items. Knowing that he or she will refund the money if the item is not satisfactory can help you feel more secure in completing a transaction with that seller.
Buyer Protection
There might be a time when, for whatever reason, you don't receive your item or the seller misrepresented it in the description. In this case, eBay Buyer Protection is there to cover the cost of the purchase as well as the shipping. Be sure that you always complete your transaction on eBay's site either with a bid, Buy It Now, or Best Offer options. Any transactions you do with the seller outside of the site are at your own risk and not covered by eBay's policy.
Conclusion
Finding and purchasing the right products for diapering and potty training needs doesn't have to be a stressful experience. As with any major purchase, doing research beforehand can make all the difference. Parents can make better purchasing decisions just by knowing what types of diapers and potty training products are available. Knowing how to navigate eBay's site and search effectively can also make a big difference when trying to locate the products that parents need. In the end, parents should feel that they have everything that they need and be confident in the products that they choose, not only for them but also, and most importantly, for their baby.