Why We Are Qualified to Write This Guide
This guide is intended to help buyers of Dolce & Gabbana on eBay. We are one of the top sellers of Dolce & Gabbana on eBay and our collection is one of the most complete Dolce collections in the world. We regularly loan pieces to museums, fashion design schools and celebrities and are contracted consultants for the world's top auction houses. We have been on eBay for six years.
The Best Dolce & Gabbana Sources on eBay
Here are the top sellers on eBay of AUTHENTIC Dolce & Gabbana pieces. They are all established sellers with great feedback ratings, all of which I have personally purchased from:
COUTURE CLOSET
- Your best source for Dolce & Gabbana - the best pieces, the best prices!
SimoneSato
- Excellent Dolce pieces, especially impossible-to-find Vintage pieces - and great modern designers for the discriminating fashionista - but she could sell snow to an Eskimo and her prices are high but worth every cent.
Acharoff
- Amazing Dolce (and other ultra-luxe Italian) - but very, very, very expensive - definitely for the girl with deep pockets!
Prada-M
- Beautiful pieces, great photos.
2die4 Fashion
- Gorgeous pieces from all the top designers.
Style_Fusion
- Beautiful pieces and knows all the celebrities and magazines it was featured in.
DOLCE & GABBANA CLOTHING LINES
This is a MAJOR source of rip-offs on eBay - I have seen tons of pieces that come from Dolce's lowest lines being advertised as from their runway line. MAKE SURE you know what label the piece you are buying is "Dolce & Gabbana" just doesn't cut it - and if you don't trust the seller, try and get a photo of the tag.
DOLCE & GABBANA
- The runway line, the most upscale line. Average prices run from $500-$3500. Tag reads "Dolce & Gabbana" and is white-on-black or black-on-white. Sizes are Italian 38-46, EXTREMELY rarely a Small, Medium, Large. If you see S-M-L sizing, there is a VERY good chance it is fake.
Has the curviest fi
t, most pieces have a 10" difference between waist and hip.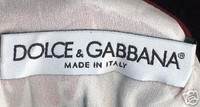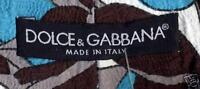 D&G by Dolce & Gabbana -
The secondary label, does have a runway line. Average prices run from $140-$600, and MANY sellers try to sell this as the mainline. Tag reads D&G, and can be black-on-white, white-on-black, white-on-white, or black-on-black. The majority of new pieces have a hologram sticker, but many pieces from a few years ago don't. There is a surprising variety of sizes and styles on this tag, but these are the most common. There are
two sizing sets
- the first number is 24-32 and
represents the average waist measurement
of the person who can wear it; the second set is the
standard Italian size
. The sizing standards are VERY different from the Dolce mainline, the waist/hip difference can be as little as 4" - the D&G line is designed for
very young women with narrow hips
.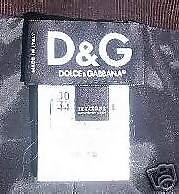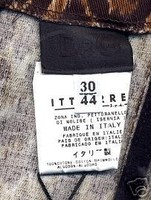 Dolce & Gabbana MARE
- This is the resort line. Average prices run from $150-500, it is really luxury bathing suits, cover-ups, resort dresses, usually in swimwear fabrics. MANY people on eBay sell the Mare line as the mainline, which is a total ripoff because
most of these pieces are lightweight and/or sheer
- great for the beach but ridiculous at a fine restaurant.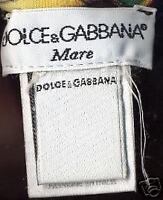 Dolce & Gabbana INTIMO
- This is their underwear line and comprises mainly bras, underwears, camisoles and dress-slips. I have also seen many people sell this line as the mainline, so watch out!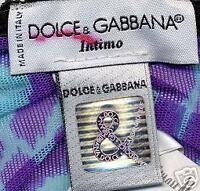 J&ANS BY DOLCE & GABBANA
- This is one of their lower-quality lines, average prices run from $50-250 - more common in Europe and retails at mid-quality department stores.
BASIC by Dolce & Gabbana
- Available only in Italy and the UK, this is their lowest-quality line. You might as well buy from Target.
Spotting a fake is really easy when you know what you're looking for.
It's Probably a Fake If:
The seller is offering

the same piece in a rainbow of colors

and sizes - this is the biggest tip-off.

It's a

T-shirt

- Dolce just doesn't make many.

It's a shirt with a huge

"D&G" or "Dolce & Gabbana" logo

The

item is pure polyester

- Dolce frequently uses synethetics like viscose or cupro, but polyester isn't common unless with a wool blend.

The seller says it's a

"sample"

- authentic samples are rare on eBay.
The corsetry is done in

cheap satin ribbon

.
The sizing is in

Small, Medium, or Large

- in over 7,000 authentic Dolce pieces we have had, maybe 10 have been in S-M-L sizing.
They have clothing from other high-end

designers that look eerily similar -

high-end designers have very, very different looks.

It comes from

Turkey, China or Hong Kong

, although Mushroom & The City which is in Hong Kong is one of the best sellers on eBay.
Unfortunately, there are now many sellers of fake goods based in

Canada.
Surprisingly, it May Not Be a Fake If:
The care cards and care tags are

ridiculously misspelled

. I don't know why Dolce can't afford a decent translator but the English can be horrible. For example, many tags read "Unsticht the acesscory before washing."
There are

no hologram tags

. Mainline Dolce & Gabbana never have hologram tags and only about 80% of D&G pieces do.
The

lining is plain satin

without the logo woven in.

Dolce & Gabbana Mainline Sizing
This is one of the hardest parts of my job, because women take their size very personally. Dolce & Gabbana cut small - just because you are a 4 in the Gap doesn't mean you're a 4 in Dolce. Their sizing can change from season to season and every piece is cut differently but about 95% of the time, this is their sizing standard. Remember, when you purchase designer goods you should expect to have it tailored (although Dolce has a remarkable ability to mold itself to the individual body) and you are always buying for the largest part of your body.
Dolce Size 36 38 40 42 44 46 48
US Size 2 4 6 8 10 12 14
Waist" 22 24 26 28 30 32 34
Hip" 32 34 36 38 40 42 44

The D&G-line sizing is usually 4-6" smaller in the hip.