British Numismatic Trade Association - BNTA

A number of British coin dealers who buy or sell on eBay are members of the B.N.T.A. The BNTA has a strong code of ethics which should ensure that ebay members can trade with BNTA members with confidence.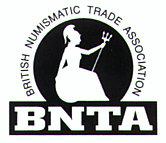 About the BNTA
The British Numismatic Trade Association was founded in 1973 after a number of meetings among senior members of the coin trade following the introduction of V.A.T. (Value Added Tax). The special arrangements pressed for by members of the antiques trade generally were successfully inroduced. Dealers then needed more effective methods of stock control - a discipline which in turn made the availability of coins more easily publicised.
Since those days the BNTA has grown from a small group, dominated by the major London dealers, into a body of over 70 firms throughout the British Isles.
The BNTA has a distinctive logo which members are encouraged to use on their business stationery and in their advertisements. Regular readers of the numismatic press can therefore spot the advertisements of BNTA members more easily.
The BNTA has been an effective voice in the fight against forgery, another topic of major concern particularly in the early 1970's, and in establishing standards in the domestic coin trade. Members receive early warning notices of counterfeit coins and stolen property.
The BNTA is governed by a Council of nine elected by the membership. Three members of Council retire each year, but are eligible for re-election. The Officers of the Association are elected by the Council each year.
Day-to-day administration is handled by the General Secretary to whom all correspondence, enquiries or complaints should be sent.
Membership of the BNTA is restricted to dealers in numismatic goods who are based in the UK and the British Isles and registered for VAT. Applicants need to be sponsored by two existing members and have to agree to abide by a Code of Ethics. All members are subject to annual review to ensure that standards are maintained for the benefit of dealers and collectors alike. Membership application forms are available from the General Secretary and interested dealers should apply using their business letterhead.
Membership is nor currently extended to dealers based outside the British Isles or to part time dealers or collectors.
The BNTA organises the only major International Coin Fair held in Britain, Coinex, which takes place each October at the London Marriott Hotel. About 50 BNTA dealers together with many leading dealers from overseas take part each year. Coinex is open all day Friday and Saturday. There are a number of special features each year making this a fair which dealers and collectors alike should not miss.
1982 saw the introduction of Coinex North as a thw day event in Manchesterduring April, and this has become an annual feature. In 1990 it was held in York, and from 1991 to 1995 in Harrogate. In 1996 Coinex North became Coinex Wales held in Cardiff. Although smaller than the London Coinex, this show provides collectors with an opportunity to meet dealers they might otherwise only know through correspondence.
Members of the BNTA Council meet with representatives of Customs & Excise to discuss aspects of VAT including import and export procedures. A further group maintains contact with the Department of National Heritage and the British Museum for discussions on export licencing requirements and treasure trove laws. Another sub-committee meets with senior representatives of the Royal Mint, and keeps in touch with proposals for new issues.
The Council thoroughly investigates all complaints about a member whether from a collector or another dealer, and members must agree to be bound by the Council's decision. Anyone who is in dispute with a BNTA member is invited to write with details to the General Secretary of the BNTA.
The Membership Directory lists all BNTA members in both County and alphabetical order. It also indicates those members who have retail premises, and which are postal only. Brief details are provided of Members' specialities to assist collectors in locating those dealers who are most likely to be able to help them. Collectors should remember that the field of numismatics is vast and few dealers can offer a total range of expertise but within the Association there should be at least one member who can help a collector on any topic.
The BNTA, as an association, cannot identify coins or give opinions as to their authenticity or value; neither can it give advice on what a collector should collect. Collectors should seek the assistance of individual members on these matters.
EARLY WARNING REPORTS

The BNTA operates an early warning system to alert dealers, both in the U.K. and overseas, of stolen property and counterfeits.
As soon as a theft has occurred, please telephone the General Secretary with the details. This should be followed by sending as complete a list as possible, preferably typed, to the General Secretary. The name and telephone number of the police station handling the case must also be included together with the crime reference number.
This is a free service although if the lists are extensive a contribution towards costs may be sought.
Dealers who are not members of the BNTA can receive regular copies of the Early Warning Reports by paying an annual subscription of £20.
FURTHER INFORMATION
If you would like to order the next edition of the BNTA Membership directory, please contact the General Secretary enclosing a first class stamp.
BNTA British Numismatic Trade Association
Rosemary Cooke, General Secretary
British Numismatic Trade Association
P.O. Box 2, Rye, East Sussex, TN31 7WE
Tel: 01797 229988 Fax: 01797 229988
e-mail: bnta@lineone.net
About the Author
This guide was provided by Lawrence Chard, a director of Chard Coins of Blackpool, England, and has over 42 years experience in numismatic and bullion coins. Naturally our company is a BNTA member, and has been since the formation of the BNTA in 1973,even though we always forget to put the BNTA logo in our listings.
Chard have maintained a dealing service for both collectors and investors in bullion and numismatic coins. During the period from 1965 to 1971, we were one of only a small number of dealers who were granted a dealers licence.

Copyright
All our images and text are copyright.

Was This Guide Useful?
If you found this guide interesting, informative, useful or entertaining, please spare few seconds of your time to vote for it by clicking on the "Yes" button below, thanks. If not, please think about letting us know why it was not useful.

Other Guides
You may be interested in viewing our other guides:-

Gold Sovereigns - History Information & Specifications
Mints & Mintmarks on Gold Sovereigns - All Seven Mints

How to Photograph Coins - Advice, hints, tips & more...
1780 Maria Theresa Silver Thaler Restrike Trade Coin

Krugerrand - One Ounce Investment Gold Coin

Buffalo - 9999 Fine Gold US Bullion Coin - 24 Karat Au

Pink Diamonds - One of Nature's Rarest Gemstones
Sniping - Is It Good Strategy or Tactics for Winning eBay Auctions?
£2 Two Pound Coins Queen with Necklace Rumour & Facts

Winning Auctions - Or Spending Money?
CGT Capital Gains Tax Exemption on Gold Sovereigns Britannias UK Coins

Definition of Investment - VAT Exempt (Tax Free) in UK & EU

Second Chance Offers on eBay - Should You Use Them?

Spellings - Is Good Spelling Important - A Few Howlers

Famous People (Celebrities) Who Collected Coins
Gold Coins Which Are Not Gold - Including German & € Euros
Postage Packing Shipping Insurance Charges - Fair or Excessive?
The Difference Between Proof and Uncirculated Coins
London Gold Fixing Price
Gold Bullion Bars For Investment