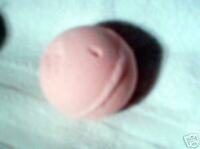 BATH BOMBS AND MINERL SALTS

By being a hypertensive person I have had to avoid my mineral or sea salt soaks. What people won't tell you is that there are health risks in using some soaks. People who are at risk for liver disease, kidney disease, diabetes, hypertension, or pregnant should limit if not avoid using bath products high in any type of salt content. Please note that the body will absorb the salts through the skin.
There are excellant products being made that do not carry the HIGH content of salt for those who have to watch the intake of salt in their diets. They are made without compromise the benefits of scent, color, fizz, skin conditioning, or comfort. Ask the seller for salt content in your product.
The other health factor is that of yeast infections and bladder infections. I have heard people talking of having problems from tub bathing with bath products made with corn starch or powdered sugar. Let's put this myth to rest. The use of corn starch or powdered sugar in the bath bomb DOES NOT
not cause bladder infections or yeast infections. If this is a reoccurring problem for you please see your doctor. The problem is not your bath soak!