Astronaut Virgil I. Grissom used at least two autopen examples during his career as a space hero. These autographs are still floating around and some may find their way onto eBay. Collectors should be aware of the risk with Gus Grissom signatures, especially with Mercury (Liberty Bell 7), Gemini 3 and Apollo 1.
This Guide will reproduce the known examples of his autopen autograph. This comes from the archives of Space Autograph News, an underground and out-of-print newsletter published in the 1990s.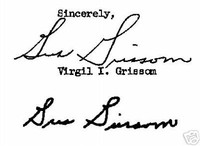 An autopen is a machine-generated signature used widely by celebrities and politicians in the previous century. Although it is considered an authorized autograph, it is not an original, hand-signed signature. These autographs were sent by the thousands in response to fan mail. Early NASA astronauts were known to use autopens, so cautious collectors always watch out.
Fortunately, if you can identify autopens, you'll eliminate a lot of risky material from your portfolio. I've prepared an index of 104 early astronauts who have used autopens in my Guide "Autopen Directory of NASA Space Astronaut Autographs".

http://www.ebay.com/gds/Autopen-Directory-of-NASA-Space-Astronaut-Autographs-/10000000001388198/g.html
I have also prepared 104 different Guides, one for each early astronaut, to document their known examples of autopen signatures. Use these individual guides to check your own space autographs for autopens.
Let me know if you have any updates to this Guide, and I'll keep adding to it. If this information is helpful, please click on the green "Thumbs Up" button near the top of the page. Thanks for your consideration and have a great day!