So you've come to eBay to score some super deals on great designer jeans, but before you can get down to business, your eyes need to be wide open to the massive counterfeiting industry. The vast vast majority of True Religion on eBay (and even on website stores) is fake. As a matter of fact,
4 out of the 5 pairs you currently see under "items from eBay sellers" on your right are probably fakes!
Start here and you will learn some of the basic characteristics used by the experts to identify fakes so you don't become the next victim, and see my
ME PAGE
for more info! Without further ado, a beginner's guide to finding authentic
True Religion on eBay
, brought to you by
Luvapuphere
and
Idalis62
:)
When you get to the bottom of the page, please vote 'yes' if you learned something : ) AND THEN BE SURE TO CONTINUE TO PART 2 FOR THE GUIDE TO NEW 2007 STYLES!! TR Authenticating Guide Part 2!!
PLEASE REMEMBER: THESE GUIDES ARE
NOT
A SUBSTITUTE FOR AN EXPERT'S EYE. You are not going to be a master authenticator just from reading through some material. Please ASK the experts at Authenticforum before making decisions/judgements, or please check out ShoeTopiaForum for True Religion shoes and more.
**THIS GUIDE IS THE INTELLECTUAL PROPERTY OF IDALIS62 / AUTHENTICFORUM, AND IS NOT TO BE REPRINTED, REPOSTED, OR OTHERWISE DISSEMINATED WITHOUT CONSENT. USE OF THIS CONTENT WITHOUT PERMISSION WILL BE REPORTED TO APPROPRIATE AUTHORITIES**
THE BASICS:
Before you even get to looking at the fine details of a pair, there are some easy pointers to keep in mind for True Religion or any brand of designer clothing (
7 For All Mankind
(see my Guide to Authenticating SFAM
HERE
!),
Rock & Republic
,
Diesel
,
Citizens Of Humanity
) which I will call:
Seller is selling a ton of True Religions and/or other high-end designer jeans, especially hard to find ones, like for instance 30 pairs of Rainbows. TR does not wholesale out their merchandise, nor is it easy to find mass quantities for resale anywhere at the same time.
Seller is selling many pairs of brand new with tags pairs at dirt-cheap buy-it-nows. Remember, if it seems too good to be true, IT IS. NWT jeans cannot be profited on at $50 a pop. Retail price is calculated as 2.2 times the wholesale price. So if a pair of True Religions are ordinarily $190 then True Religion corporate sold them to the retailer for $86, and there is no bulk discount. An eBay seller can't possibly sell large amounts of real NWT product for less than wholesale.

Seller has any feedback indicating non-authentic goods were received or has private feedback or private auctions
Seller says the True Religions come in, or pictures them in a TR Polybag. Real TR's DO NOT come in logo bags, not when sent directly to retail stores, not ever!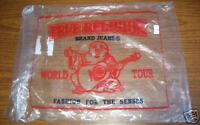 <------ I don't exist!
There are only stock photos (professional looking photos stolen from an online store/website) and no photos of the actual pair in the seller's possession. If they won't show you exactly what you're getting, there's likely something to hide! Similarly, multiple backgrounds on home-taken photos may indicate that the seller "borrowed" their photos from another eBay seller!
Avoid items from sellers located in Turkey, China, Phillipines, Hong Kong, Bulgaria, or any other obscure country. These are all counterfeiting hubs where there are no repercussions to this type of activity (and no real way to go after them if you get ripped off). This especially applies to TR, which is made in the USA, the headquarters and the place they are sold wholesale from is the USA. There is not any reason they should be coming from elsewhere.

Now let's get down to business

TRUE RELIGION AUTHENTICITY
There are many features of True Religion that can be used to determine authenticity. Among these, the ones that are most often screwed up by counterfeiters are: the inside tag, the back waistband label, the horseshoe shape, the [Joey] flap pocket shape, and the wash and stitching (overall quality). Each characteristic will follow with pictures to compare!
**THE INNER TAG**
On a real pair of True Religions, there are many variations on the inner tag. On women's jeans you will find the size on the bottom of the tag, and the horseshoe logo.
On men's jeans there will be no size, and there is the Buddha logo instead of the horseshoe, and no "brand jeans" (this applies to pre-2007 pairs only, newer pairs may have a size)
. On newer pairs of both gender there will be a metallic security strip running across the bottom of the tag that contains microprinting. On old pairs there is no strip. Beneath the top tag on newer pairs is also a small silky-material tag with a horseshoe.
- On all OLDER (pre-2007) pairs, the J in Jeans ("BRAND JEANS") on OLD STYLE tags ALWAYS dips down below the level of the bottom of the other letters. Any tag with a J-bottom level with the other letters is FAKE. Look at the following comparison of the J level:
- On NEW PAIRS STARTING IN 2007, there is now a NEW inner tag with True Religion in script writing at the top. The E in true connects to the R in Religion with a large looping line. On this tag the J in jeans actually sits ever so slightly ABOVE the other letters now. "Made in USA" continues to hold true. Around 2010 pairs may say "MADE IN USA" in all caps. There are so many variations on the tags nowadays, that unless you are sure what season your pair is from, you should not use the tag to determine authenticity. Again I urge you to ask one of our experts!

- There is now a SECOND exception started end of 2007. Now on the new women's tags there is a BUDDHA logo instead of the usual horseshoe, there is the new Patent number, and these tags DO NOT have a dipped J. Again this applies only to tags with the patent number and buddha.

REAL (exhibit A): FAKE (exhibit B):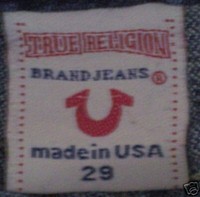 This is just one tool to use in helping make a determination of a counterfeit pair or TR, and due to the many variations that have now been done, should not be used as a main way to authenticate.
The Dipped J applies to Womens Jeans.



- On all pairs
the tag should say "made in USA" and post-2007 some may now say "U.S.A."
Additionally, there are now pairs that are made specifically for a lower price point to be sold at discount stores and not at full retail establishments, and many/most of these pairs will say made in Mexico.
The printing should be evenly spaced (see exhibit B – in this tag notice how the "made in" is spaced so close together that it almost looks like "madein").
- On some older pairs you may find a BROWN inner tag that is slightly different format than the normal ones
- Inner tags: There is no unique cut # to TR to indicate fakes, like the Seven for All Mankind Brand. HOWEVER there are a few indicators to what the actual jean is that can be found on the inner papery tag:
The Style# features a code of sorts, indicating the style and fabric of the jean.
04-503 indicates: 04= regular rigid denim 503= Joey
10-572 = 10 regular stretch denim 572=Billy
24-503 = 24 Regular BIG T denim 503 Joey
Mens jeans use a 3 digit style number that corresponds to the same as
womens, but begins with 8**
Mens Joey = 803 etc.
**HORSESHOES**
TR horseshoes on OLD CLASSIC STYLE PAIRS have a distinctive and unvarying shape, though the wideness may vary based on the style and gender. They are always placed evenly on the pocket and are uniformly curved, never tilted on the pocket or uncentered (too high, too low), and always symmetrical. The bottom line of the "hooks" (the side wings of the horseshoe) always has a subtle curve towards the bottom of the pocket. This holds true for both the back pockets and the front coin-pocket horseshoes. Here is a real horseshoe, note the bottom line's curved area:
REAL (Exhibit C)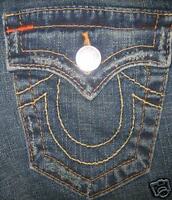 Now compare to the following fakes:
FAKE (Exhibit D) – This horseshoe has flat bottom lines on the hooks and is too wide: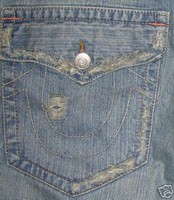 FAKE (Exhibit E) – The horseshoe is too close together at the top and generally misshapen (the point of the flap also lies crooked instead of centered between the horseshoe):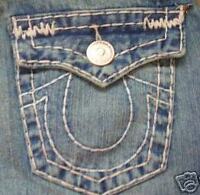 NEW STYLE PAIRS FOR 2007 now have many new horseshoe shapes, including the elongated (lovingly referred to as the 'boob' pocket on AuthenticForum, lol), the painted horseshoe, and the 50's style. New guide coming soon for these styles!
**FLAP SHAPE**
The Joey style's flap pockets have continued to elude the counterfeiters. While some are very good, others are clear giveaways. Real Joey pockets have strongly curved bottom edges. On fakes, this curve is often either not steep enough, or not curved at all (straight line). Refer back to Exhibit C and D if you will. Exhibit C shows the heavy curve of the flap pocket. On Exhibit D you will notice that the curve is not steep enough. Take a look at Exhibit F too; the coin-pocket on the front should have the same curve on the flap. This has NO curve at all, and is a completely straight edge:
FAKE
(Exhibit F)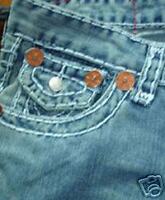 **WASH AND STITCHING**
True Religion is a very high end denim, and hence as you would expect for the pricetag, has impeccable stitching and brilliant washes. All stitching should be evenly spaced, straight, and smooth. You will frequently see on fakes stitching that is not symmetrical on the pockets, stitching that is not straight, and also crooked and poorly stitched seams and back label stitching. The washes of TR feature smooth and natural looking whiskering. Fakes will often be characterized by overly heavy and simply ugly looking fading and whiskering.
ALL topstitching of TR will feature very distinctive and evenly spaced stitching. They are characterized by bold stitches of fairly long length, and are always even. The BigT and the SuperT feature exaggerated characteristics of what is uniquely distinctive to True Religion, such as the ultra bold stitches of the new Super T style.
Compare the real (G) below to Exhibit E above. On E, the white zigzag tacking stitches at the top of the pocket look completely jagged and uneven, as compared to the real stitching below which is bold, and perfectly even. Also note on the real pair that the red stitching that outlines the waistband label is also straight and even.
REAL
(Exhibit G)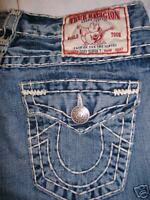 Many fakes will have uneven topstitching, stitches of smaller length and less quality. Regular TR jeans bold topstitching is of excellent quality, heavy thread, and the counterfeiters have a great deal of difficulty duplicating this.
**BACK WAISTBAND LABEL**

Belt labels are also a great feature for detecting fake TR. All belt labels are sewn on evenly, with stitches of the same even lengths, and are not crooked. Fakes can often be seen using tiny, crooked stitches that do not stay in the guidelines of the red bordered edge. Often times these fake labels are sewn on in a haphazard manner, and are not placed in proper position on waistband. Additionally often on SUPER T pairs, the stitching around the belt label on fakes is obviously NOT the same thickness as the three-thread super T stitching should be. Stitching should be uniform throughout the pair.

REAL
(Exhibit H)
FAKE
(Exhibit I)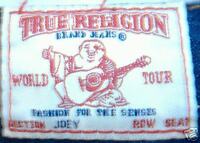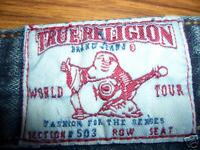 On the left (H) is the real tag, with uniform and even stitching. On the right (I) is the much poorer quality fake counterpart. Note how the stitching has random uneven lengths in parts, and especially note the upper left corner, where there is a line of stitching diverging from the straight vertical line that runs completely off the label!
New for 2007 is the Brown leatherlike waistband label, and also new style hardware! Also some styles have a DENIM patch in matching wash, but still the same rules about stitching and font, etc, apply!
Older TR featured style numbers in the 'Section' area of the belt label, such as #503 or #803 for womens or mens Joey respectively. This was discontinued by TR due to conflicts in licensing with Levi Strauss, and TR changed the belt labels to use the style names for that space on the belt label. A style number in this place is not necessarily indicative of a fake TR, but an older TR.
All OLD STYLE mens TR should feature the 'Row' & 'Seat' with the size of the jean. Some new styles now do not have this feature
ie: Row 32 Seat 33
indicating the size is 32 waist and 33 length inseam. All OLDER real mens TR should have an inseam of 33, never anything else, although the actual measurement can vary. Any other number in the 'Seat' area of a pair made earlier than Fall 2006 indicates a fake, but starting that season TR now makes 34 length on the seat. 33 or 34 ONLY. There is no such thing as 32, or anything with 1/2's (yes I've seen fakes with 33 1/2, lol) Womens TR will not have anything in this area of the belt label.
So, clear as mud?! A little time and a lot of eBay poking around will have you seeing like the pros in no time and scoring the great deals! Check out Please visit my ME PAGE and my site
AuthenticForum
if you need personalized help from the experts, and as always... happy and fake-free eBaying :)