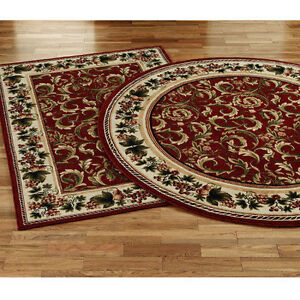 Beautiful area rugs help set the overall scheme, color, and texture of your room, and most work as a decorative centerpiece. Practical area rugs also protect your floors, retain warmth, insulate against heat, absorb sound to minimize noise, and provide a stable, non-slick walking surface. Whether you want an energy-saving insulator, neutral foundation, or vibrant focal point, you'll find the perfect area rug to fit your space on eBay.
Select Area Rugs toFit Your Room
Area rugs, investments that will last a lifetime, come in a variety of shapes and sizes. To find an area rug that fits in your room, decide what shape you prefer and take measurements.
Select an area rug shape
Most people choose rectangular area rugs or square area rugs, measured in length and width, for living rooms and family rooms. However, oval area rugs and round area rugs, measured on a diagonal, also look nice under tables. Different shapes, such as octagonal area rugs, are also available on eBay.
Measure your space
Decide where you want your furniture in relation to the area rug. You'll want to place furniture either entirely on or off the area rug in the living room or family room. The sofa can have its front end on the area rug and back legs on the floor, if you prefer.
On-rug decorating: If you want an area rug that covers the floor in an entire room, measure the length and width of your room, taking vents and doors into consideration.
Off-rug decorating:Measure the maximum length and width between your furniture.
Measure again. Checking your measurements will ensure that the rug you buy is the appropriate size for your space.
Determine Which Area Rug Style You Prefer
Hand-knotted area rugs and machine-made area rugs can have solid colors or patterns. Know which styles of area rugs you like before shopping.
Persian area rugs: Persian area rugs feature bright colors and elaborate designs that generally fall into one of three categories: geometric designs, floral designs, and pictorial designs.
Oriental area rugs: Hand-knotted Oriental area rugs can have as many as 1,000 knots per square inch. Authentic Oriental area rugs are made in Asia and adhere to a certain level of quality. Rug makers weave yarn on a loom, knot thread into an intricate pattern, and cut off excess thread.
Braided area rugs: Braided area rugs work well in homes decorated in the Arts and Crafts style. Flat braids weave four to 12 of the outermost strands over and under various combinations of inner strands. False braids, on the other hand, are made by wrapping fabric strips in a figure eight around stationary cores, which are often made of simple cotton clothesline.
Tibetan area rugs: Traditional Tibetan area rugs featured a square "tiger" pattern, but contemporary Tibetan wool area rugs also feature vibrant geometric shapes.
Shag area rugs: Shag area rugs, a staple of the 1970s, are enjoying a comeback. They are now made of better materials than in days past, and their soft, thick fibers provide excellent insulation.
Flokati area rugs: Owners of soft and highly durable Flokati wool area rugs have many cleaning options. You can even wash them in commercial-capacity washing machines.
Contemporary area rugs: Contemporary area rugs have clean, spare designs perfect for modern homes. The bright colors and unusual shapes of some of these rugs make them seem almost like modern art for your floor.
Evaluate Area Rug Materials
The materials that make up an area rug determine its value and longevity. Common materials include wool, cotton, silk, and nylon.
Wool area rugs: Wool, a widely used and resilient material, is the key element of high-quality pile area rugs. Wool area rugs have greater durability than synthetics and naturally resist dust mites that can exacerbate allergies. The quality of the wool determines the area rug's resistance to wear and tear.
Cotton area rugs: Area rug makers often use cotton in conjunction with wool. Cotton-wool area rugs have a nice "foot feel" and typically cost less than all-wool rugs. However, cotton tends to wear more quickly than wool.
Silk area rugs: Higher-quality rugs, such as Persian area rugs and Oriental area rugs, often include silk for luster and shine. Handle silk area rugs with special care and only have them cleaned by professionals.
Nylon area rugs: Synthetic nylon area rugs have excellent uniformity, strength, and stain resistance. They usually cost less than rugs made of natural materials, but do not hold their value like quality wool area rugs and silk area rugs.
Get Must-Have Area Rug Accessories
Protect your floors and keep your new area rugs clean with area rug accessories.
Area rug pads: Area rug pads prevent area rugs from slipping on hardwood or tile surfaces and protect wood floors from abrasions. Area rug pads may also provide added cushion to the area rug, giving it a nicer feel.
Vacuums: Regular, simple care maintains the good looks of your area rug. You may want to vacuum rugs that get a lot of foot traffic, such as those in the family room, frequently. Area rugs in rooms used less often, such as the guest bedroom, may only need vacuuming once a week.
Spot cleaners: Even stain-resistant area rugs need help looking their best. Invest in spot treatments that come either in powder or liquid form. Before using anything on your area rug, make sure to spot test the product on a small area on the back of the rug.
Always have high-quality area rugs, hand-made Persian area rugs, Oriental area rugs, and antique area rugs professionally cleaned.
Find Area Rugs on eBay
Once you know what type of area rug you want, go to the Home and Garden portal, click the Area Rugs link under Rugs & Carpets, and start searching for item listings on eBay.
Categories: The Categories list on the left side of each page will help you narrow down your listings by item type. You'll find links for 3 x5, 5 x 8, and more. As you dig deeper into the site you'll also be able to narrow down your choice by brand.
Finder: Use the drop-down menus on the Rugs Finder to quickly narrow down item listings by age, shape, size, style, and background color.
Keyword search: Search eBay listing titles for specific words. For example, if you want to find an Oriental rug, type "Oriental rug" (without quotation marks) into the Search box. Click "Search title and description" to expand your results. Visit eBay's Search Tips page for more tips on searching with keywords.
If you can't find exactly what you want, try shopping eBay Stores, tell the eBay Community what you want by creating a post on Want It Now, or save a search on My eBay and eBay will email you when a match becomes available.
Once you find the area rug of your dreams on eBay, buy a matching runner for your hallway and complementary throw rugs that you can move from room to room.
Buy Area Rugs With Confidence
Before making your purchase, make sure you know exactly what you're buying, research your seller, and understand how eBay and PayPal protect you.
Know your purchase
Carefully read the details in item listings.
Figure delivery costs into your final price. If you spend a lot of money, make sure the seller will insure the item when it ships.
If you want more information, ask by clicking the "Ask seller a question" link under the seller's profile.
Always make sure to complete your transaction on eBay (with a bid, Buy It Now, or Best Offer). Transactions conducted outside of eBay are not covered by eBay protection programs.
Never pay for your eBay item using instant cash wire transfer services through Western Union or MoneyGram. These payment methods are unsafe when paying someone you do not know.
Know your seller
Research your seller so you feel positive and secure about every transaction.
What is the seller's Feedback rating? How many transactions have they completed? What percentage of positive responses do they have?
What do buyers say in their Feedback? Did the seller receive praise?
Most top eBay sellers operate like retail stores and have return policies. Do they offer a money-back guarantee? What are the terms and conditions?
Buyer protection
In the unlikely event that you don't receive your item or it is not as described, eBay Buyer Protection will cover your purchase price plus original shipping. Learn more.