UNDERSTAND what a HOME-OFFICE is:
The IRS defines home-office as a part of your home which is used regularly and exclusively for
meeting with customers,
performing administrative work, or
storing inventory
Contact the IRS to obtain a copy of the current IRS Publication 587 - Business Use of Your Home - which also provides information specifically for day-care providers.
According to the IRS definition of home-office, the area of the home used for business must not be used for other purposes such as entertaining, sleeping, or dining. Renters may also take home-office deductions; the business portion of rent paid may be deductible if you qualify for the home-office deduction.
The deductible business-use portion of the home expenses is determinated one of two ways: percentage use or number of rooms.
DESIGNATE AN OFFICE AREA
After getting the business start-up approval from the municipality, designate space in your home or apartment for an office.
The office area may be a designated area of a room.
If feasible, you may want to use a room divider (bookcase, folding screen) to separate areas which your customers may pass. If your customer meeting area or office area is in an open area, revealing much of your home, consider using a room divider to separate the meeting area from your home areas.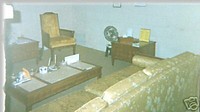 For my word processing business, I meet customers in an area in the basement; they enter from the side door, and the kitchen door remains closed. In the basement, the washroom, closet, and bathroom doors remain closed.
In order to deduct home-office business expenses, an office area, customer-meeting area, or inventory storage area needs to be set up in your home.
TURBOTAX is a popular TAX SOFTWARE brand.

about the basics of starting and operating a home-based business.