They look so similar, by having only a fake one you may not be able to tell at all!
Compare a real with a fake you will see the differences: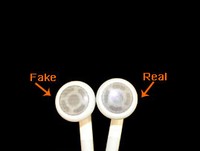 1. The real Apple earphone cord has a softer feeling (almost velvety) to it, the fake one's feels just like plastic.
2. The two letters of "R" and "L" are slightly larger in the real ones. The width of "L" is 2 millimeter in the real one, and only 1.5 millimeter in the fake one.
3. The earbuds of the real ones are much shinier
4. The fake one's earbud have a noticeable line where the plastic pieces have joint. if you touch it or look very closely you will see a line. The real ones are just smooth.
5. If you hold the earbuds in front of you the four speaker holes in oval shape are exactly on 0, 90, 180, 360 degrees (East, North, West and South) in the real ones. In the fake ones, the wholes are tilted by more and less 45 degrees (picture)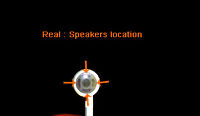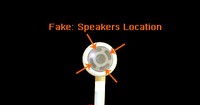 6. The real ones have the word "China" written on them right where the two cords are joined below the triangle piece. The fake ones might have China written on them but not in the same place as the real ones.
7. Fake ones might have some imperfections like little gaps between pieces (picture)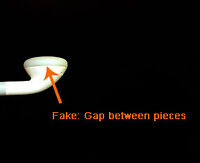 The bottom line is I would say 99% of Apple earphones sold on eBay are fake because Apple does not produce simple (with no microphone) white earphones as an standalone item they only come with iPods!
I purchased one from eBay where the seller, from Toronto Canada, claimed the earphones are 100% Original Apple! for $5.02 and it is absolutely FAKE!


and another one from Hong Kong for $0.99 and this one is Fake too.