Thank you for taking the time to read my guide on antique jeweled filigree vanity items.
Almost all of them I have been able to purchase on eBay, as well as antique shops and flea markets. I have collected these fabulous treasures for years and have come across several different manufacturers and styles. The age range of these ornate accessories are late Victorian-1930s. I am very specific on what age and manufacturer I collect, so I will focus more on these in this guide.

Apollo handmirror

Silvercraft vanity set

Jeweled vanity set,photo courtesy of watersnowskier
I have found many jeweled items in my travels and online. Most of these include:
hand mirrors (beveled glass mirrors)

perfume bottle caddies (some hold single bottles, a pair or up to three bottles)

powder boxes (sometimes have glass inserts)

perfume bottles

clocks

trinket boxes/ jewel caskets (these are usually lined with velvet)

large makeup compacts with glass base with various compartments

hair brushes (bristles set into celluloid covered wood)

hair combs (the combs are celluloid, with a brass filigree piece along the top)

perfume atomizers (sometimes the atomizer hardware is missing and people sell the bases as hatpin holders)

candlesticks

cigarette boxes (these are lined in wood)

matchbook covers

other smoking accessories

picture frames

trays (most with lace in between glass)

lids for glass powder boxes

buttonhooks

vases (with glass inserts)

and various manicure tools

divided dishes (glass inserts with jeweled lids)
Composition and materials:
These luxurious vanity pieces usually are made up of a gilt brass, gilded white metal alloy or very rarely, gilded bronze. The metal is usually on the heavy side, but I have purchased some pieces which were of a lighter material, most likely hollow brass. I did happen to see an awesome rare silverplated set once on eBay, but it was out of my price range!
The metal is usually stamped with a pattern such as flowers, textured or hand hammered effects. They are embellished with intricate, lace like filigree, sometimes in fanciful patterns of butterflies, hearts, Egyptian lotuses, and fleur de lys. I have seen some stunning pieces combined with enameled medallions or handpainted portraits on ivory. The pieces are further accented with foil back or open back paste jewels/rhinestones/gems. These stones are usually prong set or bezel set.
If you find that one or maybe more of your jewels are missing, you can always find some replacements in older costume jewelry. Sometimes the beveled glass mirrors are streaked with black or spotted from moisture, you can usually find a replacement from other vintage or antique handmirrors that will fit just fine. All it takes is to pull up the prongs that hold the mirrors in place.
I have had these jeweled vanity items in various stages of condition, from near mint to poor. Near mint would mean just that, and poor means that the piece has lost most of its original gilding and the base metal is showing through, loss of numerous stones. Verdigris can be removed with a qtip moistened in white vinegar. Water will make the piece get verdigris and might ruin the piece. I wouldn't offer these type of items unless they were in very good condition.
These vanity items don't come up for auction very often and often command high prices when they do. Some of the harder items to find are the combs, candlesticks, buttonhooks, perfumes,and matching pieces and sets of more than three items. I try to offer some of my personal pieces every so often, so if you are interested, you may want to bookmark my auctions.

Empire Art E&JB tray with lace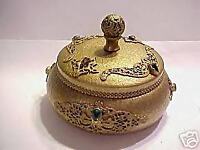 Silvercraft powder box
I have compiled a list of known manufacturers of jeweled vanity items. Most of these names you will encounter when buying or selling these vanity accessories:
E & J Bass, Inc of NY, they sold items in the 1890s-1930 under the name Empire Art Gold, Imperial Art Silver and Empire Art Silver, their mark usually consisted of a Crown in a circle with E&JB Empire Art. Their business went under due to the Depression. They also produced the enamel and jewel combinations, or sometimes without jewels.I have also known of some pieces of jewelry, such a sash buckles which were stamped Empire Art. The Dorothy Rainwater book says that E & J Bass were "Manufacturers of sterling silver wares,sterling deposit wares and plated silver and jewelry." You will find markings on the bases of the boxes and perfume caddies, the sides of the handles on the handmirrors and brushes, and also just underneath the mirror on the handmirror. I have never seen a comb marked.
Apollo Studios of New York was a division of Bernard Rice's & Sons and items marked with the Apollo stamp were made from 1909-1922. These pieces are usually marked only with Apollo, sometimes with Apollo Studios NY or Apollo Ovington followed by some mold (style) numbers. In 1872, the Apollo Silver Co. merged with the bankrupt Redfield & Rice Co, forming the Bernard Rice's Sons. Bernard Rice's & Sons went out of business in 1958. Apollo Studios was a contemporary of Tiffany Studios and produced some of the similar type items, like desk sets, humidors and other fine pieces of brass, copper and gilded brass. I have seen sash buckles stamped Apollo. Apollo Studios was mentioned in advertisements to be manufacturers of hollow ware, boudoir accessories, and gift items in silverplate, goldplate and other metals.Apollo Studios products were sold in the prestigious Ovington's store, The Gift Shop of Fifth Avenue. Ovington sold china, crystal, fine art, silver and gift items aimed at the bridal market. They produced the jewels and handpainted portraits on ivory combinations or soemtimes without jewels.Some pieces with the Apollo name were still being produced in the 1930s and 1940s, these items were not as ornate at the earlier pieces and were usually enameled and had the heavy cast metal handles. A popular feature on items of this age are a single large faceted glass jewel on the backs of items or on perfume stoppers, or handpainted ivory miniatures under glass and set into filigree. Items with extra long handles date to the 1930s. To find marks on Apollo pieces: The handmirrors and brushes are usually marked on the side of the handles. The boxes will be marked on the bases. The trays will be marked on the sides or bases of the frames. I have never seen a comb marked.
The Farber Bros. Company sold silverplated, brass, copper hollowware items under the name Silvercraft from 1923-1932, this mark you are most likely to encounter would be Silvercraftand some psuedo-hallmarks underneath it. Other marks would be Farber Bros Craftplate from 1920 on on silverplated hollow ware, solid brass and copper items. Futura NY Silvercraft was used in 1931 for silver and silverplated. Krome-Kraft was used from 1933-1965. Farber brothers went out of business in the 1960s. You will find the mark on the base of boxes, on the bottoms of the tray frames, on the base of perfume bottles. I have never seen a comb marked.
Colonial Quality. After many hours of searching, I simply cannot find any information on this brand, other than they also produced celluloid items. Their address was at Samstag's 1200 Broadway, NY. They were in business around 1919, probably earlier and later on. I have found a Colonial Quality jeweled filigree lid on a Heisey powderbox. Pieces were marked with Colonial Quality. Colonial Quality items have the same fine appearance of Apollo & Empire Art items.The mark is found on the base of the item.
La Tausca Pearls was a trade name used by two different companies, L.Heller & Son Inc and Martin Low & Taussig, Providence RI. The high quality faux pearls were sold in a filigree & jeweled bronze finished brass presentation box in the 1910-1930s. These boxes were lined in ivory colored silk and had La Tausca Pearls printed in gold lettering on the inside of the lid. This is usually worn away. I have seen various different shapes of these boxes from a square shape to a longer rectangular shape, also in an octagonal shape too. The colors of the jewels are emerald green, sapphire blue, amber and/or amethyst purple glass jewels. Please see my insightful guide on La Tausca Pearls and their fabulous presentation boxes.
Trinity Plate manufactured very fine gilt brass purse frames, vanity items, dance purses, compacts. I have seen some of these items encrusted with glass jewels. These ornate items date from 1915-1930s or so. Items will be marked with Trinity Plate.The mark should be inside the compact or on the base of the boxes.

FBS Trademark the logo of the F. Barker & Son, of 12 Clerkenwell Road, London, manufacturers of metal goods. They primarily made cases for pocket compasses and scientific intrsuments, but I have also found their name on vanity items. Worked from early 1900s-1940s.
Dermay of Fifth Avenue New York & Paris sold some bath crystals in their Bath Flowers fragrance in a satin glass jar with a jeweled brass lid, in 1928. The base of the jar has a molded pattern, and there was usually a paper insert which fitted into the lid and a label on the base for Dermay Paris,New York. Dermay Perfumers Inc had several different perfumes introduced in the 1920s and 1930s so other fragranced bath salts were also probably offered.
Art Metal Works of Newark,NJ. Manufactured fine decorative metal items and was later renamed Ronson's Art Metal Works (the company who produces those popular Ronson lighters). I have seen frames and vanity items marked with Art Metal Works as well as AMW. Art Metal Works also produced a diverse selection of metal bookends, hood ornaments, statuary,aquarium and plant stands, clocks, pipe holders, desk sets and accessories, figurines, lamps, boxes, novelty items, toys, incense burners and much more. There is a reference book out called Ronsons Art Metal Works.The mark is usually found on the base.
22kt Gold Plate and 24kt Gold Plate items were made by an unknown manufacturer, some speculate it is Czech manufacture, but I think it is more like an American company who produced these interesting vanity items. I commonly see this marking on several powder jars with different amber glass bases and twice on perfume atomizers. Items will be marked on the base of the atomizers and on the underside of lids with 22kt Gold Plated. I have seen American items marked with a label stating "Genuine 24K Gold Plated" with the maker's hallmark of a JP and a crown in between the two initials. I haven't had any luck figuring out who that logo belongs to.
OS& Co. This mark is stamped on the bottom of a jewelry casket that has the same lid design with jewels as does pieces of Empire Art that I have owned. I cannot find any information on who OS& Co, or OC & Sons, or if it is O& S Co. Perhaps it was made with the same dies as Empire Art but sold to a different manufacturer, it is definitely the same time period as the other pieces.The mark is found on the base.
Various Czech companies and produced some of the finest metal objets d'Art during its years of operation in the early 1900s-1920s, some of their pieces are marked Czecho-Slovakia, Czechoslovakia, or not marked at all, I suspect that they may have once had paper labels which had subsequently fallen off throughout the years.The markings should be stamped on the underside of lids,on the outside of the bottles in a little brass tag, or acid etched onto the base of glass perfumes or powder jars.

24kt gold plated powder jar lid, photo, courtesy of evaidab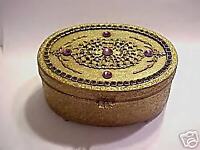 OS & Co jewel casket
Taking care of your items:
To keep your pretty vanity items in good condition, be sure to keep them away from moisture. The moisture will loosen the gilding and make verdigris show up (the green nasty stuff), turn the foil backed stones dark, and spot or streak your mirror. A light dusting with a stiff brush can help you clean them off, I use a little makeup brush to get in between the stones and into the filigree. You can clean this brush in between cleanings to help get rid of the little dusty particles. I used some of my dresser items, notably a powder box, brush, perfume bottle, comb and hand mirror. I didn't have any problems with that. Most of the other items I just displayed.
La Tausca Pearls presentation box with green jewels, photo courtesy of tombraiderplayer.
Gifts & accessories for your boudoir:
A dresser top looks fabulous when various jeweled accessories are displayed upon it. You'll feel like a pampered princess everytime you go to use one of your pretties. Jeweled vanity pieces make wonderful, elegant, surprising gifts for those hard to buy for ladies, those women in your life that seem to have everything , or a special gift to a daughter, daughter in law or mother. Brides would be delighted to have something sumptuous as these jeweled vanity pieces, perfect for heirlooms.
24kt goldplated atomizer
Other types of filigree dresser sets:
You may see some gilt filigree vanity sets on ebay that are without jewels, usually these are manufactured in the 1940s-1950s by three major companies, Stylebuilt, Globe and Matson. There are collectors who covet these items, especially their ornate perfume bottles shaped like reliquaries. These are perfume bottles are quite plentiful on ebay, and commonly sell in the $20-$60 range. I also see vanity sets with petitpoint inserts, most are made by Regent of London. These vanity accessories are mostly found in the United Kingdom. I wrote a guide on Matson, Stylebuilt, Globe, Regent and others, you can read it here.
Whatever styles of vanity accessories you choose to collect, I am sure you will enjoy the thrill of the hunt! Have fun and good luck bidding! Any questions, feel free to ask me. If you choose to use my info from my guides,please credit me, I have seen many sellers copy and pasting my info right into their listings. Writing guides and researching info is a very time consuming endeavor, you wouldn't do the same to a book author would you?
If you are interested in seeing some of these items in a book, check out Roseann Ettinger's book Antique Dresser Sets:1890s-1950s. She has several jeweled pieces inside with prices and info.
Feel free to email me for details or any questions. I also have a perfume identification and appraisal service here on ebay, click on my ME page for info. Please see my site at www .freewebs. com/cleopatrasboudoir
Check out the 200+ guides & reviews I have written on perfumes & vanity items on ebay.
Copyright © 2006 cleopatra*s_boudoir. This material may not be reproduced in any form, or linked to electronically, without the express written permission of the author.