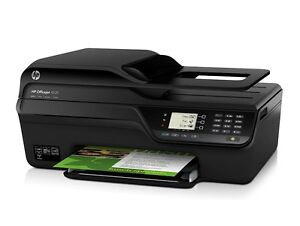 One of the most utilized pieces of office equipment is the printer. Or is it the scanner, the copier, or the fax machine? For many offices, whether large or small, each one of these devices is a necessity on an almost daily basis. They each take up their own space, though, and can be complicated to use together in order to complete a necessary task. That is the reason most printer and copier manufacturers produce all-in-one printers, one device that can do the job of all these other machines while taking up the space of only one of them and streamlining how the functions are used together most commonly.
Buying an all-in-one can greatly simplify some office tasks and better utilize space, a concern for many home and small business offices. The all-in-one printers at the top of many review lists are made by well known companies that have been developing the technologies for decades. Trusted names, such as HP, Epson, Canon, and Brother make quality all-in-ones. All have the same basic features, but some all-in-one printers stand out because they do the job superbly well. Others are popular because of the way they have integrated added features that can take these machines from the basic scanner/printer to a very productive part of any home or small office. Understanding the features can help buyers choose the model that is right for them.

What All-in-One Means in Regard to Printers
An all-in-one printer is a single machine that does the job of several different office devices, taking up less space and making things less complicated. In general, an all in one can print, scan, copy, and fax. The table below lists the many functions an all-in-one printer may possess along with a description of each.

Function

Description

Print

The print function produces a physical paper copy of the digital information sent to it. This can be any number of different documents, including posters, pamphlets, booklets, written documents, reports, and even photos. Standard printers can only print what the computer sends to it.

The scan function simply takes an image of whatever is being scanned and stores it elsewhere, usually on a computer. This file can be opened later for viewing and printing.

Standard scanners only create a digital image of the document and send it to a computer.

The copy function makes a copy of the document and prints it immediately without saving a copy of it.

Basic copiers do not need to connect to a computer and do not send or receive digital information.

The fax function requires a phone line connection and sends digital copies of the document to recipients who can receive faxes. Official documents are sometimes transmitted this way.

Standard fax machines process the information in a specific way to send it over a phone line.

Because communication is moving past the use of faxes, some all-in-one printers do not have the fax feature. Many office communications still rely heavily on faxing documents, so if this is an important feature for the office, check to make sure faxing capabilities are available on the model being considered.

Other Features to Consider in an All-in-One Printer
Besides the above features that define an all-in-one printer, some models also have other features that make them more attractive than others. The addition of many of these features also makes the printer more expensive, generally speaking, so it is wise to consider the feature's usefulness before deciding on a model that includes the feature.
Color
All-in-one printers scan color documents in color, but some only print in black and white. Black-and-white only models save greatly on ink and other consumables, so they are a wise choice if text documents make up the bulk of what will be printed. Images and graphics that include color are printed in grayscale on a black and white printer.
Color capabilities are important if the printer will be used to print images, presentations, or marketing materials, such as pamphlets or posters. Some color-capable all-in-one printers are known to use up ink and other consumables rather quickly, adding an expense to the office budget. If this is a concern, research the ink usage of the current models or the models being considered.
Wi-Fi Enabled
Many all-in-one printer features require a connection to a computer. Wi-Fi-enabled printers connect to the local wireless network to allow printing from any device that is connected to the network. This means that the computer does not have to reside next to the all-in-one printer. It also means that many computers can utilize the same printer wirelessly without needing to be connected to it. Many other wireless devices can print to a Wi-Fi enabled printer also, such as tablets, laptops, and smartphones
Before deciding that this is a needed feature, it is helpful to consider whether or not the printer will always be connected to a computer that is connected to the local network. If so, Wi-Fi is not necessarily needed. Generally, any other computer in the network can send jobs to an all-in-one through the computer that is connected connected to it.
Scan to Email From Printer
As technology continues to develop in the way that communication takes place, the standard method of sending and receiving documents changes as well. Faxing was once considered the only trustworthy way to send digital documents, but most companies now send documents as email attachments, which can help to keep the office paperless and digitally organized.
Some all-in-one printers offer the ability to scan a document directly to an email attachment. Some can even create and send the email directly from the printer, although this may be tricky to set up and some networks may have difficulty utilizing this function.
Because most people are accustomed to saving the document, writing the email, and attaching the document, the scan-to-email function may be a nice feature but may not warrant the added cost. For some who send such documents often, the feature may immensely improve productivity.
Memory Card Readers
Memory card readers are slots built into the printer that can read and process information directly from a memory card, such as those from a camera, phone, or tablet PC. If the printer is for home use or for use in an office that frequently deals with pictures, card readers are a huge bonus. They allow the images or documents that are stored on a memory card to be accessed and processed without having to connect the camera, phone, or other device to the computer. It also allows the images and documents to be stored and accessed on the cards instead of on a computer, which can make sense for storing large amounts of information and for secure information.
Touchscreen
Like many devices manufactured today, several all-in-one printers include touchscreens. This added feature allows access to files and print jobs from the printer. The touchscreen often allows for added functions, easier navigation, and the ability to troubleshoot and perform other types of maintenance/setup on the printer itself, instead of having to go through the computer. Some even allow for cropping and making other simple edits to digital photos before printing.
Not every all-in-one printer with a touchscreen has added features, though. It is important to determine what features are easier to access through the touchscreen and to look for an all-in-one that has that feature.
For some people, the touchscreen itself is too complicated to be beneficial. Others find that the layers of menus that need to be tapped through actually overcomplicate things. If the added features that the touchscreen provides do not seem worth the learning curve, purchasing a basic all-in-one without a touchscreen will save money and possible frustration.
Automatic Document Feeder
Offices that rarely scan documents or that only scan or copy a few pages at a time will do fine with an all-in-one printer that only has a flatbed scanner. For those people who scan and copy frequently, and especially for those who handle multi-page documents, an automatic document feeder is a requirement. This is an added tray on top of the printer that mechanically feeds the paper through the scanning process.
All-in-ones that include this feature can scan, collate, and process multi-page documents. For some home or small offices, this feature is very important as it keeps the user from having to place the individual pages of the document on the scanner and then going through the entire scanning process for each sheet. As offices become increasingly paperless, this feature can be very important to the digital filing process.
Duplex Scanning and/or Printing
Many printers can print on both sides of a piece of paper (duplex printing), but they require the user to turn the paper over in a specific way in order to print the second side. Some automatically print both sides with no user interaction. Some printers that have automatic document feeders can scan both sides at once, although some that include this feature still need the user to turn the stack over for the second side. Although they are few, some all-in-one printers do not handle duplex scanning or printing at all.
Being able to handle both sides of the document is an important function for some office situations. Some users do not mind turning the stack of paper over, and the monetary savings is worth the extra effort. Other users need a machine that will complete the scan or print job without them having to return and adjust things. Machines that automatically print on both sides do cost considerably more than those that require the user to turn the stack over, so price is often a factor in this choice.

Consider the Consumables the All-in-One Printer Will Use
An all-in-one printer can go through a number of consumable supplies, each of which should be considered in the expected long term budget for the printer. Ink, printheads, paper, and other supplies that the printer requires in order to keep printing are consumables, and different all-in-one printers require different types and amounts.
Paper
Yes, the amount of paper that a printer consumes is dependent on the personal preferences of the user. However, some all-in-one printers have features that facilitate digital filing and organization, which greatly increases the owner's ability to go paperless for many documents. An all-in-one with a document feeder and the ability to organize files right from the printer cannot only aid in getting rid of a lot of paper clutter around the office, it can also cut down on the practice of printing something up just to file it away for future reference. In the long run, digital filing cuts down on the cost of paper.
Ink
Digital filing can also save on the amount of ink that the all-in-one printer uses. However, unlike paper, the amount of ink that is used per printed sheet is not a personal preference for the user. Many printers can be set to print in grayscale to save on color ink, and some have other settings that allow the quality of printing to be lowered in order to reduce the amount of ink used.
All printers differ in the rate that they go through ink. Some brands are notorious for the amount of ink their printers use, and some take great pride in developing technology that allows their printers to produce excellent quality images while using minimal amounts of ink. Most packages display how many pages a cartridge of ink should print. A wise consumer should research what current brand and model is the most economically efficient when it comes to ink.

Buying an All-in-One Printer on eBay
Office supply stores are one place to compare prices and purchase a new all-in-one printer. The salespeople may be able to answer questions. When it comes to saving money on printers, however, another option is to purchase one from an online auction site, such as eBay.
Many of the latest models are listed for sale on eBay. Many of these are brand new and others have only minimal use. There are many reasons why quality used all-in-one printers are listed on auction sites, and most reasons have to do with personal preference as opposed to how well the item functions.
If there are questions or concerns about a listing for an all-in-one printer, ask the eBay seller. The seller may not be able to answer all the technical questions, but the buyer may be able to find answers to those on the manufacturer's website. Most sellers, however, are more than happy to answer all the questions that they can and even provide extra photos of the item if requested. Be sure, if it is a used model, to find out if the box and paperwork is included. This is where much of the information can be found.

Conclusion
All-in-one printers can help streamline the home or small office and help it run more efficiently with less frustration. A basic model can take the place of several other machines and can make utilizing the functions of a scanner, a copier, a fax machine, and a printer less complicated. With an all-in-one, many of these functions work seamlessly together. Some all-in-one printers have added features, all intended to help the small business owner or home user take full advantage of the device. Deciding what features are most beneficial and worth the added expense is a matter of examining how the all-in-one will be used. With all of these considerations in mind, it is important to do some research on the latest models before making a final decision. An all-in-one printer is an important addition to any office situation and choosing one deserves careful consideration.